Why visit Solheimajokull Glacier?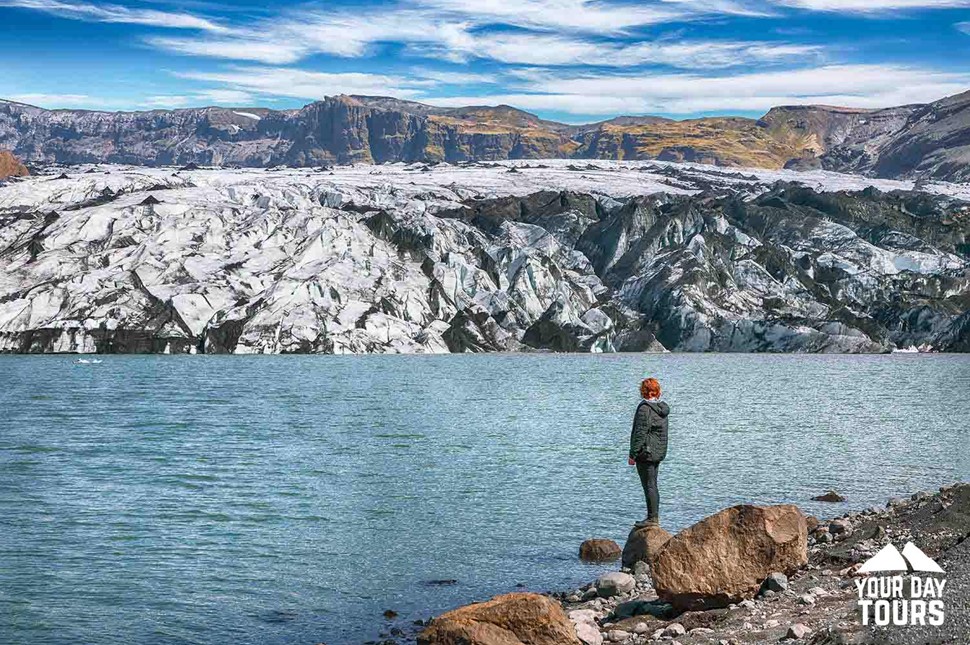 Who doesn't want to explore a glacier? It's the ultimate dream of an adventurer to walk on a glacier and explore its crevasses, sinkholes, and ridges. Solheimajokull offers this unique opportunity that you should never miss. If you are traveling to Iceland, take a day to visit the mighty Solheimajokull and get lost in its wonder. 
People love to visit Solheimajokull Glacier in Iceland for various reasons. The most obvious motives are the thrill of hiking and trekking on a glacier. A trip to the gigantic glacier would make you realize the power of nature in its rawest form. It would also make you sensitive about a grave issue that our earth faces right now – climate change. In the last decade, the glacier retraced its steps for more than a kilometer. 
Solheimajokull is located close to the capital Reykjavik. It is easily accessible, and hence many tourists visit it as a day trip. 
For adventure lovers, there is another huge draw here. The retreating glacier has created a lagoon where you can go kayaking. This is a 2.5-hour excursion that will create lovely memories. 
The colossal icecap Mýrdalsjökull is located in the south of the Icelandic highlands. It has several glacier tongues, including Solheimajokull. Many tourists flock to the South Coast of Iceland to witness the glaciers. Kayaking around an iceberg is a splendid experience that you should not miss.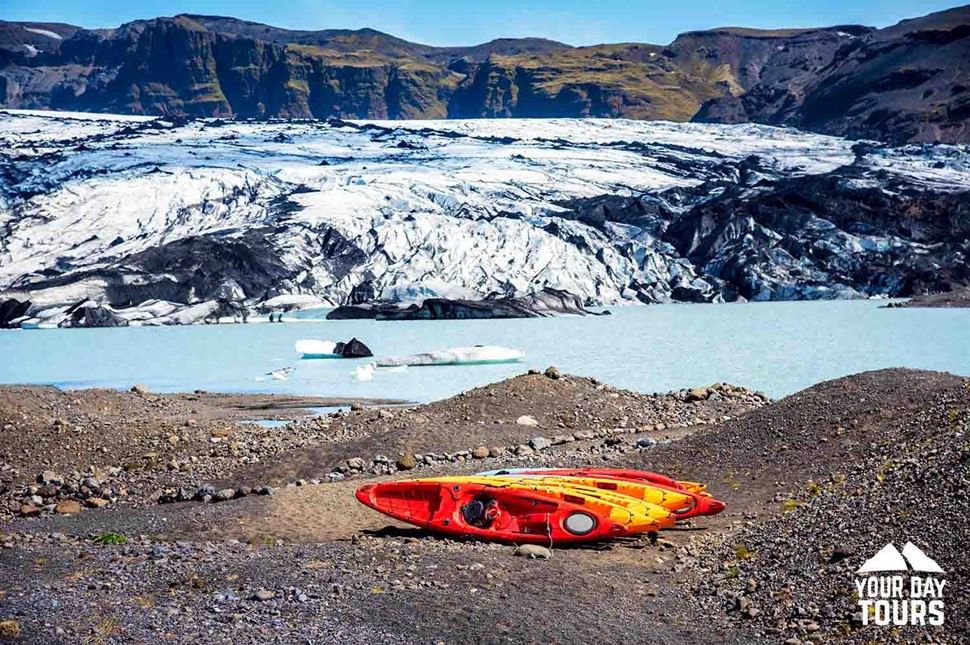 Some facts about Solheimajokull
Solheimajokull means home of the sun glacier.  


Solheimajokull is an outlet glacier of Mýrdalsjökull, Iceland's fourth-largest glacier. 


As you visit Solheimajokull, you may meet the river Jokulsa which flows down the glacier carrying sulphuric acid from the subglacial regions. The smelly water has earned the tag of "stinky river" for Jokulsa.  


For decades, Solheimajokull has been growing but in the 1930s, the trend reversed and the glacier started shrinking. It has been a cause of worry to environmentalists. 


Nowadays termed as the "Shrinking glacier," Solheimajokull attracts tourists because a few decades from now, it may disappear completely. 
If you are in Iceland, a trek to Solheimajokull is a must. Undertake this once-in-a-lifetime experience, and you will know why travelers love Iceland so much. 
Where is Solheimajokull located?

Solheimajokull is on the South Coast of Iceland, 158 km south of the capital, Reykjavik. You can also reach it from Vik, a popular stopover. Solheimajokull is close to prime attractions like Skogafoss Waterfall, Seljalandsfoss Waterfall, and the famous beach of Reynisfjara. You can plan a tour that covers all these major spots of south Iceland. 
How to reach Solheimajokull?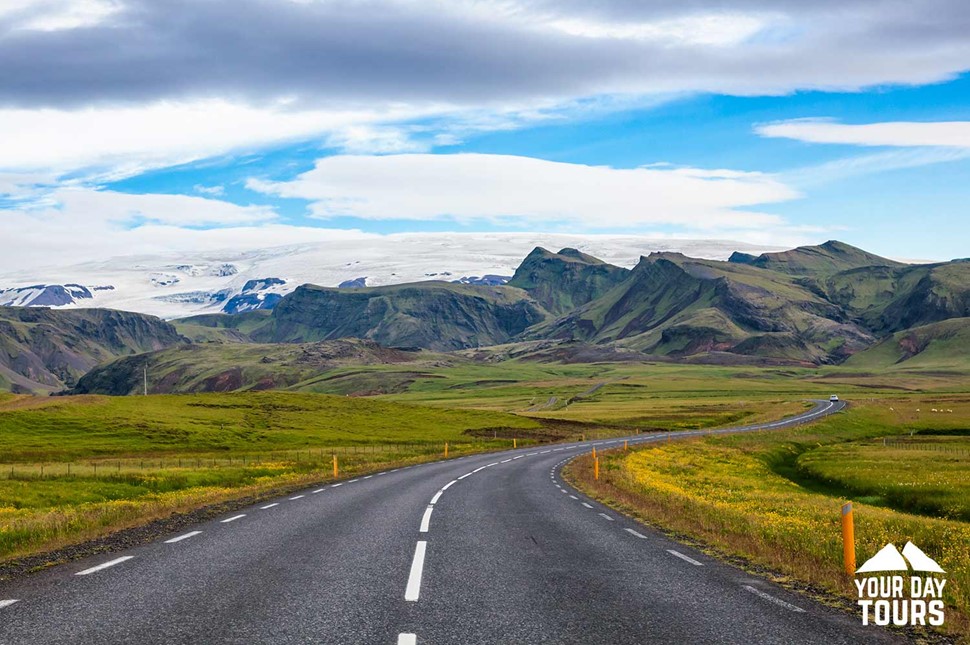 Reaching Solheimajokull is easy. If you follow Ring Road 1, drive through the towns of Hverageroi, Selfoss, Hella, and Hvolsvollur. After passing the waterfalls of Skogafoss and Seljalandsfoss, and the beach Solheimasandur, you can get a glimpse of the ice mass of Myrdalsjokull and eventually Solheimajokull. 
How to enjoy your Solheimajokull trip?
You will get free parking facilities in Solheimajokull. Keep your cars within the designated space. Since the footfall in this area is quite high, you may find the parking area congested. Please cooperate with others to enjoy your tour. 
There is a small café called Solheimajokull Café near the parking space, which serves homemade baked delicacies and coffee. You can get refreshed here before or after visiting the glacier. 
The weather at Solheimajokull will surprise you. You may find it milder than any other glacial region you have been before. The mountains that surround the glacier act like a fortress, keeping away the cold winds. 
However, if the weather gets rough and there is a strong wind, you would experience frosty winds at Solheimajokull. Due to such weather conditions, the hiking tours may get rescheduled, and you will be informed through text. This is to ensure your safety, as walking on the glacier when the winds are strong is not recommended. 
Don't lose heart after reading this. Most of the time the weather is sunny and nice here, justifying the name Home to the Sun Glacier.


Hiking on Solheimajokull – things to remember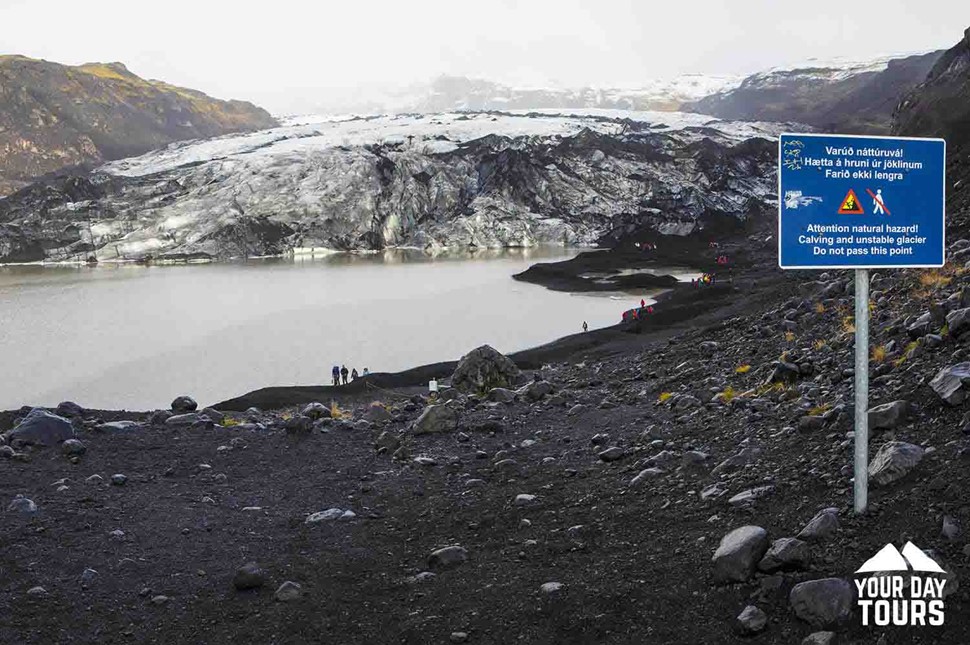 It is not easy to hike on glaciers. They slide forward, causing surface cracks. The upper crust changes constantly, with fissures and crevasses developing on it. To make matters worse, Iceland witnesses numerous earthquakes and subglacial volcanoes daily. So, even experienced hikers are advised not to attempt hiking without being accompanied by local glacier guides. 
So, if you are planning to go hiking on Solheimajokull, hire a local guide first who knows the terrain well and is well-equipped to handle unforeseen events. 


Go for a fun guided hiking trip on Solheimajokull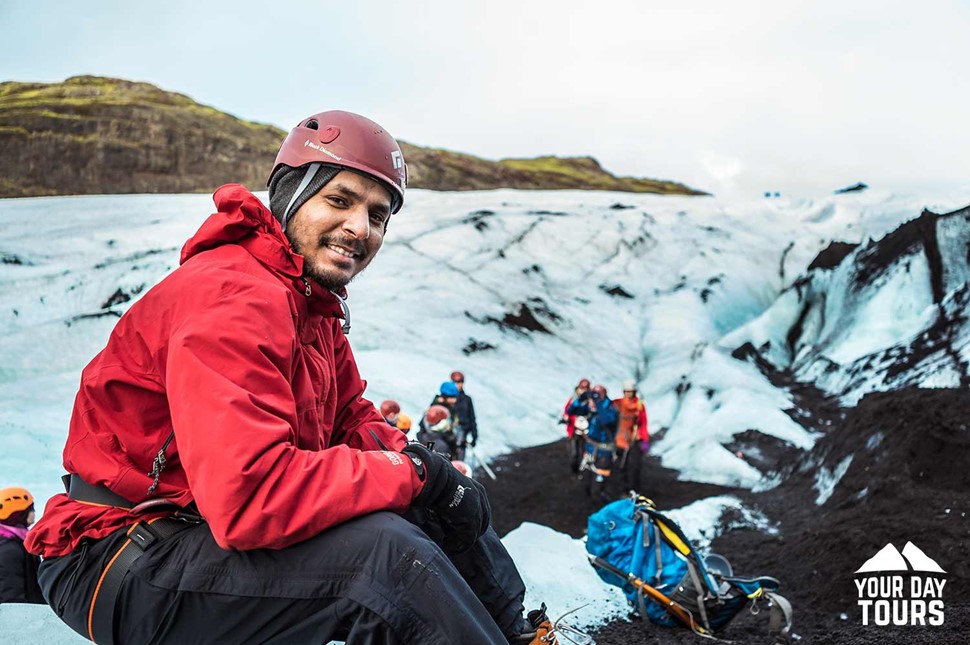 Most people prefer to go on a short but adventurous tour of Solheimajokull. These brief tours are extremely popular as you can witness the beauty of the glacier and also enjoy the thrill. Done only in three hours, the guided tours are full of adventure and amazement. 
Usually, the tours cover the South Coast, views of the Skogafoss and Seljalandsfoss waterfalls, volcanic views, and a glacier walking tour. This is the best way to have a memorable day on the South Coast. 


Dress up right for a glacier walk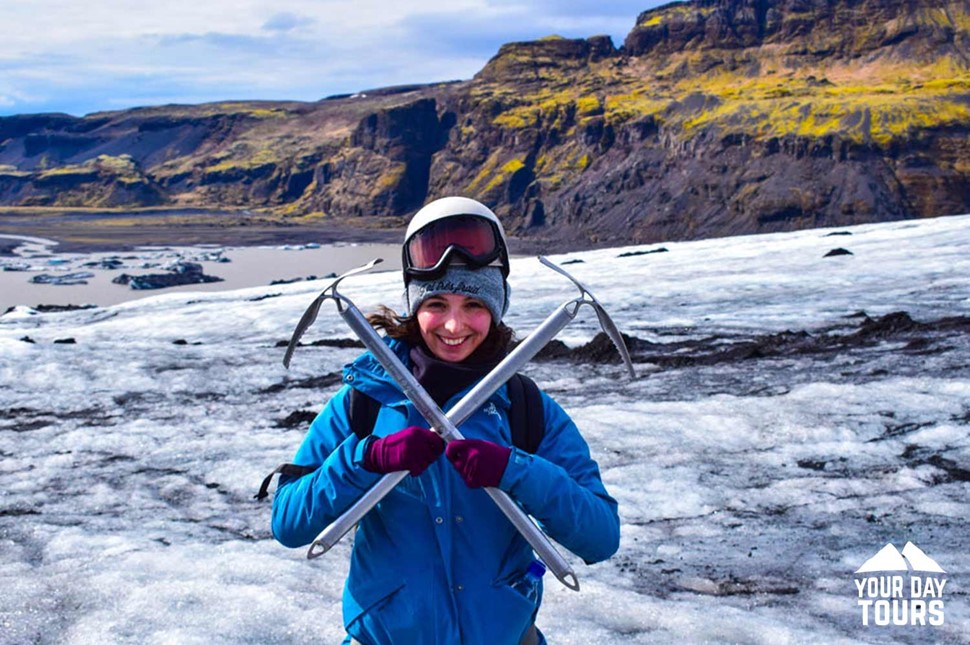 A glacier is a great place to hang out only if you are prepared to handle the biting winds. Walking on a glacier becomes difficult because you get warm when you are moving around, but when you are inactive, the frost gets on you. So, you should dress in layers that can be easily taken off.  Here are a few tips on how to dress up when you visit Solheimajokull Glacier in Iceland. 
Wear a layer of wool or thermal underwear first to keep you protected. 


Put on a layer of sweater or fleece to feel warm. 
On top, wear a waterproof jacket to keep away the wind and rain. 
When walking on the glacier, you have to fix crampons on your shoes. So, wear shoes with thick soles because these crampons are uncomfortable. 
Complete your glacier wear with gloves, a hat, and warm socks. Now you are ready for the adventure! 


Have a memorable Solheimajokull tour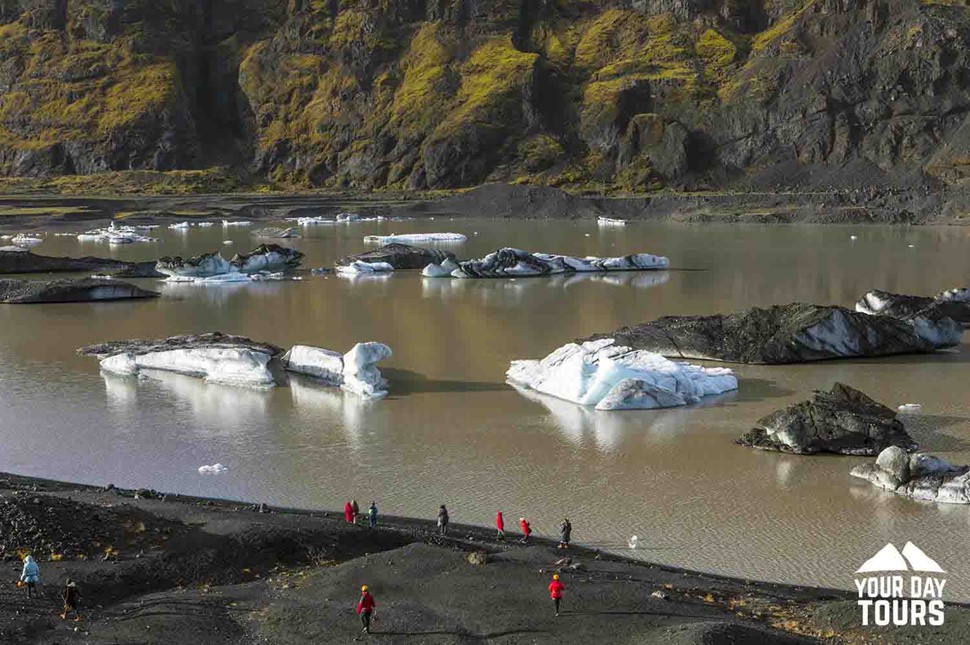 When it comes to eating, there are many options in Solheimajokull. For your convenience, we are mentioning a few here. 
Suour Vik is a good place for vegan-friendly European food. 


If you are looking for healthy and vegan food, the Soup Company is a good choice. 


The Black Beach Restaurant is a café where you can get gluten-free vegan food. 


When in a hurry, head to Lava Café for sandwiches. 
Strondin Bistro Bar is a good bar where you can get international dishes. 


Smiojan Brugghus is a famous brewery where you can get sumptuous grilled food. 


Vikurskali is the place to look out for to have a hearty meal of grilled BBQ. 


Drangar Restaurant at Hotel Kria is known for European dishes and its cozy interiors. 


Halldorskaffi is a multi-cuisine restaurant where you can get American dishes, pizza, and Icelandic dishes. This is the place to head to if you prefer vegan-free and gluten-free food. 
Craving something fancy? Berg serves European vegetarian delicacies that are gluten-free. 


For healthy vegetarian meals, burgers, and stews, Ice Cave Restaurant is a good option. 
Where to stay at Solheimajokull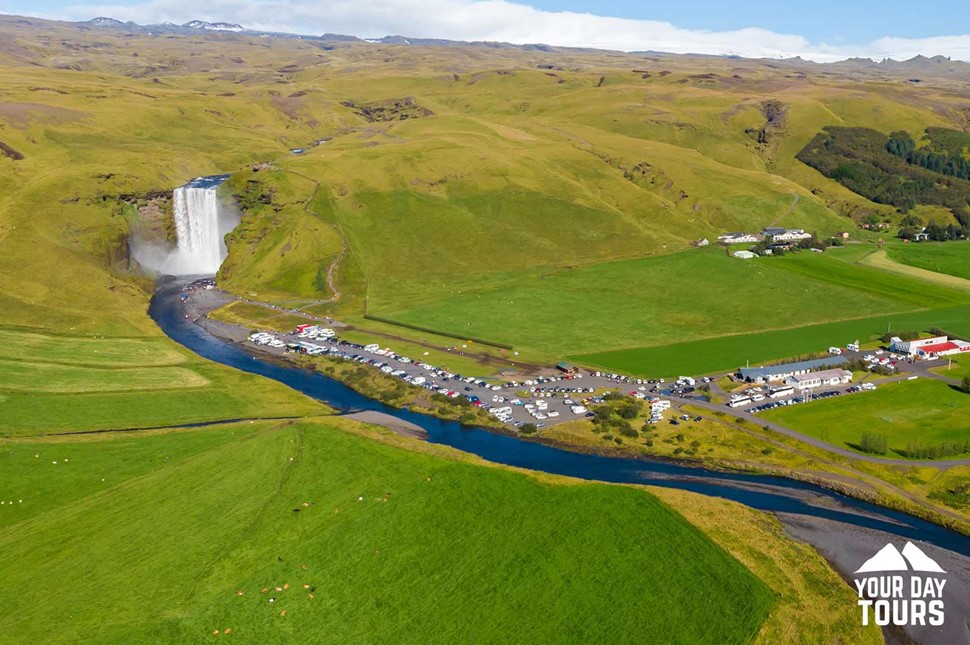 Since Solheimajokull gets tourists all around the year, the nearby areas have several places to put you up. 
The most popular hotels are - 
Hotel Skogar 


Hotel Skogafoss 


Hotel Edda Skogar 
You can choose to stay at hostels too - 
Hostel Skogar 


Skogar HI Hostel 
This part of Iceland has several guesthouses and B&Bs like – 
Solheimahjaleiga Bed and Breakfast 


Guesthouse Vellir 


Guesthouse Drangshlio 


Vestri Petursey 
Solheimajokull camping – soak in the beauty of Iceland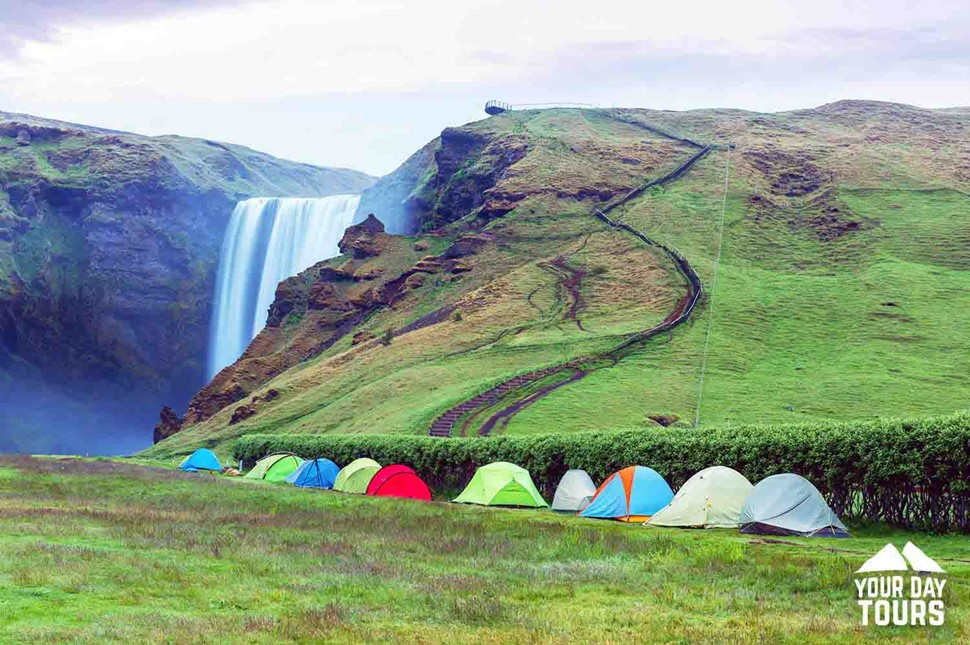 The mountains, glaciers, large meadows, and waterfalls make the South Coast a favorite spot for campers. The area has a few campsites with basic amenities. 
Vik Campsite – The city of Vik is famous for its close proximity to the tourist spots of the area. The camping ground is open during the summer. It has toilets, showers, dining facilities, washers, electricity, and hot and cold water. 
Skogar Campsite – This camping ground is open all year round. Tourists love it for its views. It has essential services like toilets, waste disposal for mobile homes, and electricity. 
You have to camp only in designated areas. Wild camping is forbidden on the South Coast, so abide by the laws. 
Places you can visit near Solheimajokull Glacier in Iceland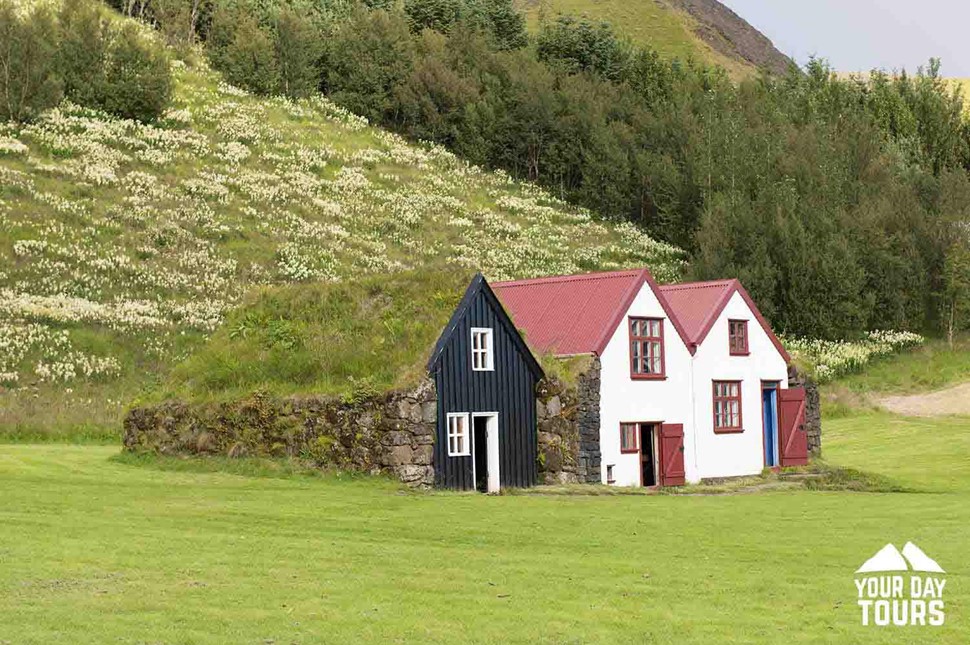 Staying near Solheimajokull has advantages. You can see other attractions which are close to it. 
Kotlujokull Glacier is one such place you should not miss. The Katla volcano and the ice cave are must-visit places.  
Skogar Museum is good to check out local culture and art. 
Solheimajokull Glacier is a wonder that you must visit while touring Iceland. The gigantic glacier with its natural ice formations and scope of adventure will make your trip unforgettable.