Reykjavik: The Quick Facts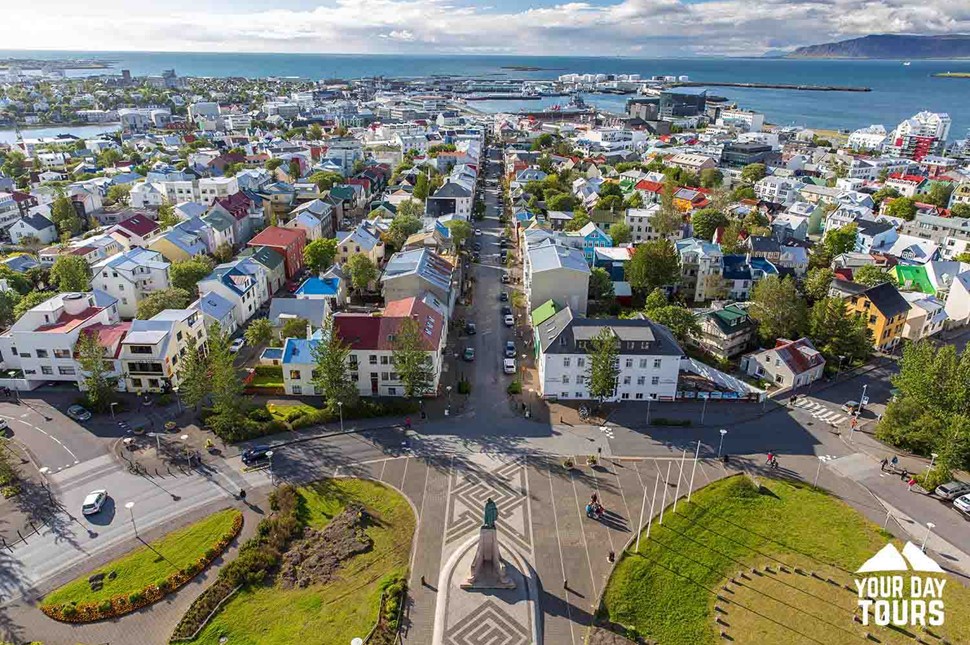 Reykjavík is the northernmost capital of a sovereign state on the planet.
 

 

It is one of the cleanest, greenest, and most secure cities on the planet. 

 



Reykjavík is the city where Iceland's first settlement was established in 874 CE. 

 



The word Reykjavík translates as "smoky bay." The name alludes to the steam that used to ascend from the natural springs and geothermal vents. 

 



64% of all Icelanders live in the capital region. 

 



Reykjavík is the main Western European capital without a Starbucks or a McDonald's. 

 



Reykjavík is the main capital city on the planet that is home to a puffin settlement. 

 



Dogs were prohibited in Reykjavík from 1924 to 1984. 

 



As an outcome of the dog boycott, Reykjavík is, for the most part, a cat city. 

 



There is a penis gallery in Reykjavík called the Icelandic Phallological Museum.
Historical Backdrop Of Reykjavik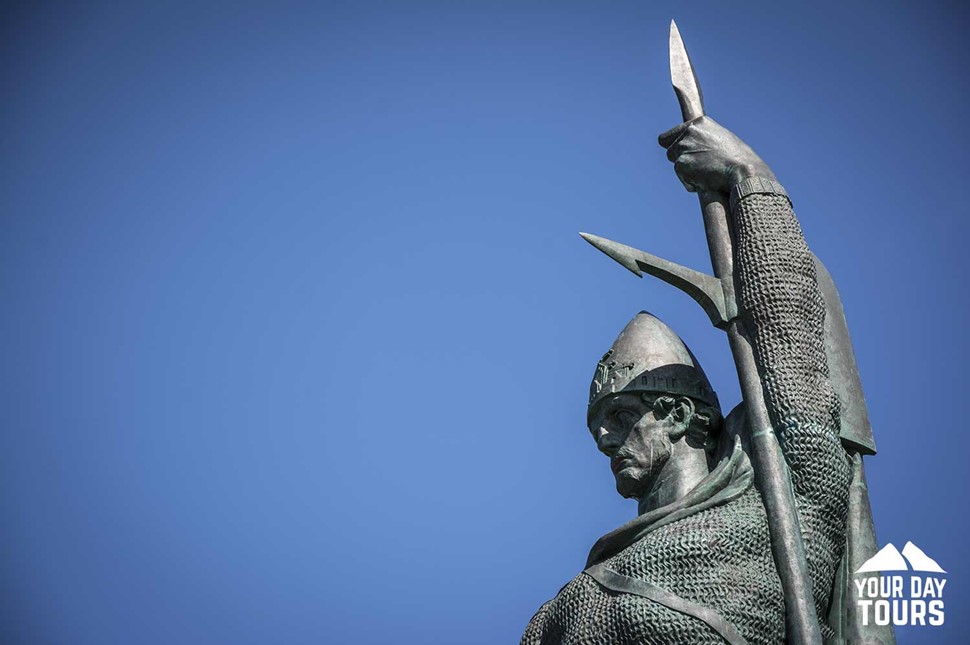 The earliest men of Iceland are believed to be of Reykjavik as it was where the first permanent settlement of the country. The year 874 CE marks the establishment of the city when a Norseman named Ingólfr Arnarson landed at the place with his family and slaves. Fast-forward to the thirteenth century, when the Reykjavik landscape spouted an Augustinian monastery on the offshore island of Viðey, which was destroyed in the 16th century Reformation period. 
The Middle Ages and early modern period saw the country slipping into the hands of several kingdoms like the Kingdom of Norway, Scandinavian Kalmar Union, and then finally under the rule of the Danish Crown.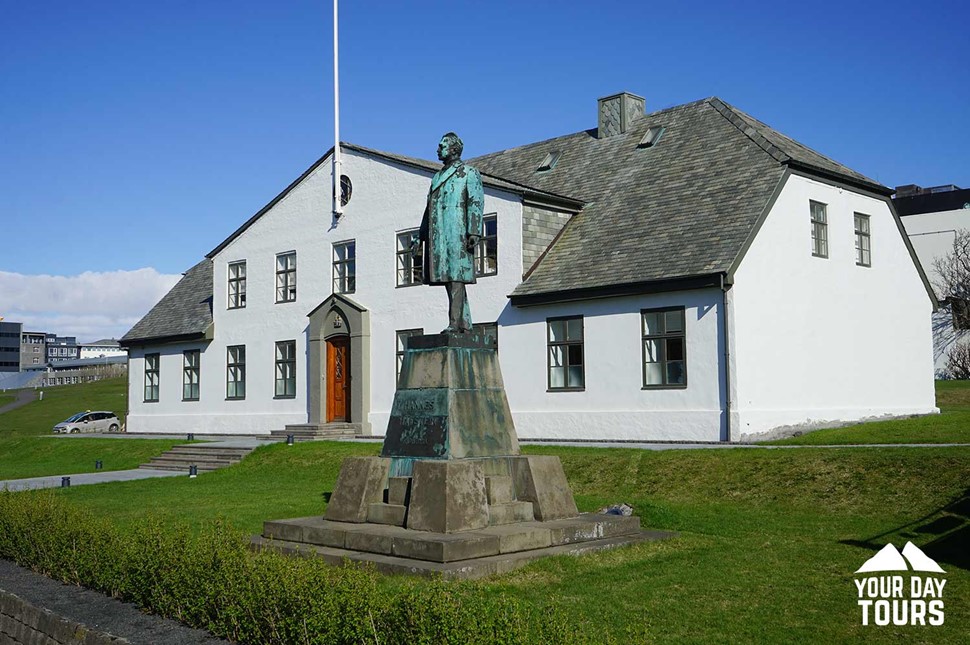 The early 17th century witnessed grim times with a trade monopoly being declared on Iceland. In the 1750s, local sheriff Skúli Magnússon, regarded as the "Father of Reykjavík," set up wool workshops to revive the place. The city soon became a bustling hub of wool production. Gradually, Reykjavik saw spurting growth and became a national center of commerce and governmental activities. To give a major boost to the region, the Crown allowed free trade for Iceland with all nations and thus, 1786 is considered the founding year of Reykjavik.  
The year 1874 saw some more governmental developments, with the the Icelandic Parliament gaining a foothold through legislative powers. In 1904, Iceland was granted home rule and the office of Minister for Iceland came into action in Reykjavik. Iceland truly became independent on December 1, 1918, after becoming a sovereign country.  
During WWII, Iceland utilized its strategic placement on the map and started supplying sources of fish to the fighting nations. Iceland was invaded by Britain in 1940, consequently, but then the US took over this protective initiative in 1941. The end of the war in 1944 marked the complete independence of Iceland from Denmark, with Reykjavik becoming the capital city of the independent country.  
Post-WWII, during the Cold War, the presence of US troops boosted Reykjavik's development. Not only did the city undergo urban development, but also openly accepted and experienced cultural changes that led to more entertainment hotspots and social meet spots being formed. Reykjavik then started investing in more infrastructure, especially ones catering to the sports and arts sector.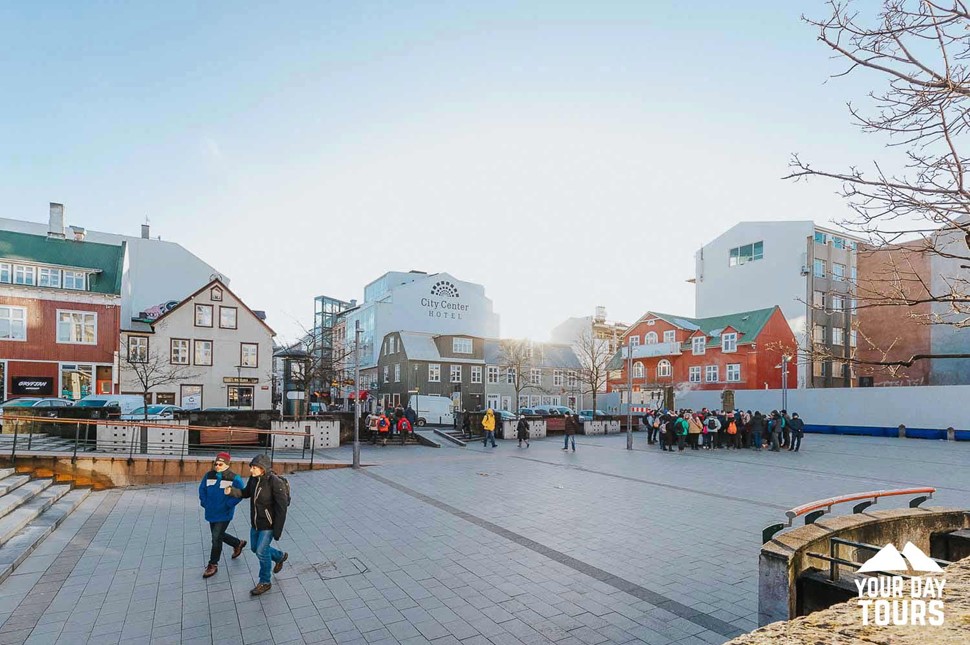 The modern city, which was formerly a simple village, is now a buzzing venue for several cultural events. With pop bands and musicians like Björk, Ólafur Arnalds, Múm, Sigur Rós, and Of Monsters and Men; the poet Sjón; and the visual artist Ragnar Kjartansson appearing on the scene, Reykjavik is no longer the older quaint village it was. Adding to all its accomplishments is its position in UNESCO Cities of Literature. It is, in fact, becoming a top-rated European city, with 2018 reaching a breakthrough count of 2.6 million visitors!
How To Get To Reykjavik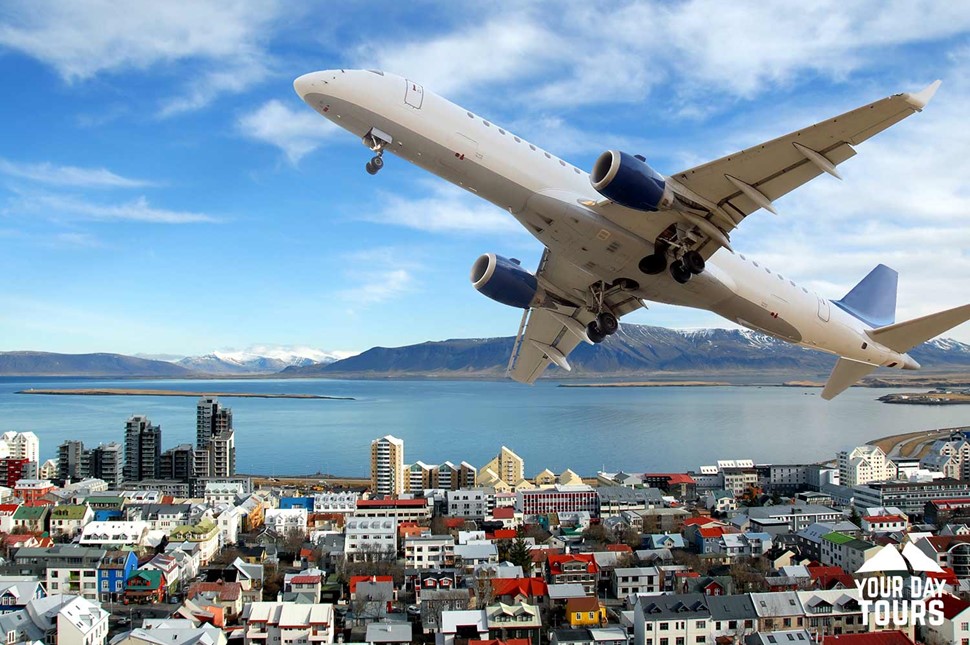 Reykjavik is well connected via all modes of transportation. Hence, reaching the place is not a hassle rather it's an easy and exciting adventure. International tourists can fly to Keflavik International Airport (KEF) by means of airlines operating flights to Iceland. Post, a 50-kilometer drive lands tourists in Reykjavik's city center.  
Iceland is home to several domestic airports, one specifically in Central Reykjavik while others in different regions of the country, like Ísafjörður (North-West), Egilsstaðir (East), and Akureyri (North).  
Reaching Iceland via is also a popular means of commutation. Several cruise ships start sailing from Europe and North America and are available at the disposal of tourists. A scheduled ferry service operates on the Smyrill Line, departing from Denmark, passing through the North Atlantic and stopping in the Faroe Islands. While there is no direct sea route connecting Reykjavik, one can opt for a 10-hour road commute from the capital in East Iceland.
Traveling To And From Keflavík International Airport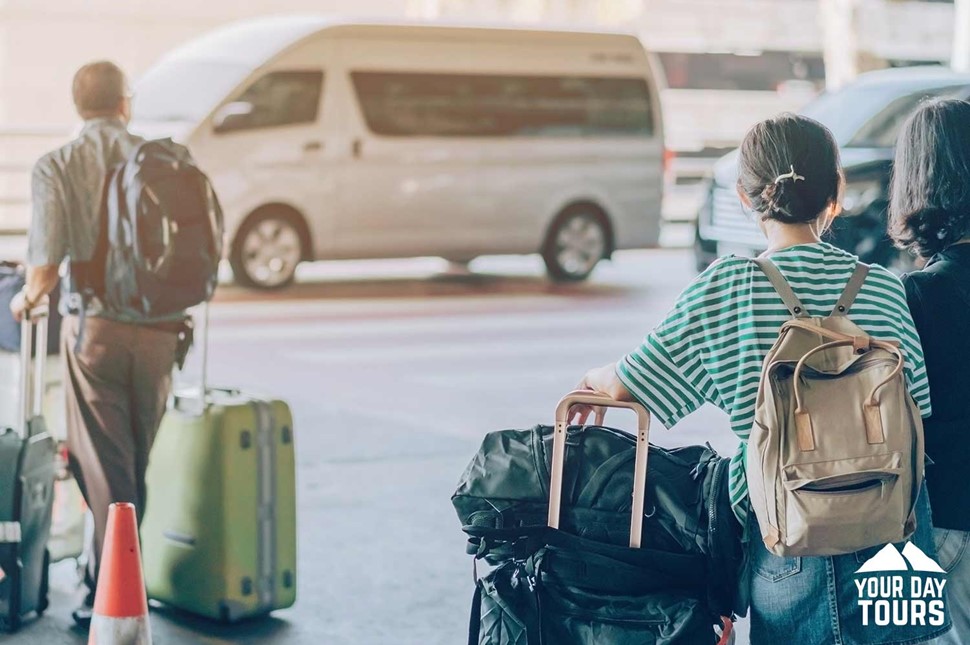 Reykjavik, despite its small size, is equipped with two airports: Reykjavik Domestic Airport and Keflavik International Airport (KEF). The place receives over 1.5 million tourists every year and is fast becoming a favorite Northern European destination. Famous artists like Beyoncé and Jay-Z have also made appearances here.  
The Keflavik Airport is conferred with"The Best Airport in Europe Award"three timesinarow, and rightly so, its modern infrastructure and compact designallow tourists to conveniently navigate and board the flight. Flights from Keflavik to New York City take six hours, while from London taketwohours. No matter where tourists come from, alighting at the Keflavik Airport seems like stepping into a new world of breathtaking vantages and surreal terrain.
The Best Time To Visit Reykjavik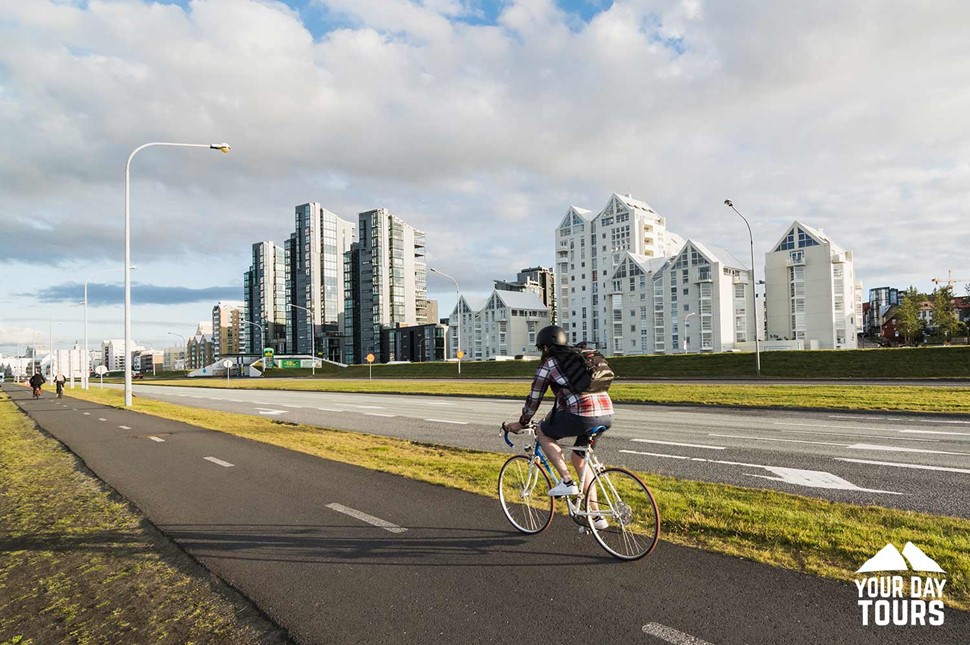 There is no clear-cut answer to this. Reykjavik is just sheer delight and is mostly free from the bindings of a best season. The reason being, each season brings along perks that cannot be accessed during other seasons.  
To witness the ultimate marvel of nature in Iceland, the Northern Lights, the ideal time to visit is between September and March. If the Aurora is the sole reason for your Icelandic getaway, then November and February would be the finest choices to enjoy long gazes of the sky.  
If hiking, camping, and road trips are on your mind, summers, without any doubt, are the perfect season. Spring and autumn receive the least amount of travelers. Hence, tourists on a budget should plan their trip during this time. 
Where To Stay In Reykjavik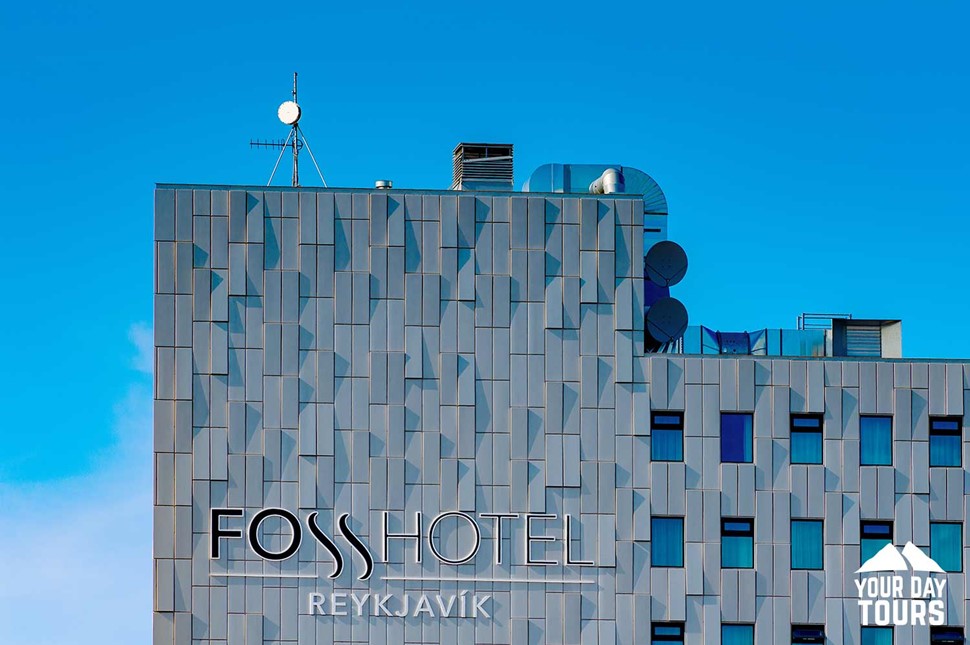 Reykjavik provides a wide range of accommodation options that cater to the fancy of every tourist. However, the summer months being the peak season, can cause a hike in the prices. Hence, to get great deals and decent rooms with good views, some research and prior planning is advisable. If you are on the look for cheaper alternatives to Reykjavík hotels, keep reading. 
Airbnb is a popular portal for accommodation booking in Iceland. One can get great deals and avail amazing discounts, while being absolutely unconcerned, given the reliability of the portal. But make it a point to book in advance to save yourself extra money and hassle.  
Couchsurfing 
Couchsurfing is the best choice for explorers who are just there for pure exploration. You can easily save up money on accommodation and invest in other adventures of interest to you.  
House Swap 
If you haven't seen The Holiday already, let's introduce you to the concept of House Swap. It is a practice where two people from two different places swap their houses, popularized by this movie. While it is unlikely that you might have a fate like the ending of the movie, what is guaranteed is an authentic local experience in the Icelandic escapade. You can check Icelandic House Swap communities, where you will get cozy homes of your choice.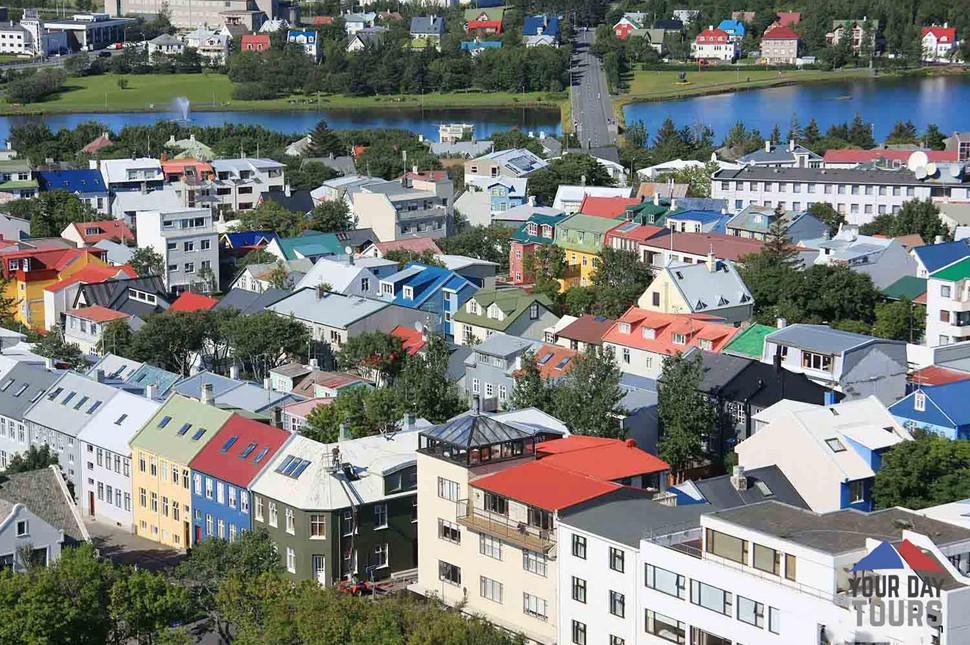 Reykjavik's Best Hotels 
Reykjavik is a great host, undoubtedly, so much so that visitors are ready to leave out on adventures and get pampered in their hotel rooms. If you wish to be spoiled with a lavish welcome and several days of long indulgence, Alda is a great choice. The Nordic-style interiors, spacious rooms and bars, won't let you go out for exploration. So, make sure you are brave enough to book this one. As far as the location is concerned, the hotel is in close proximity to the city's main shopping and nightlife street. Most rooms command magnificent views of either Faxaflói Bay or Mount Esja, another tricky choice coming your way. So, choose wisely! For a little grooming, a barber is located right within the lobby of the hotel.  
If you've heard the saying, "Don't judge a book by its cover," that is what we are going to say about Centerhotel Arnarhvoll. No matter how bland the exteriors look, there are more than enough reasons to admire the place. The biggest reasons being the Sky Lounge and Sky Bar and the flattering views of the adjacent Harpa Concet Hall, Faxaflói Bay and hills. The staff offers an amiable service, while rooms offer bright and lively views, especially the ones facing the sea. During your stay, you will be served an appetizing morning meal. For a more luxurious experience, the hotel offers a hot tub and sauna in their luxury spa area.  
Pro tip: It's better to book a hotel that is centrally located unless you are okay with a 30-minute walk or additional commutation charges.
What To Do In Reykjavik
By Day  
Daytime will help you cover a lot in Reykjavik. Make sure to read the below to find out the highlights of the city and embark on a fun-filled day in Iceland.  
Reykjavik Town Center 
The small size of Reykjavik's town center is why most visitors are willing to go on walking explorations. The lively shopping streets of Laugavegur and Skólavörðustígur entertain tourists with the best of Icelandic creations and trends. While on the walk, tourists can make a quick stop at the fascinating art-decorated walls and capture snaps. One of the places that quickly catches the fancy of tourists, given its size, is the Hallgrimskirkja Church. You can appreciate the modern art festooning the foyer and gain insights about the building on iPads. For more stunning views, take the elevator and climb onto the top of the building.  
The Sun Voyager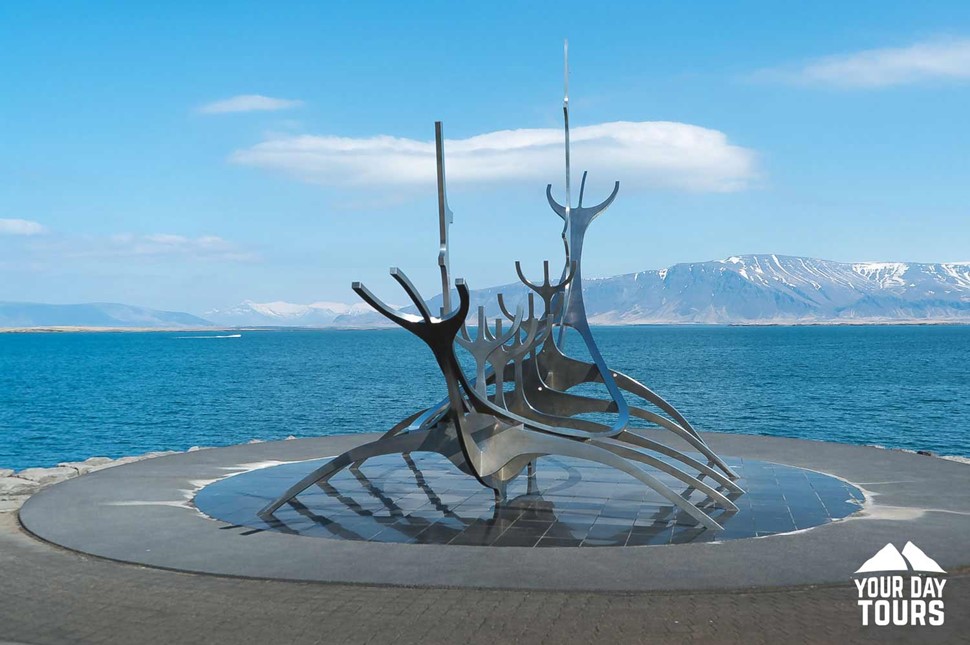 The Sun Voyager represents a Viking longboat resting on the seashore of Reykjavik. Created by Jon Gunnar Arnaso, the Sun Voyager is a metal statue that attracts thousands of visitors all year long. The picture-perfect place is photobombed by Mount Esja, creating a snap-worthy spot! 
The Flea Market  
The Flea Market is buzzing with crowds, as who wouldn't want to get their hands on an exquisite variety of handmade artifacts, jewelry and knitted stuff.  
The Old Harbor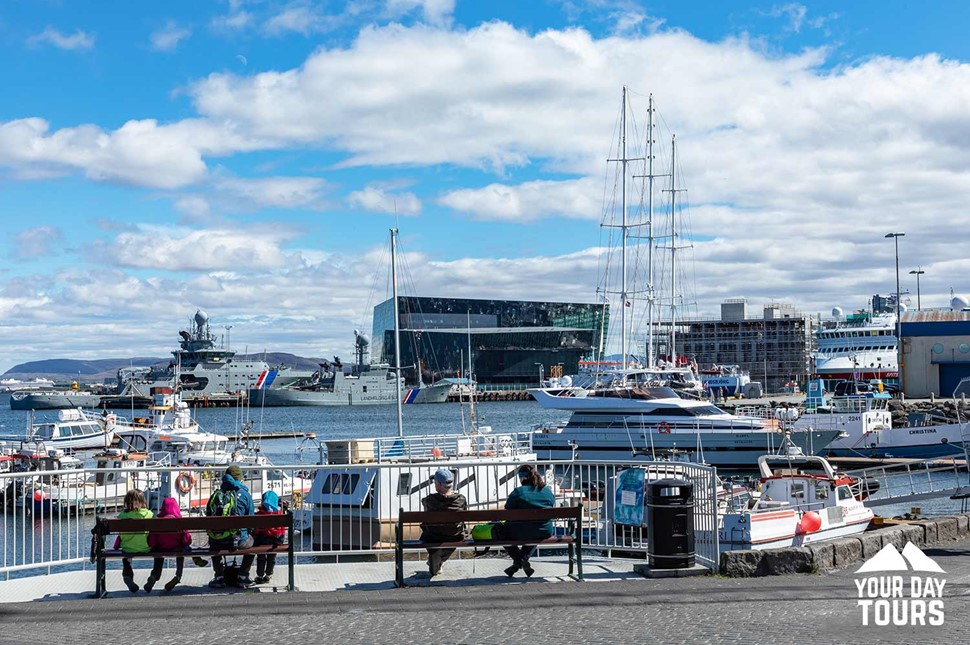 The Old Harbor area is a heaven for seafood lovers and non-vegetarian foodies, as it is extensively lined with restaurants and cafes while bordering the sea. Look at the marvelous creatures: spot whales, go fishing, go puffin watching, or revel in a magical boat ride that takes you around Northern Lights.  
The Parliament Building  
The Parliament is an important national building, holding all the meetings of the Icelandic Parliament. The 1880-1881 constructed structure houses the oldest public garden in Iceland, National Library, the Antiquities Collection and the National Gallery.  
The City Hall and the Pond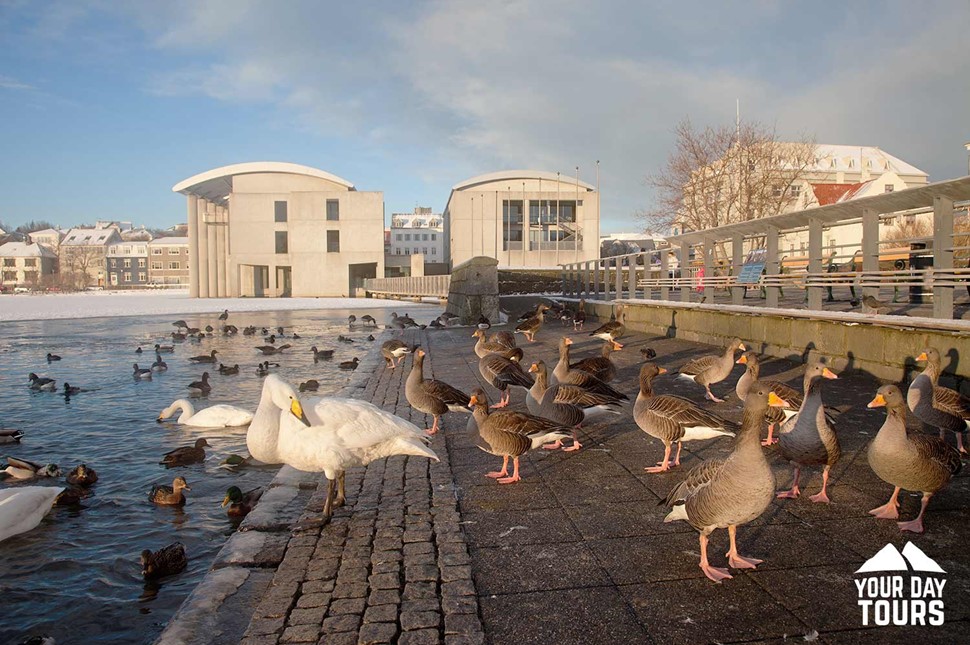 Locally known as Tjörnin, it is surrounded by a blanket of lovely parks that are often highly-rated by tourists. The lake shelters around 40-50 bird species and is the favorite spot among tourists and natives alike.  
The Cabinet House   
Did you know that until 1904, the Cabinet House served as a prison? Anyways, we know what role it has now, and deservingly so, the place became officially occupied with the ministers and officials of the Icelandic government.  
Laugavegur  
Wanna go for a souvenir hunt or a shopping spree? There is no place better than Laugevegur for that. Check into boutiques, souvenir stores and shops and refuel you're energy at restaurants and bars once your done. It is also one of the oldest streets of the city. Hence, a visit to Laugavegur is a must.  
Hallgrímskirkja Church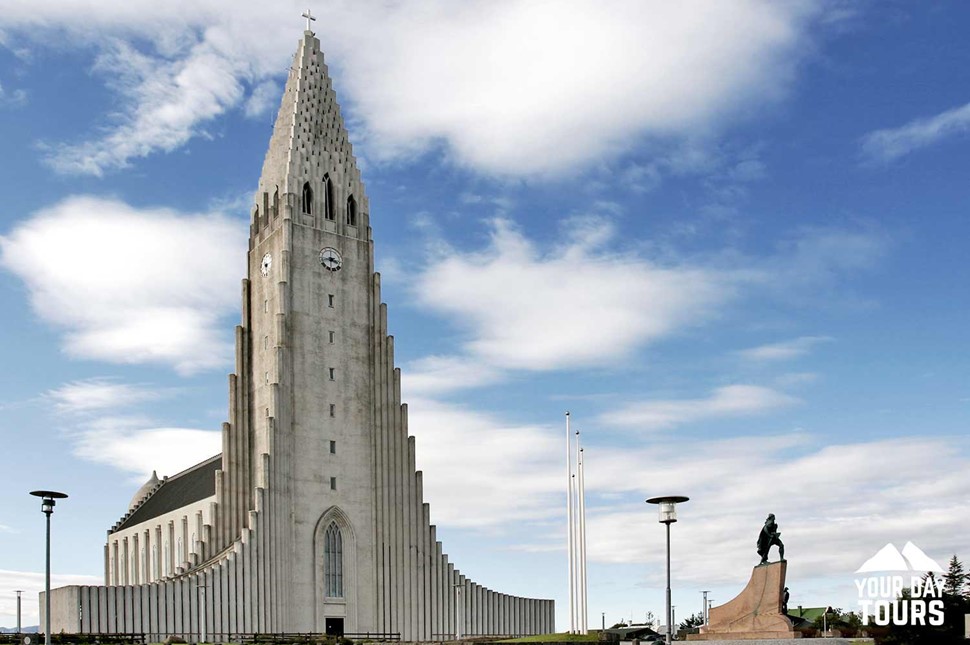 Nestled atop a hill, the Hallgrímskirkja Church, is the tallest building with a height of 74.5 meters and the largest church of Iceland. It is a Lutheran parish church resembling the trap-rocks, mountains and glaciers of Iceland. This resemblance is visible from almost any part of the city.  
Perlan 
To enjoy the best views in Reykjavik, why not sit in a museum cum cafe and restaurant? If yes, head straight to Perlan, a glass dome perched on water tanks over a hill.  
Harpa Concert Hall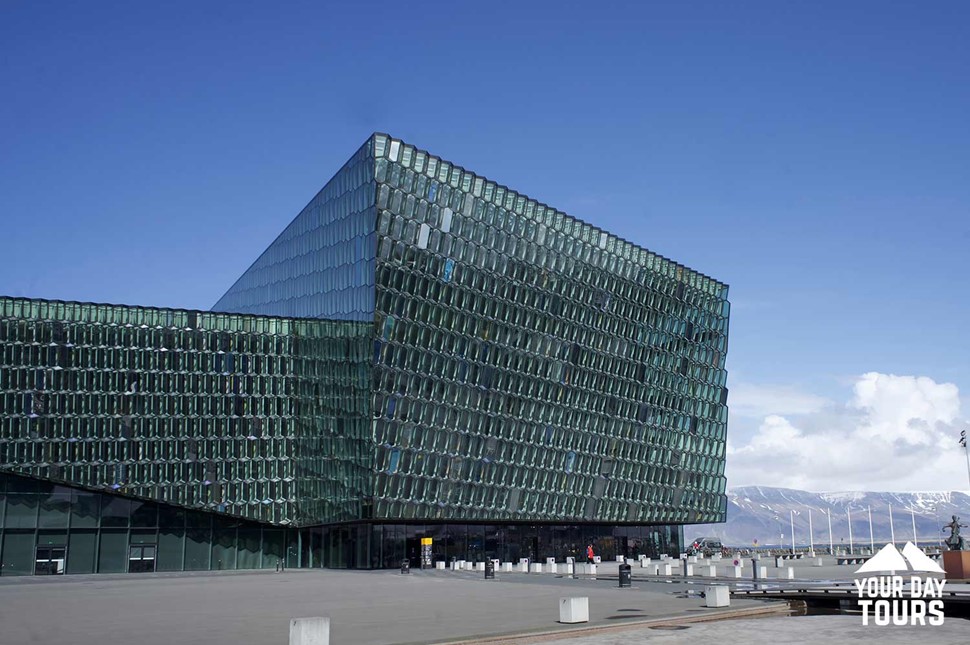 Reykjavik's Harpa Concert Hall is a contemporary gem that took four years to build and cost around $164 million. Undoubtedly, it is a must-visit spot for culture fanatics and explorers. The intricate designs, alongside the exquisite glass and steel work, would keep you intrigued for a good amount of time. The hall hosts cultural events throughout the year and daily exhibitions during summers. Be it classical concerts, local poetry readings, folk song performances or hymns sung by local talents, the Harpa Concert Hall is the designated host of all prestigious events. For a good laugh therapy, tourists can attend a stand-up comedy show, which offers some interesting facts about Icelandic culture. Humor is a good source of information, indeed! To get an in-depth understanding of the acclaimed architectural masterpiece, you can opt for a guided tour and learn about odd incidents and hardships posed by the economic crisis.
Pro Tip: Make sure to book the show of your choice while booking tickets, and get your plans fixed.

By Night 
Whether you are a social butterfly or an introverted caterpillar, the night scene of Reykjavik is accustomed to offer something to each kind of traveler. Find out below what you can do to make the most of your nights in the city: 
Northern Lights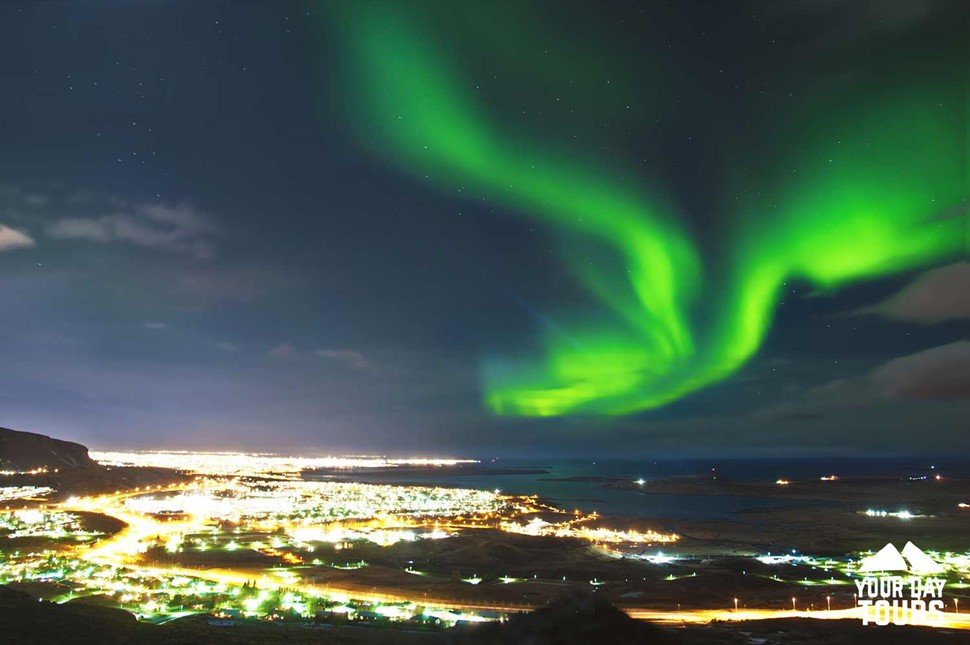 Travelers and globetrotters flock to Reykjavik, especially during the winter months, because of the clear and fascinating views of the Northern Lights. It is also the time when you can be a spectacle to this natural wonder from any part of the city, given the Aurora is bright enough. The plausible way to do this is by climbing up a place where light pollution is minimal or where the view of the horizon is free from the intrusion of man-made structures.
One such place is the Grótta Lighthouse. Free from light pollution and having access to a 360-degree view, Aurora hunters, this is your mini paradise! Other options like the coastal strolling area beside Harpa Concert Hall, any large city park, or Perian are great, too.  
Northern Lights Explorer Tour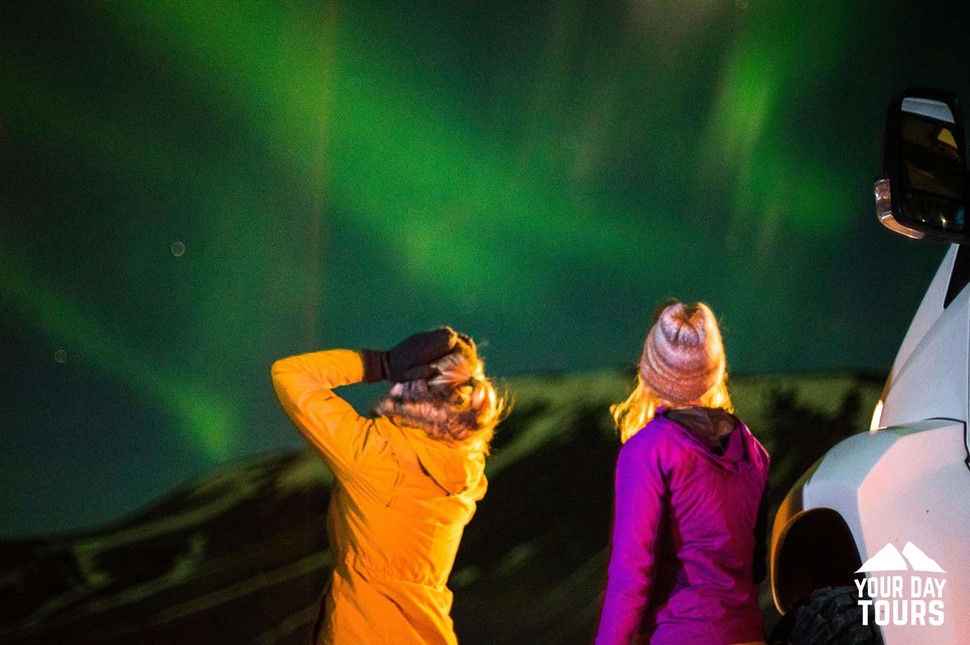 The Northern Lights Explorer tour is a 4-hour trip that brings you face to face with the Northern Lights. Also called Aurora Borealis, which is a Latin word translating to "the dawn of the north," takes inspiration from the Roman goddess of dawn Aurora and the Greek god of the north wind Boreas. The 13th century marked the naming of this wonder as "Northern Lights" by the Norwegians. 
It's no wonder why this marvel of nature is a surreal sight, but to experience the Northern Lights at its best, you have to visit during the best part of the year, which is February to March and August to November, when the skies are clearer. While the Icelandic weather is a bit treacherous on most days the Northern Lights can be best witnessed between 9 pm and 2 pm.   
The tour kickstarts in a 4x4 Super Jeep, which will steal you from the hustle-bustle of the city life and sneak you into the Icelandic wilderness. The personalized experience of the Super Jeep allows you to experience the Northern Lights solitarily or at least in a much better fashion, unlike the usual fuss of big bus tours and crowds. To end the trip, you can sip a delectable hot chocolate or maybe an Icelandic Brennivin if you're too cold! 
See our Northern Lights Explorer Tour for dates, prices and more.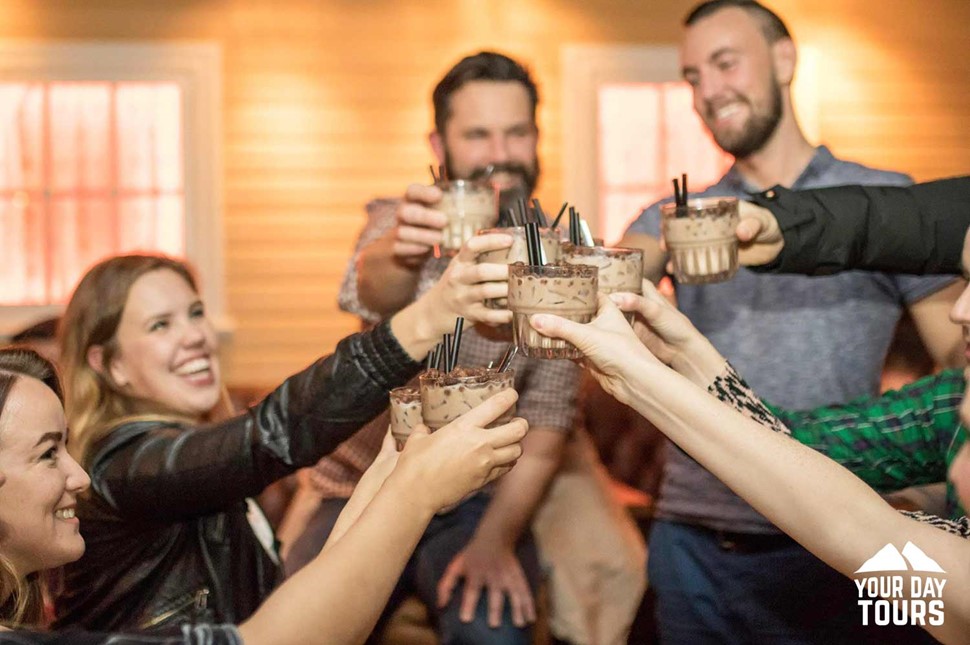 Reykjavik is reputed for its tranquility, but what most people don't know is that when the sun sets, the place transforms into a nucleus for all nocturnal party animals. It is fast gaining ground both in the world and travel columnists as a party and fest hub.  
Reykjavík is renowned for having a flourishing nightlife and holding the best live concerts in Northern Europe, like Iceland Airwaves. The midtown region is perfect for bar crawls, while Breweries can be found all over. 
The nightlife in Reykjavík can be best experienced around the main shopping road: Laugavegur. The adjoining Hverfisgata and Laugavegur also display enough vim and vigor for a night out. Neighboring Austurstræti is Hafnarstræti, with a couple of bars situated on Naustin moreover. Strolling from one bar to another is not going to take a lot of time as they are almost 20-30 steps away from each other, implying that you are going to have an electrifying bar exploration, assuming it doesn't rain, obviously. Pub crawling is the standard in Reykjavík, and it's uncommon for local people to remain in one spot for the entire evening. So, gear up for a constantly changing menu and musical beats that you can groove to. And guess what, there are no entry fees in most bars, so happy bar hopping!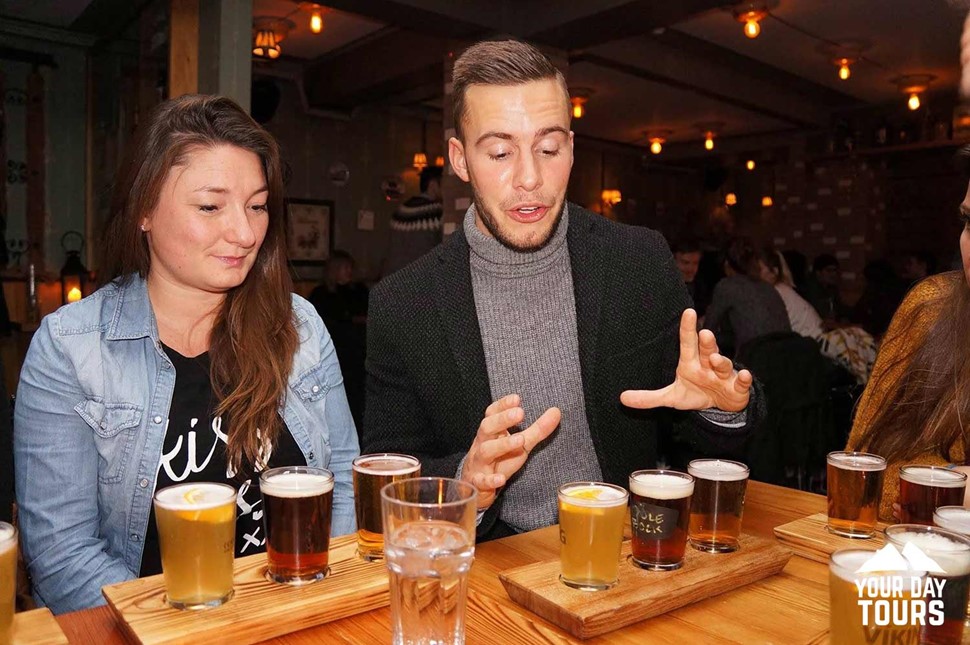 Party animals, you have your plans sorted with the gigantic variety of cocktail bars and dance clubs stepping up on the nightlife scene of the downtown area. Bar crawlers, if you have those midnight cravings, don't worry, some hot dog stands will surely be available at your service. Give our guide to Reykjavík's nightlife a read and don't forget to make a checklist from our recommendations.
A peek into the nightlife of Reykjavik, essentially like a local, is possible with our famous Reykjavík Pub Crawl. Whet your appetite with the finest beers and Icelandic cocktails while hopping from one bar or club to another. Whether you are traveling solo, with friends or family, the tour is suitable for all! The tour commences with Reykjavik's upscale bars, where you can carouse in our off-menu Coco-Puffs Cocktail and local beers. Next up, is the much-awaited specialty – the Brennivin schnapps or "The Black Death" with the fermented shark.
Coming up next is a staple snack: the hot dog. Over time, it has acquired a special place in all Icelandic people's hearts, so much so that it is considered the unofficial national food. To get a taste of this national delight, head to the classic Bæjarins Beztu Pylsur and gorge on the best hot dog in town while listening to heavy metal band Metallica. A quick tip: definitely try the signature hot dog called "ein með öllu," a classic from the place.   
Pro tip 1: Be patient, as good things take time! 
Pro tip 2: Be ready with money when reaching near the counter. A hot dog will cost around $3.  
Pro tip 3: Order two. You'll thank us later! 
The tour concludes with a VIP entry to Reykjavík's largest nightclub, but it's up to you whether you want to snooze or groove! 


Reykjavik City Card 
Obtain a Reykjavik City Card to avail discounts and free entry to museums. The card permits you to have a full-fledged Icelandic experience with the inclusion of numerous galleries, museums, eateries, bistros, pools, and buses in the city. Browse a 24-, 48-, or 72-hour card, or a children's card for your child.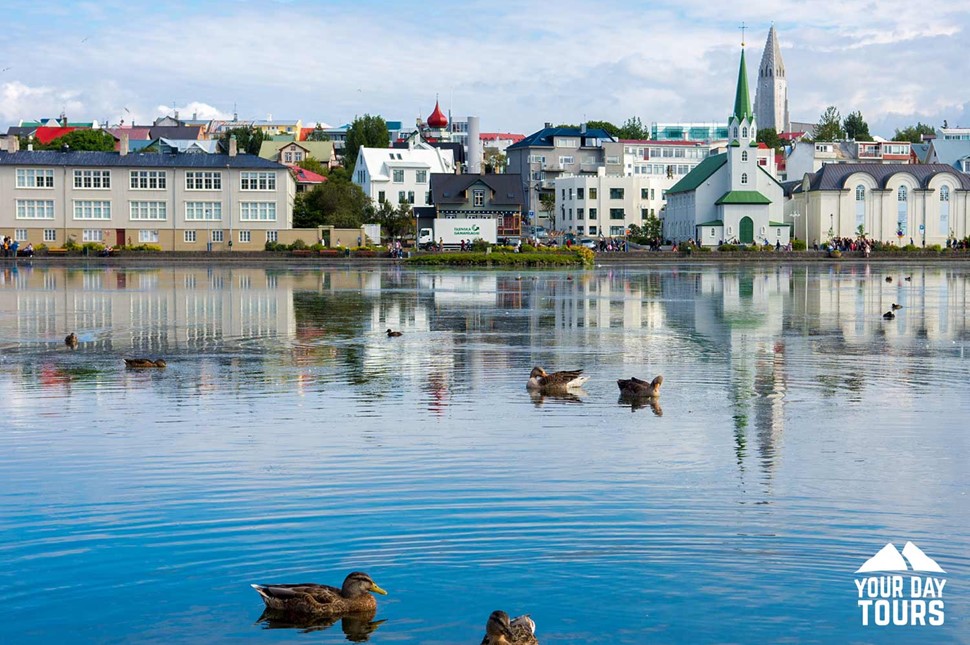 With organized sightseeing tours, food and beer tours, and walking tours, you can delve deeper into the history, folklore, fun facts and unexplored charms of the city, all thanks to the friendly locals who step up as guides! In other types of tours like Hop-on-Hop-off bus tours, small group and private tours, you can still enjoy the assistance of guides in Reykjavik.   
Discover more on Reykjavik Tours. 
Reykjavík Street Art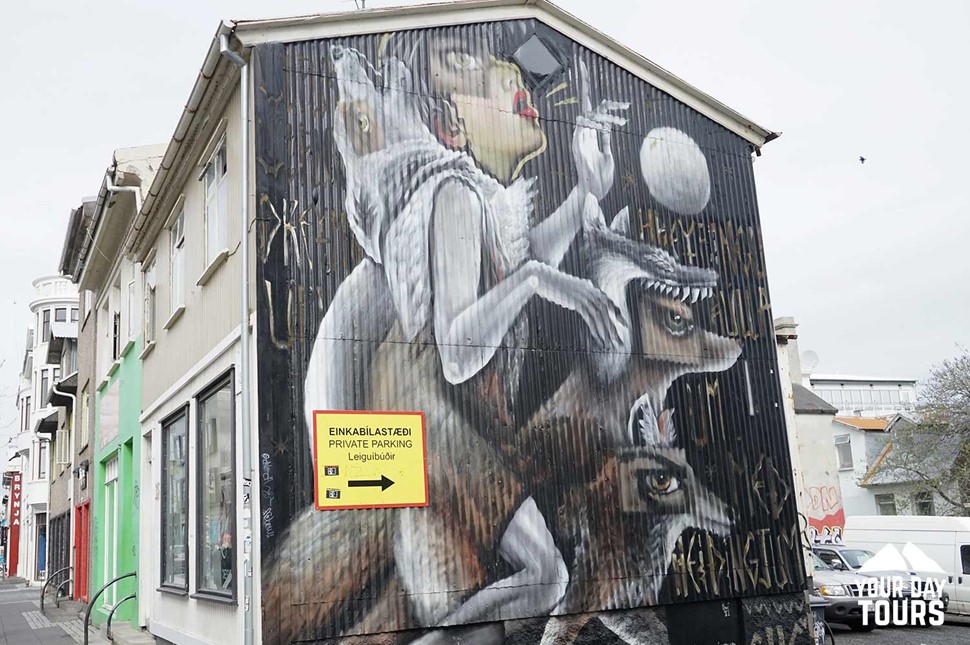 The streets of Reykjavik are adorned with vibrant and magnetic wall art. Urban graffiti and sophisticated wall poems make an appearance on every other building of the city. The hundreds of works of street art add to the photogenic treasure of the city and mean that there are more than a hundred places to get photographed!
Where To Eat In Reykjavik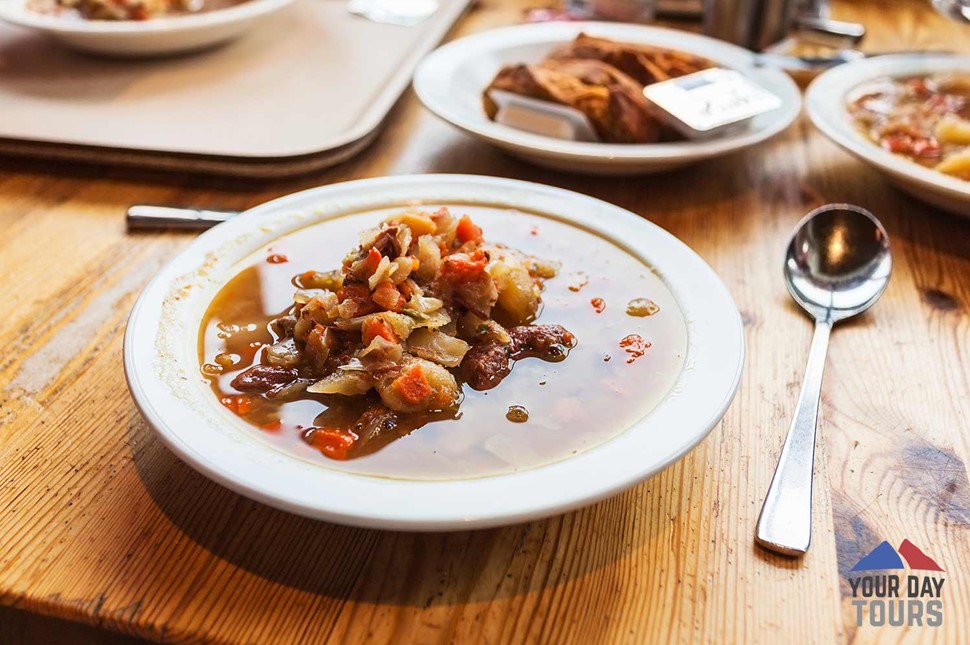 Reykjavik is dotted with several eating outlets and street-side vendors that offer a piece of Icelandic treasure in the form of platters and appetizers, enough to make explorers stay a little longer or even forever! While the fermented shark and "best hot dogs in town" are the most popular food items on the menu. However, there are tons of things to try. An amazing way to explore the city and its food is by selecting The Golden Circle & Local Food Tour. Once you get picked at 9:00 there is no looking back! The tour takes you to attractions like Thingvellir National Park, Gullfoss Waterfall, and the geothermal Geysir area. Another plus point of the tour is the carefully included locations that let you sample the food scene of the city at its best. Get ready to experience local culinary customs and luscious food served by hospitable Icelandic farmers, Efsti-Dalur Estate, Fridheimar Greenhouse and Icelandic Turf House. 
Pro tip: Warm clothing, hiking boots and a fancy toward authentic food is all you need in Iceland!   
To have a spontaneous food spree in the city, look no further. Just head to the Fish Market and indulge in sumptuous platters of sea-based specialties and excellent wines to wash them down. Both the platter of king crab legs and sushi varieties are top-rated delicacies of Reykjavik. For those who like to gorge on more terrestrial specialties, there are a myriad of lip-smacking options! Smoked puffin breast is one of the must-haves here, as it is an Icelandic staple, definitely a brag-worthy experience.  
Foodies on a budget, don't worry, you are neither compromising on taste nor service. Reykjavik knows how to offer amazing dining experiences even in the mid-price range. One such place is Vegamot - Bistro/Bar. The menu consists of items in the $20 range. However, a steak will be a little pocket-pinching as it inflates the cost right to $30. Here you will both find locals and tourists trying to catch up with friends and indulging in aromatic meals.  
Vegans and gluten-free food consuming tourists also have various options in the form of cafes, bakeries, confectioneries and ice cream parlors. For more information on the food scene, read our blog on  where to eat and drink in Reykjavík!
Self-guided Walking Tours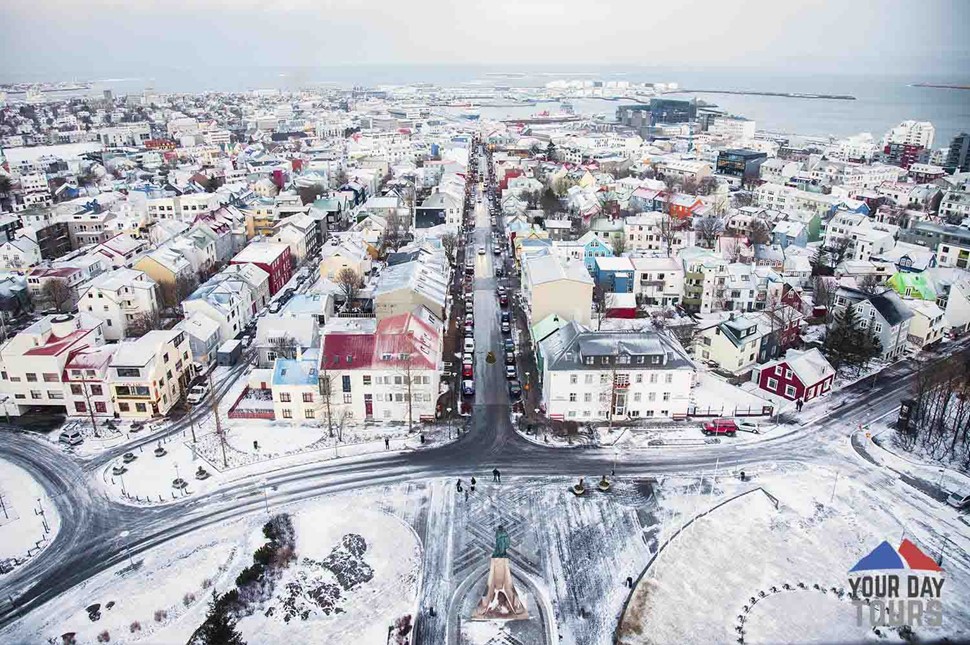 If you're a solitude preferring traveler who likes to go at your own pace, self-guided walking tours are just for you. Here's a Reykjavík city walk map for your self-guided walking tour, featuring all of the must-see locations that are within walking distance from the inner city.
Important Things To Know About Reykjavík
Reykjavik is infamous for its untrustworthy weather conditions. Below are some helpful tips that will help you stay ahead of these backstabbing conditions and double-cross it, too, while having a blast.
Music & Festivals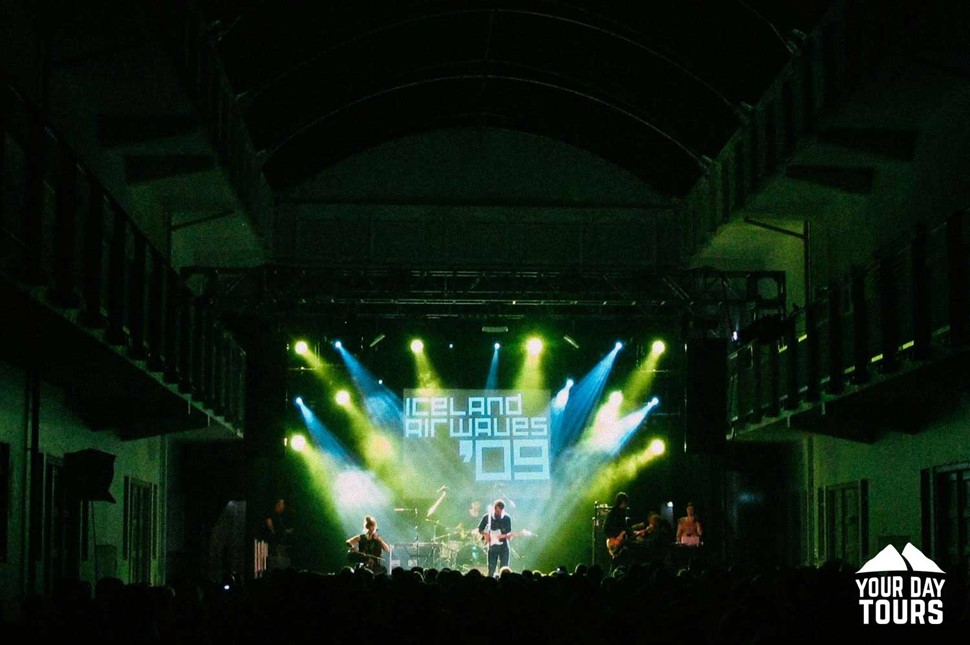 Just how the melodies of Iceland are absolutely delightful to listen to, the history of music is equally intriguing to know. The Icelandic terrain has raised several iconic music personalities like Bjork, Sigur Ros and Of Monsters and Men. Of them, Bjork was a fruit of Rekjavik land and has often said how everyday experience made her the refined musician she is. "I used to walk outside on the outskirts of Reykjavik – it was a 40-minute walk to school through winter in the dark and in blizzards sometimes. This is where I started writing my melodies," she has said. "This is where I come from, what I'm made of," in her own words.  
Inspired by such traditions and talent, Enric Palau, founder of Barcelona music festival Sonar, took the initiative to launch an Icelandic version of Europe's famous musical events, the Sonar Reykjavik takes place during February or March every year. Another great addition to the Icelandic Musical portfolio is the premier Iceland Airwaves, so another reason to visit during the winter months.
Different celebrations that happen in the Icelandic capital are the Winter Lights Festival, the International Festival of Children's Literature, the Reykjavik International Film Festival, the Reykjavik Fashion Festival, Design March, and the Ingólfshátíð Viking Festival – where Vikings from around the globe assemble to commend their legacy (don't worry - Vikings are really amicable people!). Iceland can surely be named as the land of festivals, as there really are celebrations to suit everyone in the city of Reykjavik!
Weather In Reykjavik?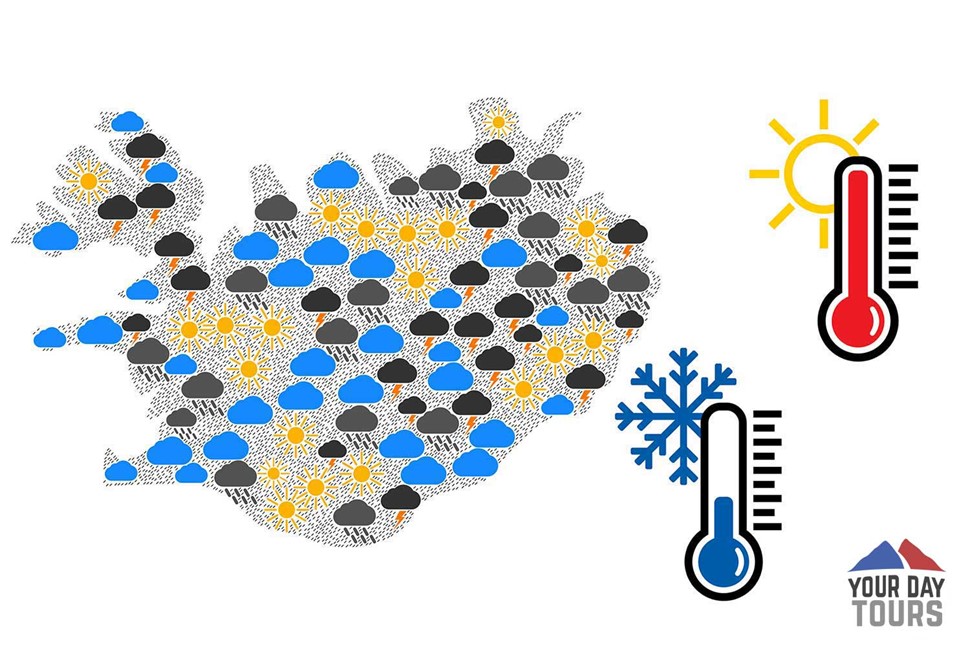 A good trip in Iceland rests on the mercy of nature. While summers will still show some loyalty toward visitors, winters can be the culprits behind last-minute changes and disturbed itineraries. Therefore, it is advisable that all visitors must look out for any changes in the weather before flying off to the place. Government websites have all information about the weather and road conditions, so it's better to have some references from them. This will ensure that you are well prepared with all the essential clothing and stuff, as per the forecast.
Reykjavik, on the other hand, has moderate temperatures but receives more downpours than other parts of the country. The months of December to March have average temperatures between -2 and 4°C (28-39°F). On the other hand, the summer months of April and May, show a rise in temperatures with a maximum temperature reach of 13 to 14°C (55-57°F). Summers also have their highs and lows, as in rare cases, temperatures rise up to 18 to 20°C (64-68°F). The weather, then, consistently witnesses a fall in temperatures from September until November to welcome a snowy winter.
The months between October and March receive the most precipitation and are the darkest and windiest months. Check out our guide on the weather in Iceland to find out more.
How To Know When The Sun Rises And Sets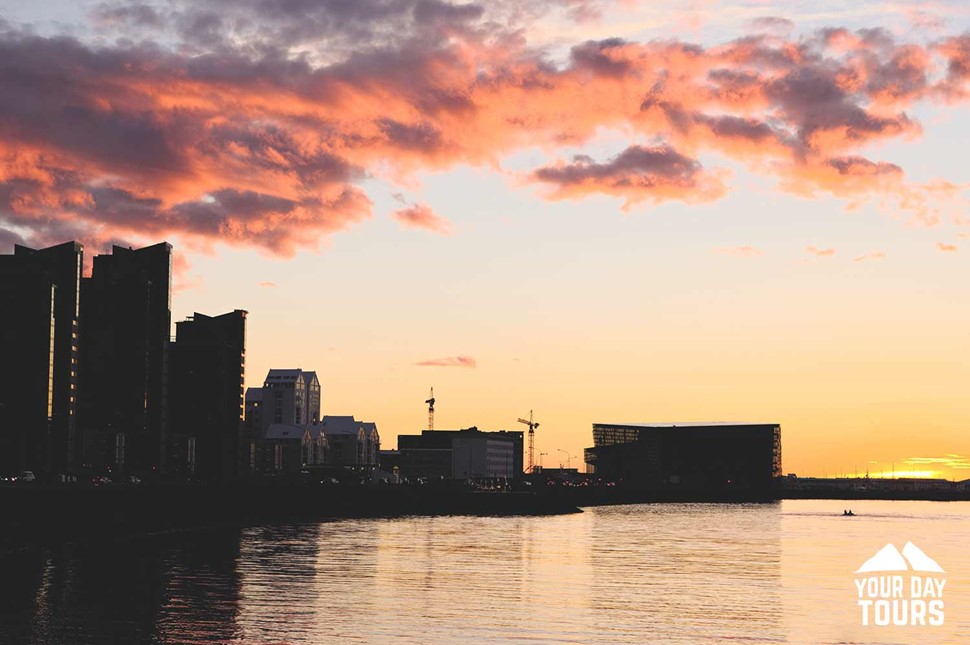 Iceland is a blissful getaway all year round. However, to make the most of your visit, a pre-planned itinerary is not the only thing you would need. The Icelandic landscape receives a fair share of sunlight in all seasons. Planning visits, however, while following a monthly guide about the hours of daylight received can ensure that you don't lose out on good experiences just because you were a little lenient in your watch. Summers will definitely keep you on your toes, while winters are a bit tricky, given that the sun shows its face at specific hours. It is also recommended that tourists bring eye masks, as the summer mornings are pretty intense for light sleepers.
Safest Destination In The World
Iceland is one of the safest destinations in the world, with Reykjavik being given a top ranking in the list of the safest cities. With a low crime rate and inclusive and progressive culture, the place extends a warm welcome to all. One of the best experiences to have in Iceland is to take a night stroll in the city of Reykjavik, as summers and sunlight are actually at their peak!
Abandoned Babies!?!
Icelanders have a strange tradition of putting their babies to sleep and leaving them in the fresh air. Don't worry. This is perfectly normal as the parents keep an eye on their babies while doing their day-to-day chores.  

For more insightful tips, read our What to Know About Iceland post.
Adventure Tours From Reykjavik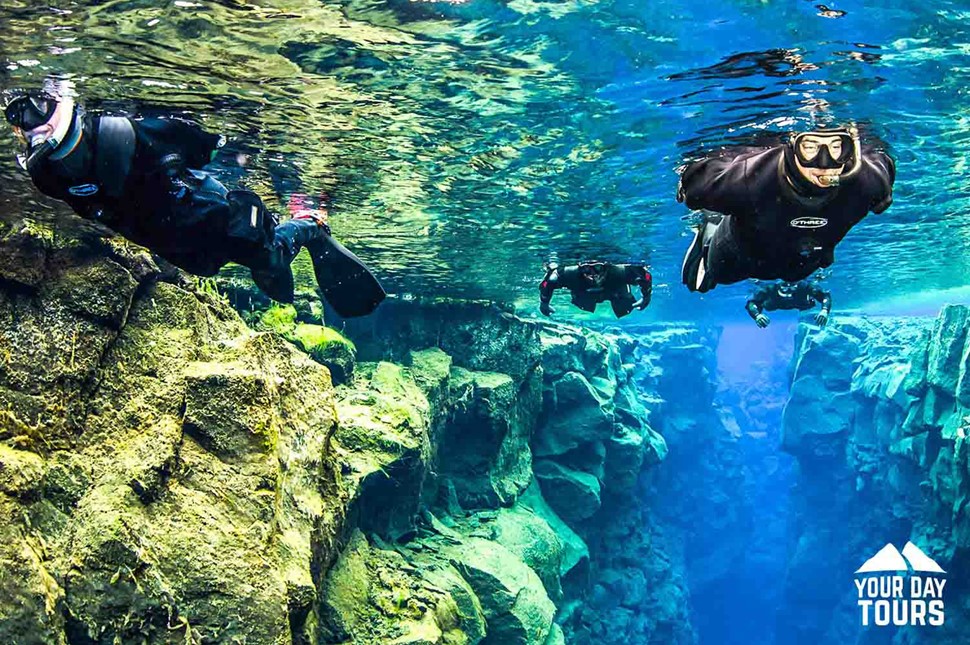 Arctic Adventures has a wide and varied selection of adventure and sightseeing tours, which will suit every budget and level of ability, available all year round. Hiking, caving, diving, snorkeling, glacier hiking, whale watching, Super Jeep tours, volcano tours, snowmobiling, food and drink tasting tours and much, much more await you – the only problem you will face is trying to figure out which tours you want to do in the time available to you! 
All sorts of adventure and activity tours run from Reykjavik on a daily basis. We also offer meet-on-location tours for those who have a rental car. Whale watching in Northern Iceland, boat tours on the glacier lagoon, ice cave, and volcano exploration trips… all of these can be accessed from Reykjavík. Below are some of our favorite choices:
Iceland's Famous Ice Caves
Reykjavik is home to some of the most iconic attractions of Iceland. Whether you visit the natural marvels like Langjokull Glacier, Hraunfossar Waterfall and Deildartunguhver or much recent man-made attractions like the caves in the Langjokull Glacier, you will come back with an incredible experience for sure. Most tours from Reykjavik to these spots include lunch and a drive in an 8-wheel monster truck.
The usual time for pickups is from 8:30 to 9 am and basic guidelines about the tour like warm clothing and footwear need to be adhered to, even during summers.  
Explore our range of Ice Cave Tours and get more information about our offerings and packages. 
Glacier Snowmobile Tours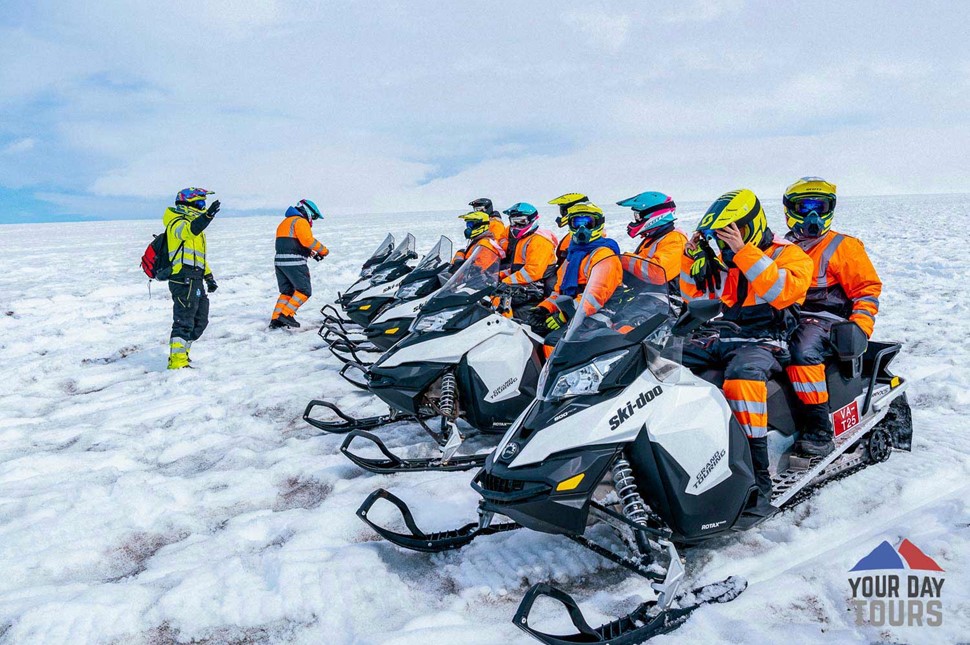 Snowmobile trips are one of the most popular forms of recreation. Hence, anybody visiting Iceland must count their trip incomplete without this. Usual timings for pickups are around 10 am, as the next stop on this ride is Langjokull Glacier, which is a 1-hour thrilling drive on the second-largest glacial mass. Both first-timers and experienced riders can opt for a snowmobile tour, given that they strictly adhere to the guidelines and dress appropriately. Some clothing essentials for this trip are warm wear, like thermal shirts or fleece, warm pants or thermals, boots that can keep your feet warm.
Landmannalaugar Hiking Tour From Reykjavík With Hot Spring Dip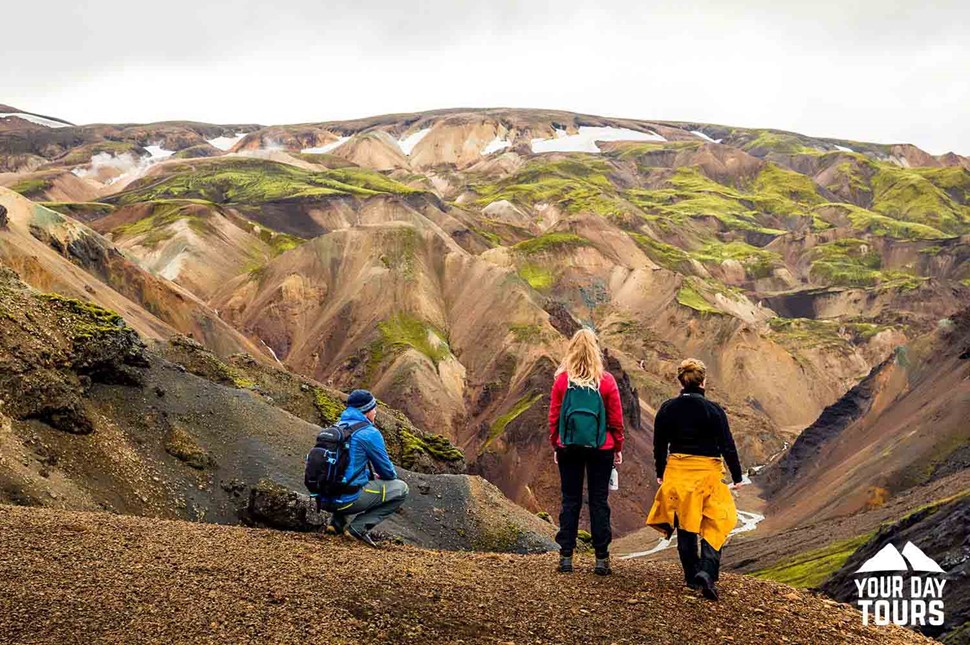 The  Landmannalaugar Nature Reserve is best for explorers who like to be on foot while taking pleasure in the immaculate topography of the hills. This 8-10 km hike takes about 4 hours, so pack your bag with all the essentials! The route will take you through Laugahraun Lava Field, through Vondugil Canyon and up to Mt. Brennisteinsalda. While returning back to the starting point, you will come across the delightful green expanses of Graenagil Gorge or Green Gorge. Before you conclude the hike, some rewarding panoramas await you at Blahnukur Volcano. Ease up in the hot spring pool and give your exhausted body a dose of magic in the reviving waters.  
Pack your bathing suit and toiletries beforehand, as most pickups from hotels and hostels are scheduled between 7:15 and 9:15 am, as per your location.
Geothermal Swimming Pools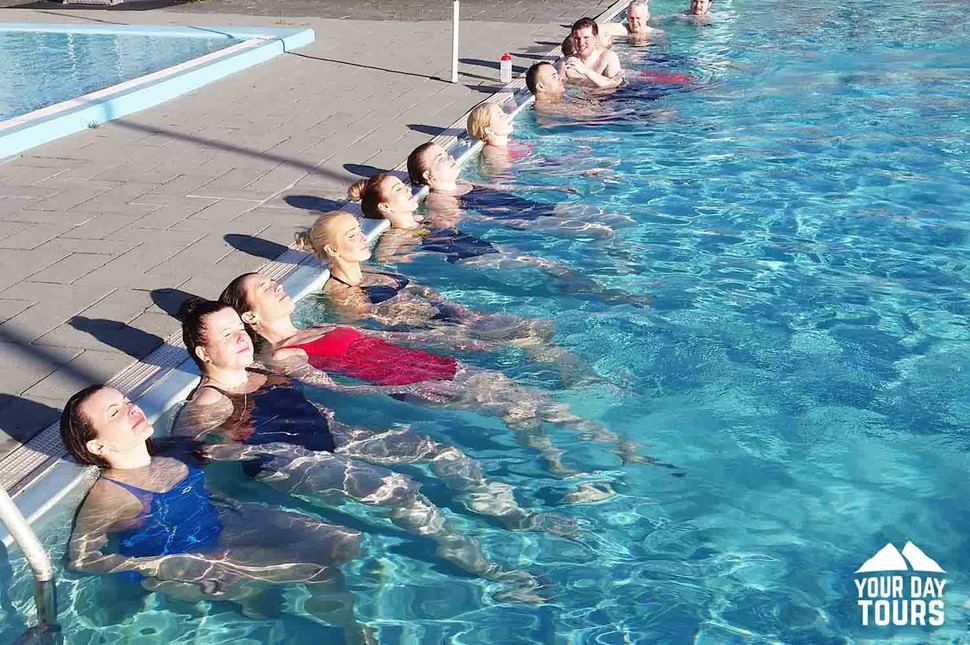 Reykjavik originates from the term Reyk-javik which essentially means "smoky bay." Legends have it that the first inhabitant made his dwelling in Reyk-javik. As the name suggests, its foundation is made on several geothermal springs. Hence, locals have a personal supply of relaxing water from the hot springs. The miraculous waters have healing properties and rejuvenating powers to help exhausted individuals regain their energy. With urbanization and modernization, the city transformed the way of utilizing this natural resource. There are more geothermal swimming pools in Reykjavik than in any other place. Hence, both tourists and natives head straight to this pond of geothermal magic when down and fatigued.

Of the 14 swimming pools in Greater Reykjavík, below are five of the best ones that you must try when vacaying in Reykjavik: