The most noteworthy characteristic of Reynisfjara Beach is its black sand, which was formed from extremely eroded volcanic rocks, also called extrusive igneous rocks. It is said that the sand turns black because it shares similar properties with lava, which turns black upon cooling down. Icelandic people have a variety of volcanic rocks, the most famous one being basalt, but there are 25 different types, including olivine, gabbro, rhyolite and tholeiite.
Reynisfjara Beach has become an internet sensation in the past few years and people identify it as a black sand beach. Its cinematic portrayal and columns have made it an ideal place for duo shenanigans. Its dramatic and intriguing outlook has awarded Reynisfjara Beach a place in the top 10 list of the most beautiful non-tropical beaches in the world.
The gushing and noise of the Atlantic waves is music to the ears of admirers. You can be onshore and just be amazed by the playfulness of the waves and how they tease about. Despite the noise, Reynisfjara Beach takes you in the lap of mother nature and lets you adore its creation without any understanding of its cultural and scientific origin. While that's interesting too, but isn't getting lost and losing control in the arms of nature, just too heavenly of an affair! It surely is, but has its own limitations given you become too careless about safety measures.
The Reynisdrangar Basalt Columns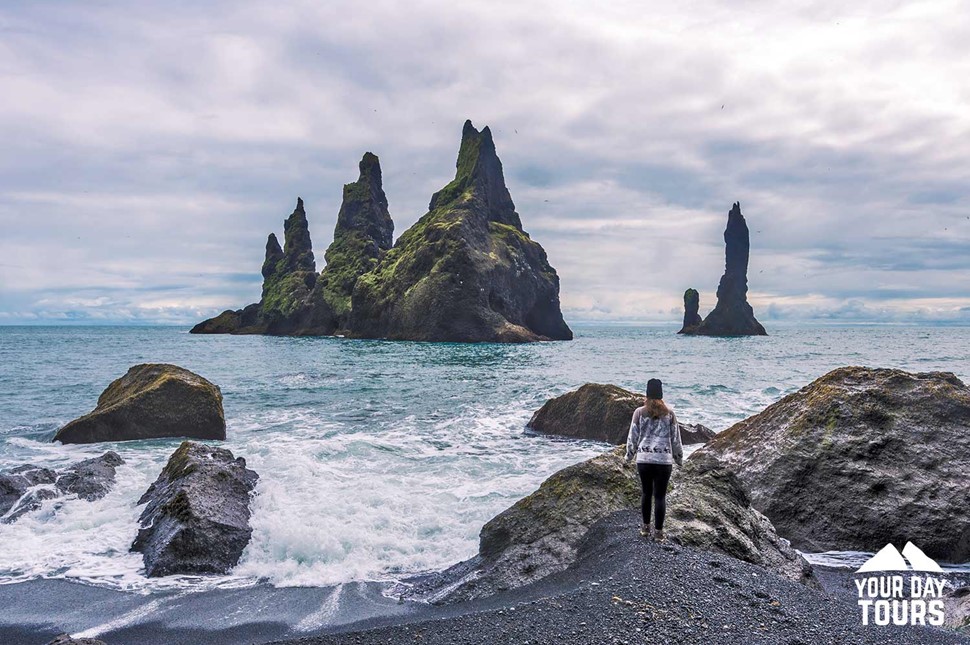 The most famous volcanic rock of basalt is present in the popular Reynisdrangar sea stacks, which stand on the coast of Reynisfjara. They are a famed attraction pulling thousands from all over the world. The largest among them is the one with three peaks, named Langsamur. It manifests the shape of a ship, which has led to the spread of an interesting folklore in the region.
The second-largest stack, Landdrangur is connected to Lansamur and closest to the beach. The third one is named Skessudrangur or Haidrangur. The names for the third one locally denote the meaning of enormous and tall, which is kind of ironic and funny.
How Were The Reynisdrangar Columns Formed?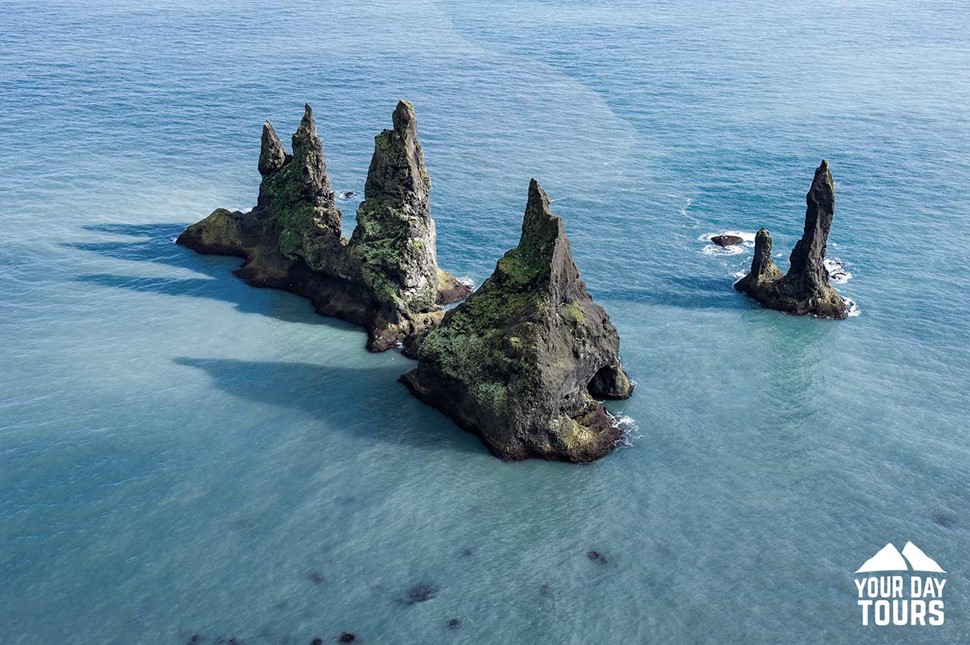 Icelandic legends are intriguing and fascinating. Just know there are a lot coming your way, as every site has some folklore attached to its existence. Coming back to Reynisdrangar, it is believed, according to a local legend, that the columns are a remnant of a battle between two local trolls and a three-master ship. The locals believe that when the sun came up, the two trolls changed to stone, and the ship trapped them forever, leading to the group of sea stacks now regarded as the Renisdrangar Columns.
But as science has the habit of proving local legends wrong, this myth was busted too. It was revealed that structures were, in fact, a part of the Reynisfjall Mountain Range during the last ice age. Due to exceptionally harsh weathering for a long span of time, it gave the impression that they were never connected to the mountain range and sprung up out of nowhere.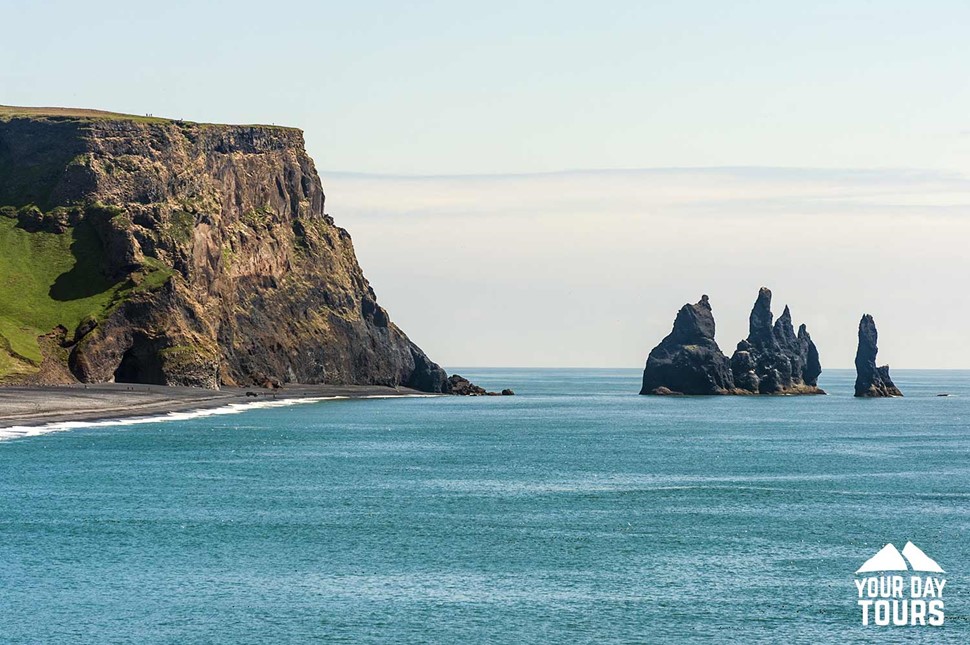 Tourists believe that visiting the Reynisdrangar two or three times in a trip, will allow them to notice a change. But this doesn't hold true in real life. The columns undergo changes daily, but it's very difficult to notice a change in a matter of days. So, just remember some things are better enjoyed in the present and how they are.
Where Is Reynisfjara Beach Located?
Nestled on the South Coast of Iceland, Reynisfjara Beach is just 180km from Reyjkavik. There are great attractions to keep you engaged even after you have fully explored Reynisfjara Beach. Travel to Skaftafell National Park, which is just 150 km away, or the tiny town of Vik, just 10 km away, and Kirkjubæjarklaustur for a 78-km ride. The cascading Seljalandfoss Waterfall is also nearby and just 61 km away.
The Cave At Reynisfjara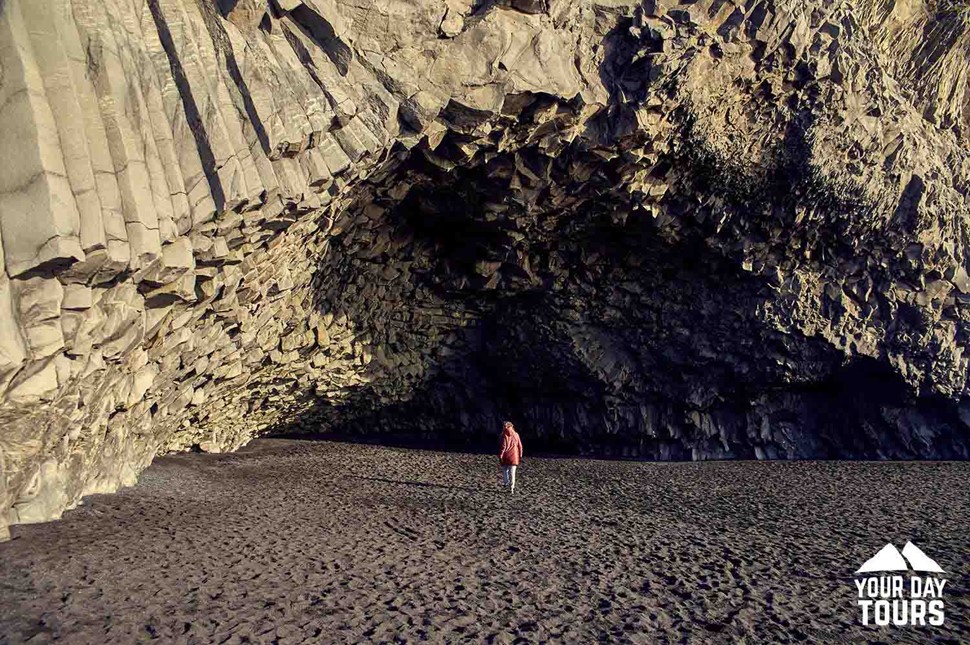 Natural caverns are a thing in Iceland and it wouldn't be wrong to say that they are the most prized possession of Reynisfjara Beach. The beach is exalted for its photogenic backdrop and many photographers and tourists head to the place to capture this magical background forever in their memories.
Talking about its location, the cave has formed above the black sand beach on the mountain of Reynisjfall. It is an ideal location for newlyweds and couples, as there is nothing more romantic than taking shade at a natural site when the winds blow and clouds start to shower. Nature has its own solution to problems and the cave is perfectly located in an area, which is infamous for its nasty weather changes. The discovery of rocks here also points to the fact that early man somewhere beat these troubles of nature by discovering how to stack rocks and use them.
Guidelines for Reynisfjara Beach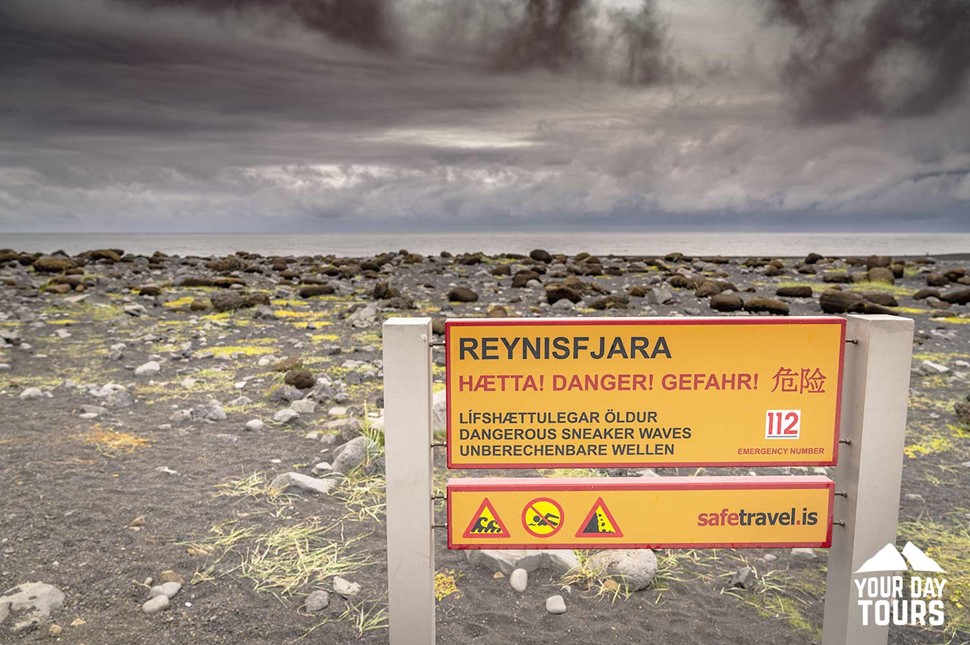 The scenic views of Reynisfjara Beach draw a multitude of visitors all year round. The fresh breeze blowing from the sea and gushing waves are tempting but it is advised to not go close to them. They are too charged and erratic to handle, so while you can get close but it's best not to! 
The sea is infamous for its nasty waves that hit with great force and pull with extreme strength alongside retrieving waters. You don't want to be one of those unfortunate people, so keep these guidelines in mind:  
Don't go for a swim in the waters.

 

Maintain a decent distance from the waves always.

 

Keep an eye on kids and don't let them close to the water.

 

Be vigilant and attentive toward the flow of tides.

 

Movies & TV Shows Filmed At Reynisfjara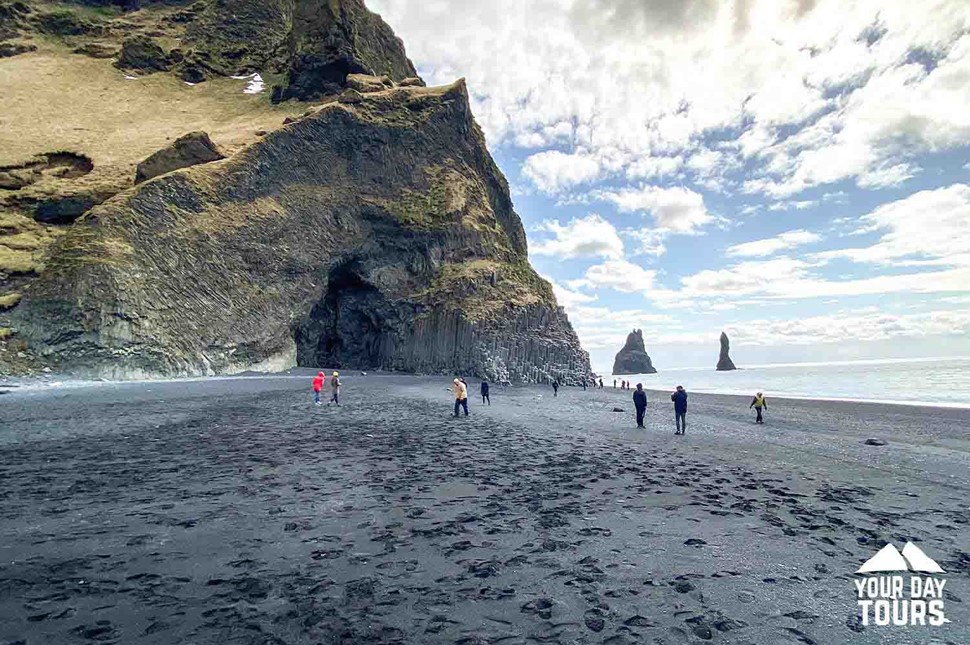 Iceland has an abundance of natural vantages that make it a favorite among filmmakers. Be it top-rated series, Hollywood movies or regional films, the Icelandic topography has garnered a bunch of devotees with its cinematic presence. The same is true for Reynisfjara Beach. Some of the cult-favorite shows and movies that were shot here include:

Game of Thrones - Eastwatch

 

Noah (2014)

 

Star Trek: Into Darkness

 

Rogue One: A Star Wars Story
Must Places Near Reynisfjara