Where is Skógafoss located?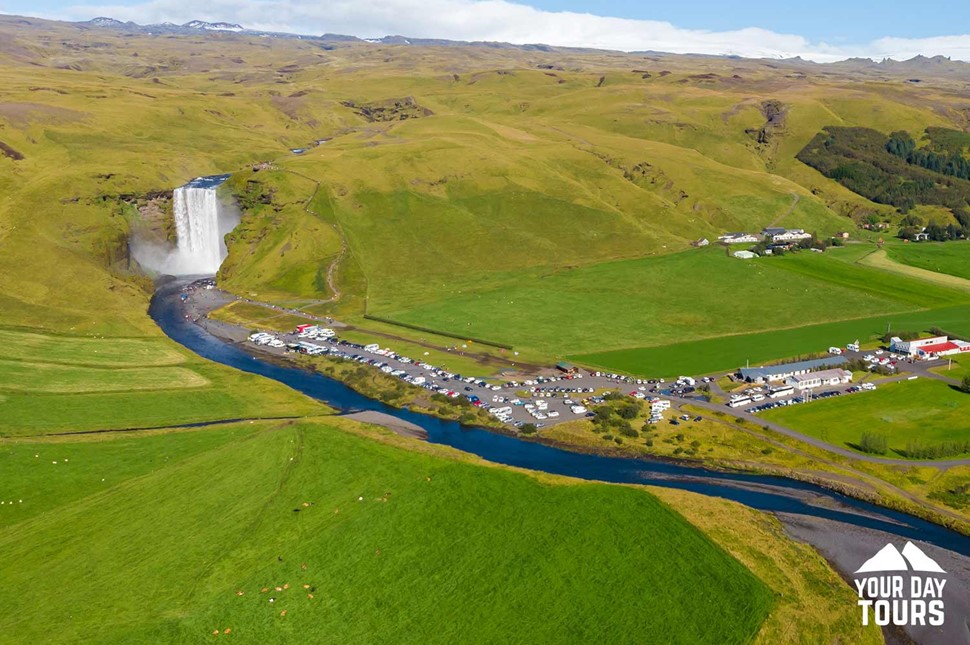 Skógafoss is located around 149 km from the capital, Reykjavik. It is in the south of Iceland, where the cliffs of the former coastline lay. The coastline has retreated seaward for almost 5 km, and near the Skogar village, the former sea cliffs can be seen. 
If you are traveling from the east, you have to visit it from Skaftafell, which is 173 km from Skógafoss.
What does Skógafoss mean?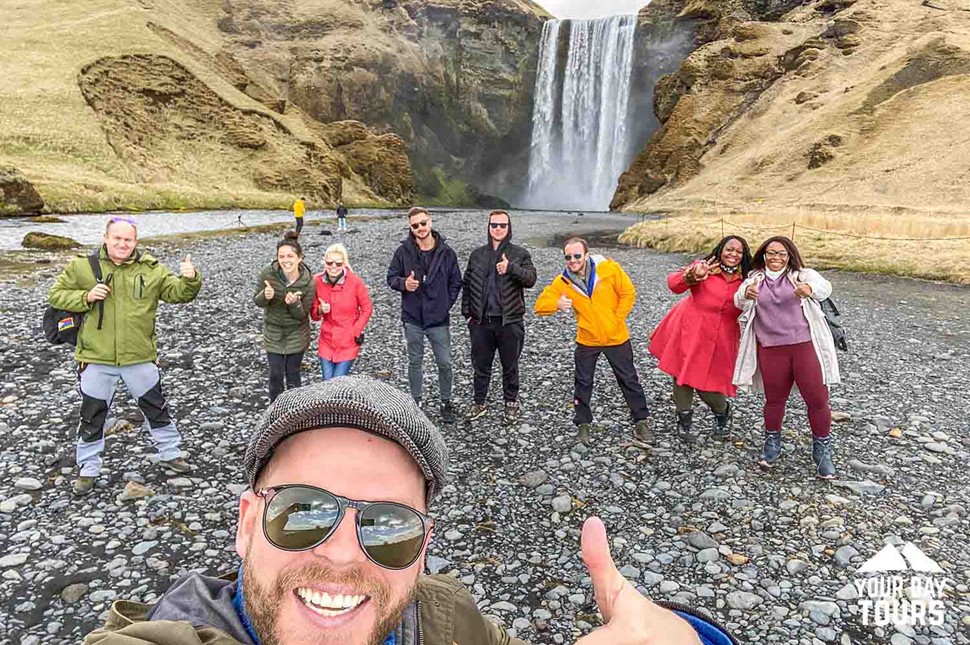 The name Skógafoss is derived from two words – Skogura and Foss. Skogura means forest, and Foss is a waterfall. Together, it means Forest Waterfall. The waterfall got this name because Iceland was once 25% covered with dense forest.
How to reach Skógafoss?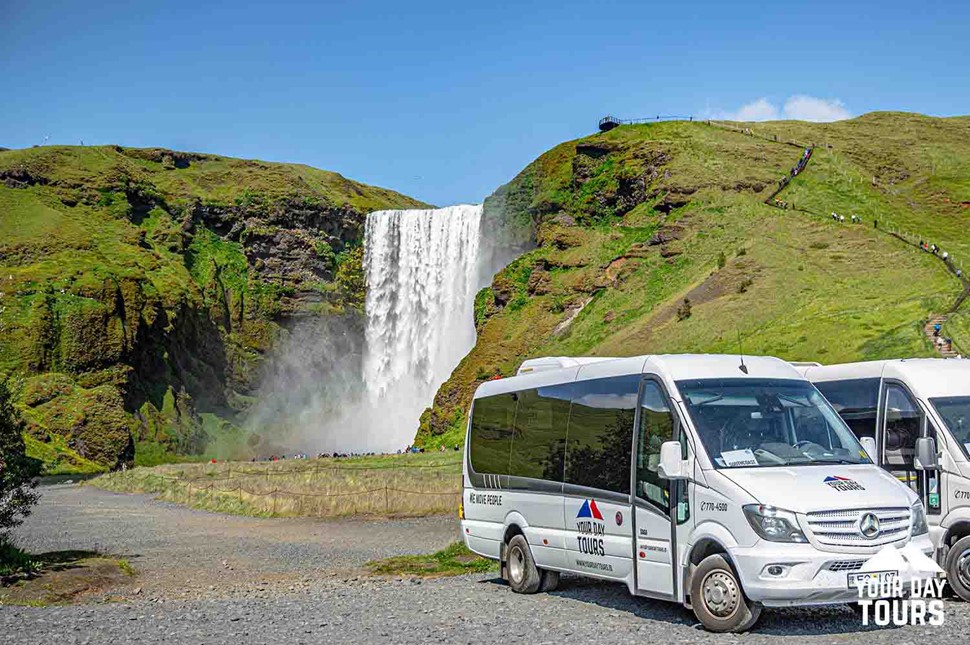 If you are coming from Reykjavik, take Ring Road 1. You will cross the villages of Hella, Selfoss, and Hveragerdi. Cross Seljalandsfoss and continue to drive toward village Vik.
It will take you around 25-30 minutes from Seljalandfoss to arrive at Skógafoss.
Why is Skógafoss so popular with tourists?
Skógafoss Waterfall is astounding. It has amazing surroundings that are perfect for taking photographs. On its east is a trail that takes you to the famed Fimmvörðuháls pass. Hikers love this trail for its challenges and views. 
While traveling to Iceland's South Coast, tourists take a break at Skógafoss to enjoy its views. It is visible from quite a distance and creates a beautiful backdrop along with the cliffs and river. 
Skógafoss produces a large amount of spray. As you walk close to it, a thick envelope of mist, spray, and refracted light will engulf you. Emerging through the clouds, the sun creates beautiful rainbows. Visitors wait for the clouds to disperse and watch mesmerizing rainbows appear in the sky. On sunny days, even double rainbows are visible near the waterfall.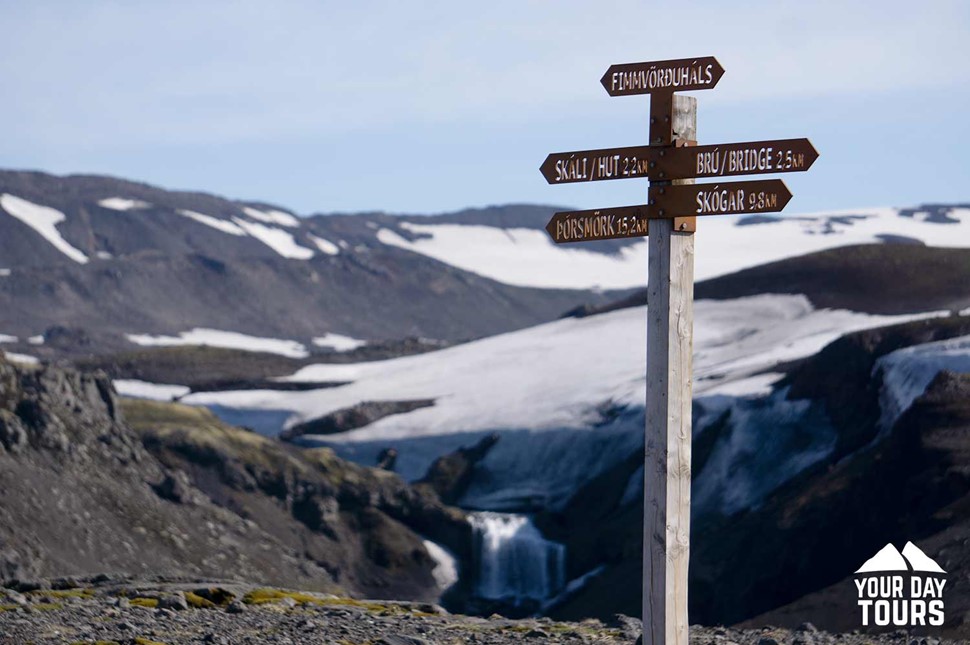 Hikers go up the 370 steps to the top of the Skógafoss to get sweeping views of south Iceland's coastline.  
If looking at Skógafoss gives you a feeling of déjà vu, it is because this waterfall has been filmed in many popular films and shows. Starting from Thor: The Dark World to Vikings, Skógafoss has been used multiple times as an alluring background.
Justin Bieber shot his video I'll Show You around the waterfall. Land Ho! featured Skogar and other beautiful places of Iceland prominently.
Myths of Skógafoss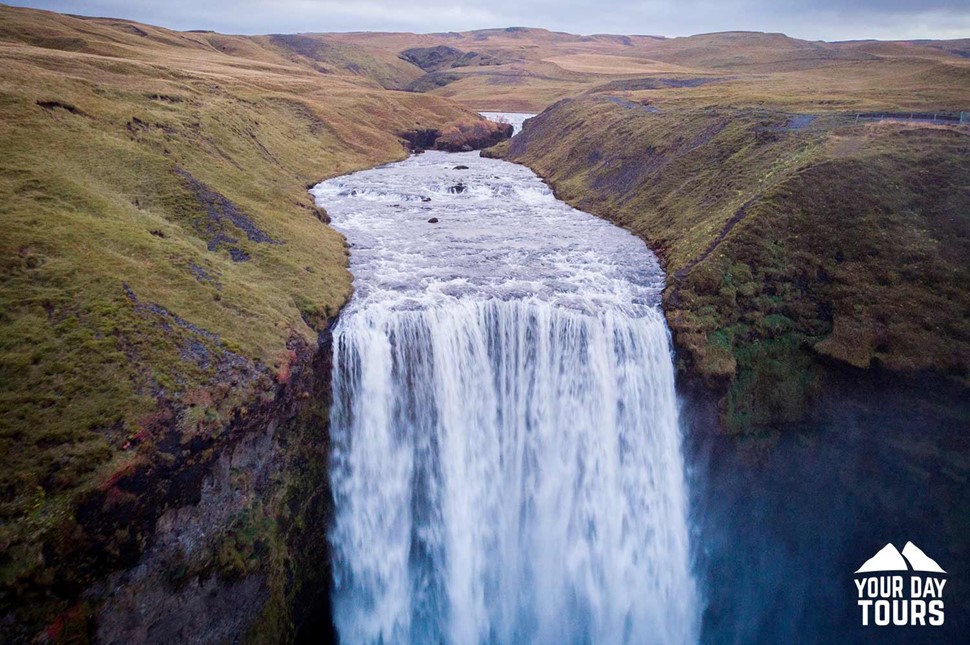 Skógafoss Waterfall is not only famous for its beauty and appeal, but there are myths associated with it also. The first Viking settler of the region was Prasi Porolfsson, who buried a chest filled with treasure behind the waterfall. According to the legend, a local boy discovered the chest after some years. 
He could only hold the ring attached to the chest before it vanished. He kept the ring and later on gave it to the local church. Locals believe that the ring kept in Skogar Museum is the same one, and the myth continues to attract tourists. The locals also believe that the treasure chest is still hidden behind the waterfall, waiting to be discovered. 
There is another folklore related to Skógafoss Iceland. As you know, trolls and elves are very common in Icelandic folklore. So, there is a story that involves this famous waterfall also. Once, a huge troll was walking on the South Coast with a small troll sitting on its shoulder. 
It saw the beautiful Skógafoss and stood stupefied by its splendor. It kept staring till the sun came up, and they both turned into stones. They are still there, resting on the hills, gazing at the magnificent Skógafoss. 
If you hike the eastern side of the mountain, you can see the trolls. As you reach half the hike, turn toward your left and walk till the leap to watch the trolls.
Visiting Skógafoss – take care of these things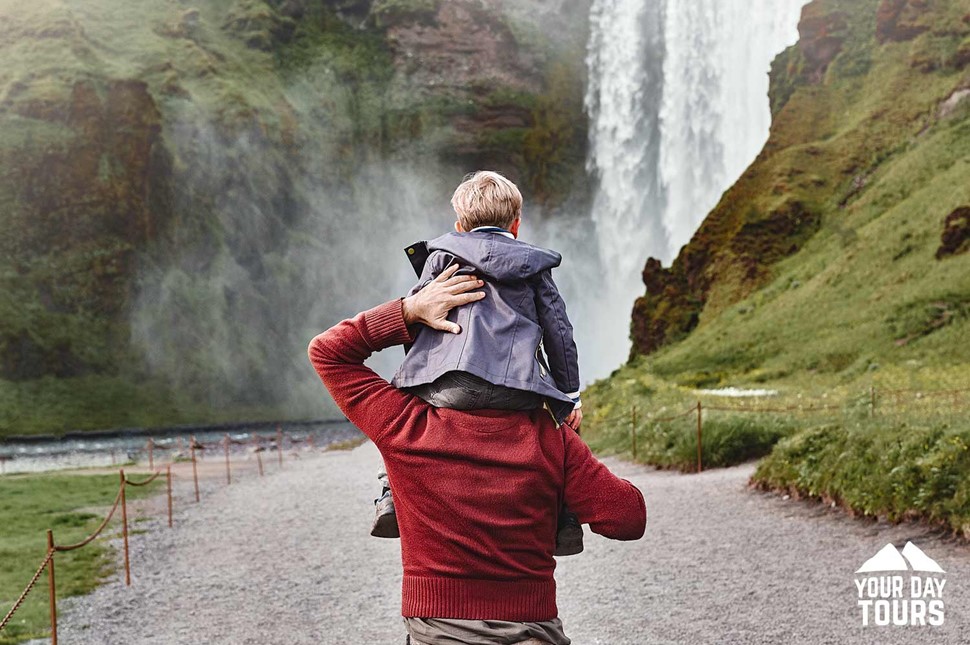 Most visitors love to see Skógafoss closely due to its heavy spray and wonderful surroundings. However, you must follow safety tips while going closer to it. 
The drop of Skógafoss is quite heavy and powerful. So, don't go too close to it. 
If you want to go close to the waterfall, wear waterproof clothes as the spray will drench you. It is quite chilly, also. 
Always follow the marked path when hiking on the right side. 
If you are visiting Skógafoss in winter, make sure to wear proper clothes and shoes with ice spikes or secure soles. The area gets slippery or icy during winter, and so you should be prepared. 
Things to see near Skógafoss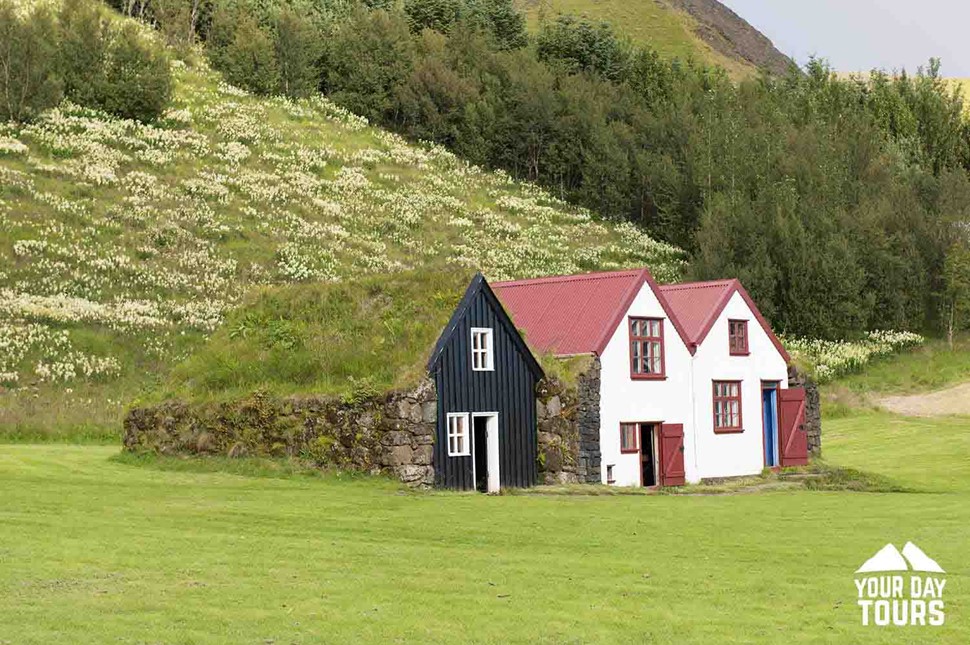 There are a few attractions near Skógafoss that you can check out on your Skógafoss Iceland trip. 
Skogar Museum – This is the greatest draw of Skogar village. The museum has three wings – Open air, Folk, and Technical museum. Don't miss the turf houses here that are the architectural heritage of Iceland.  These houses have been moved to Skogar and reconstructed.
The museum has an impressive collection of artifacts that are worth your attention. The museum also houses the famed fishing boat that arouses a lot of interest in tourists.
Hiking near Skógafoss – Adventure junkies love Skógafoss because of the hiking trails that begin on the eastern side of the waterfall. This trek finally merges with the Fimmvörðuháls trail, which is one of the most popular hiking trails in Iceland. Black sands, gleaming glaciers, lush green fields, and waterfalls make this a paradise for nature lovers.
This trek would take you between Eyjafjallajökull Glacier and Mýrdalsjökull Glacier to pass through the Thórsmörk mountain ridge. On your way, you would pass the recently created volcanic craters of Magni and Modi. Hiking on this trail is only allowed in summer and takes about two days.
If you are not a hiking enthusiast, climb up the 430 stairs by the waterfall to get panoramic views of the Atlantic Ocean.
Accommodation at Skogar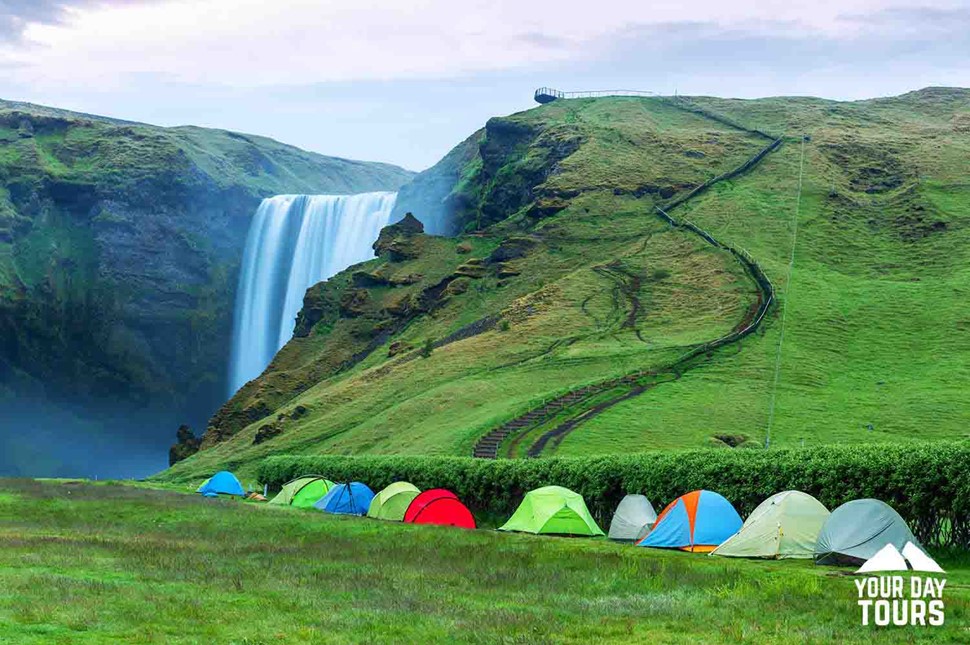 The area around Skógafoss is splendid, offering numerous staying options. For nature lovers, the camping area is a good choice. But you have to bring your own tent and also pay a small fee for water and electricity. Moreover, choose to stay at the camp during the winter only if you are experienced and well-equipped.
You can rent a cabin and enjoy your stay at Skogar. There are a few hotels that are also great for tourists.
Hotel Edda is a simple hotel with 32 rooms and big enough to easily get accommodation. 
Hotel Skógafoss is a B&B with 19 rooms. 
Hotel Skogar is a luxury hotel with 12 rooms.  
Skógafoss offers so many beautiful things like views, hikes, fantastic weather, and food. Yes, you must try the local delicacies at the restaurants of Skogar or stick to European dishes for a hearty meal. 
Restaurant Hotel Skogar is a nice place to enjoy good food. It is open for breakfast, lunch, and dinner.  
The Black Beach Restaurant – if hiking tires you out or your heart longs for a hot bowl of soup, this is the place for you. It is ideal for light meals. 
Hotel Skógafoss Restaurant Bistro Bar – Visit this place for European food. You can have breakfast, lunch, or dinner here. 
Skógakaffi Café – this is a cafeteria that specializes in baked goodies and snack items. 
Drangshlíð Restaurant – if you are looking for traditional Icelandic food, this is a must-visit for you. 
Gamla Fjósið – try this eatery for an unusual dining experience. Situated in a cow stable, it has a unique setting and the food is delicious too. 
Mia's Country Van Sveitagrill – if you love to eat on the go, try this place. This food truck sells yummy fish and chips and other popular fast-food dishes. 
Winter and Skógafoss – an incredible experience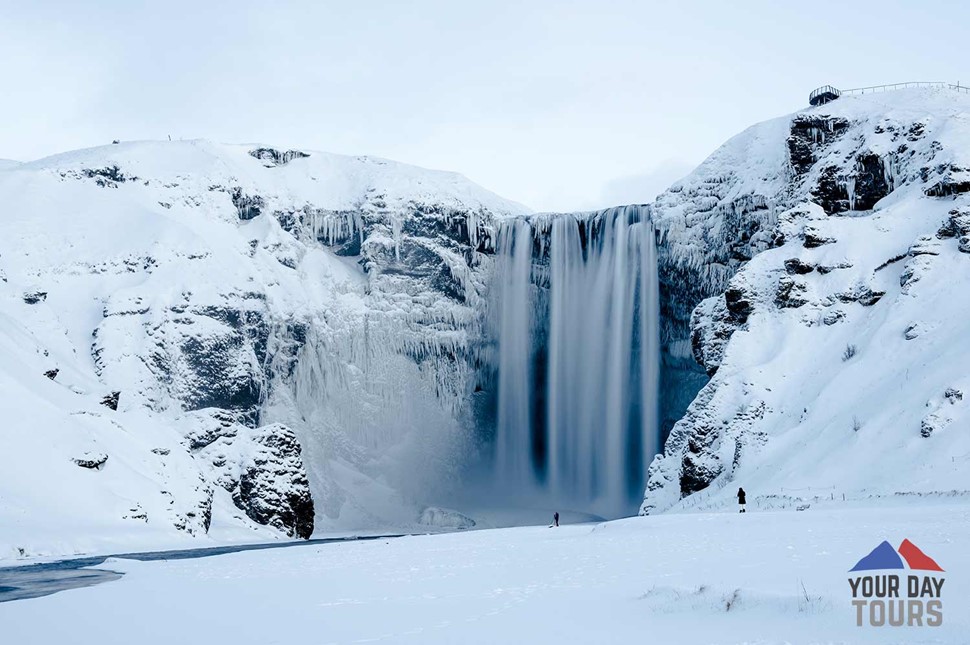 Come winter, and Skógafoss turns into a wonderland with its slopes converted into ice and covered with powdery snow. It gets decorated with icicles and frost, making the environment dream-like. 
The spray drastically reduces but becomes too cold to withstand. So, visitors are advised to maintain a safe distance.
For an out-of-the-world experience, visit Skógafoss during the coldest months to watch Northern Lights dance on it. As the sky lights up in colorful hues, the waterfall reflects the lights and looks ethereal. 
However, the roads get slippery during winter, and as you know, the wind gets ice-cold. Dress appropriately to fight off the chill. Carry enough woolens and wear warm socks to enjoy the scene.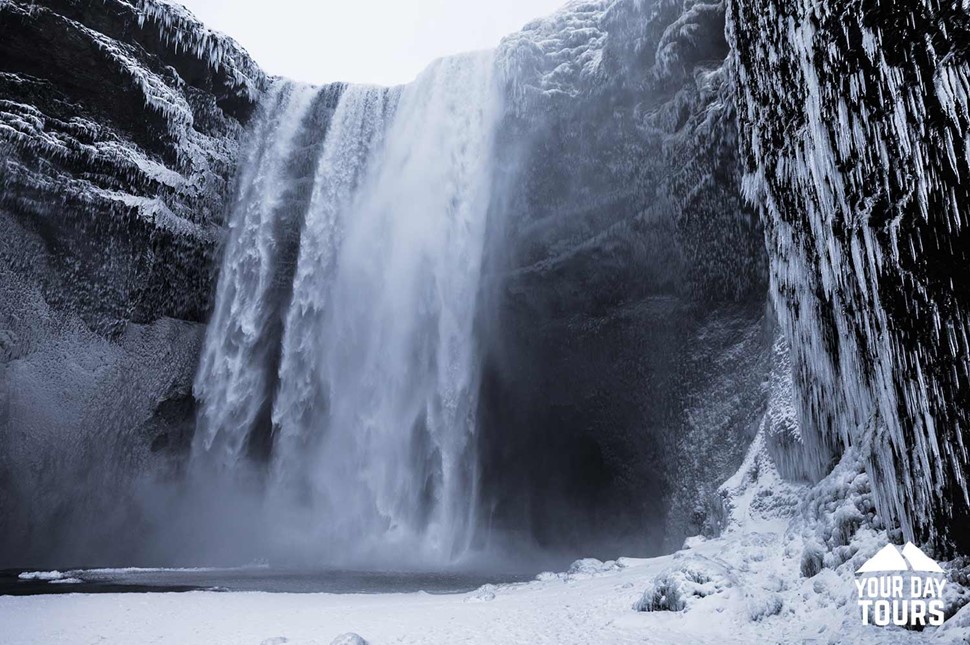 South Iceland is home to many waterfalls, and some of these are quite close to each other. So, on your Skógafoss tour, you can visit famous waterfalls like Gluggafoss, Kvernufoss, and Seljalandfoss. 
Iceland is an enchanting country with gorgeous landforms and warm people. Spend a vacation here witnessing its legendary waterfalls like Skógafoss and enjoy the local food and culture. Iceland promises unforgettable holidays filled with thrilling moments that you should not miss.