History of Vestmannaeyjar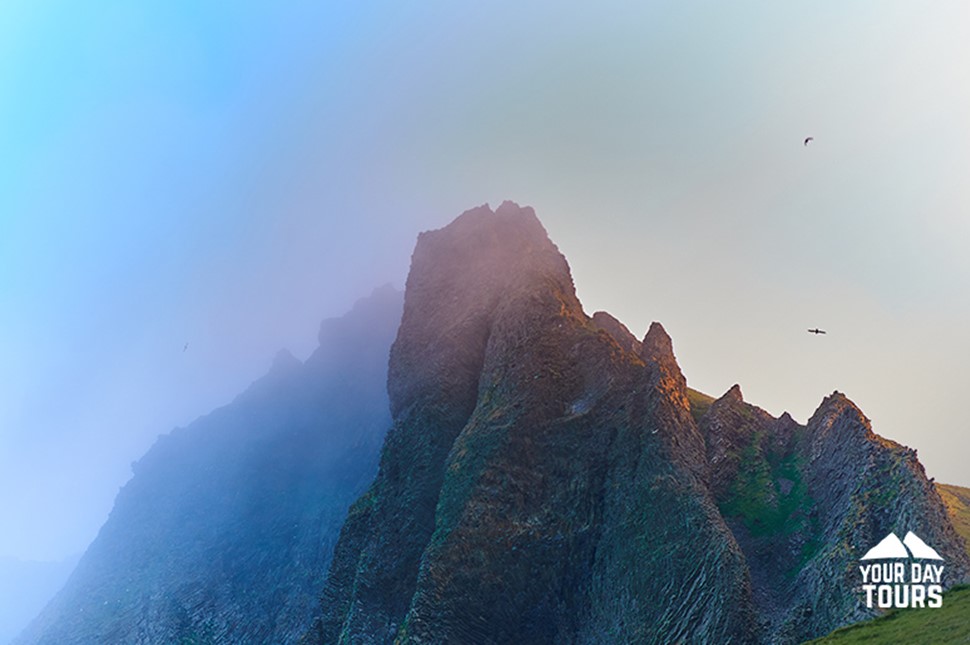 How did Vestmannaeyjar get its name? Ingólfr Arnarson, the first Norse settler of Iceland, his wife, and their slaves made their home in Vestmannaeyjar. But the history of the place was marked by blood when the same enslaved people killed Ingólfr's brother. Blinded by the rage, Ingólfr later killed the two men in the area now called Vestmannaeyjar. Since these men were Irish, they were also called "Westmen", so the place they were murdered is also called Westman Islands.
Where is Vestmannaeyjar located?
Vestmannaeyjar is situated on the South Coast of Iceland.
How to get to Vestmannaeyjar?
What are some of the ways you can reach Vestmannaeyjar? Since the archipelago is surrounded by water, the most practical way would be to go on a ferry Herjólfur that departs from Landeyjahöfn. It reaches the main islands of Herjólfur in just 45 minutes. If you're planning on leaving Reykjavik, then it takes additional 2 hours to get from there to Landeyjahöfn via a car or a bus. Another fast but much more expensive way to reach Vestmannaeyjar from Reykjavik is by plane. The flight takes only 20 minutes.
Interesting facts about Vestmannaeyjar
Vestmannaeyjar archipelago consists of 15 islands and 30 rock stacks. 





Vestmannaeyjar is famous for being the largest puffin colony in the world.





The largest and only island where people actually live is called Heimaey ("Home Island").





Approximately 4,300 people live in Vestmannaeyjar. 





Þjóðhátíð, or "The National Festival," is a celebration held each year and takes place four days before the first Monday of August.
Attractions in Vestmannaeyjar
Eldheimar Museum
In this museum, learn more about Iceland's natural disaster – a volcanic eruption in Eldfell in 1973. Despite it occurring many decades ago, this incident left a scar in Vestmannaeyjar's history, so the best time to visit the museum is at the beginning of your trip. Here you'll hear what happened in Heimaey in chronological order and find out how the eruption changed some people's lives forever.
Eldfell Crater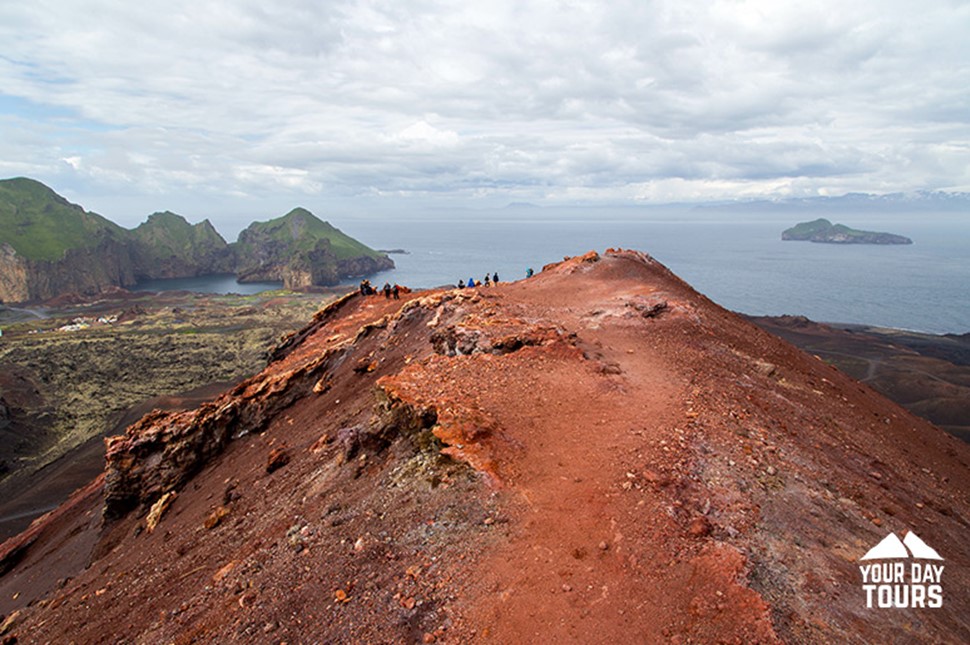 After your trip to the museum, it's time to visit the "culprit" – 200 meters high, Eldfell volcano situated in Heimaey. Walking to the "hill of fire" is relatively easy, but if you want to go up to the volcano, it might take some effort. Once you reach the highest point of Eldfell, you'll be met with beautiful panoramic views of the island. Note that here the ground is still warm and steaming.
Elephant Rock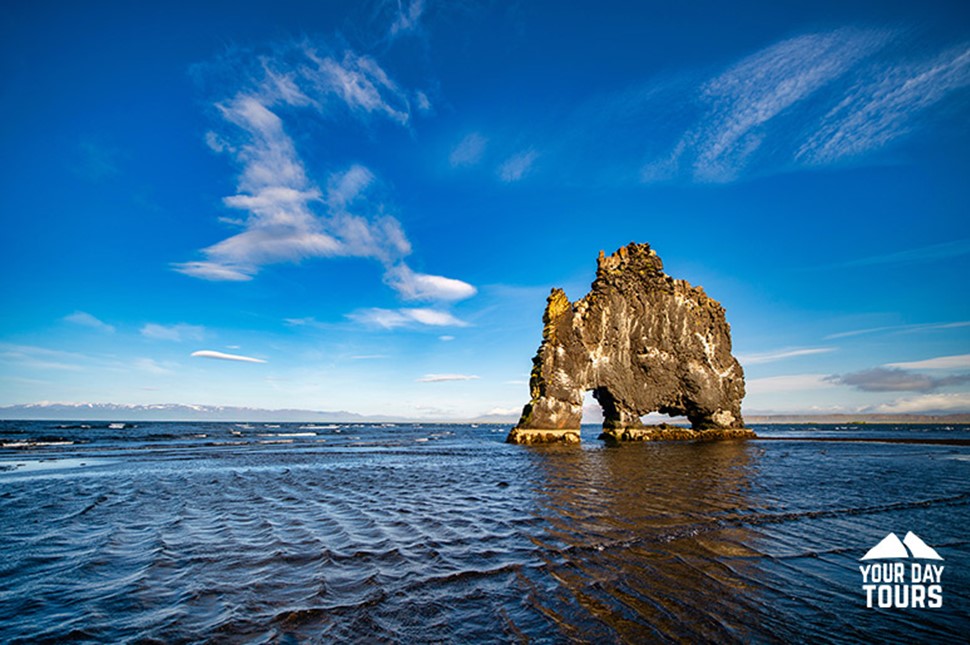 We're already used to some well-known sightseeing places being called interesting yet logical names. Elephant Rock is an excellent example of this because of how much it resembles an actual elephant. Because of how similar it is to a real animal, it might be hard to believe that this rock was formed naturally.
Sea Life Trust Beluga Whale Sanctuary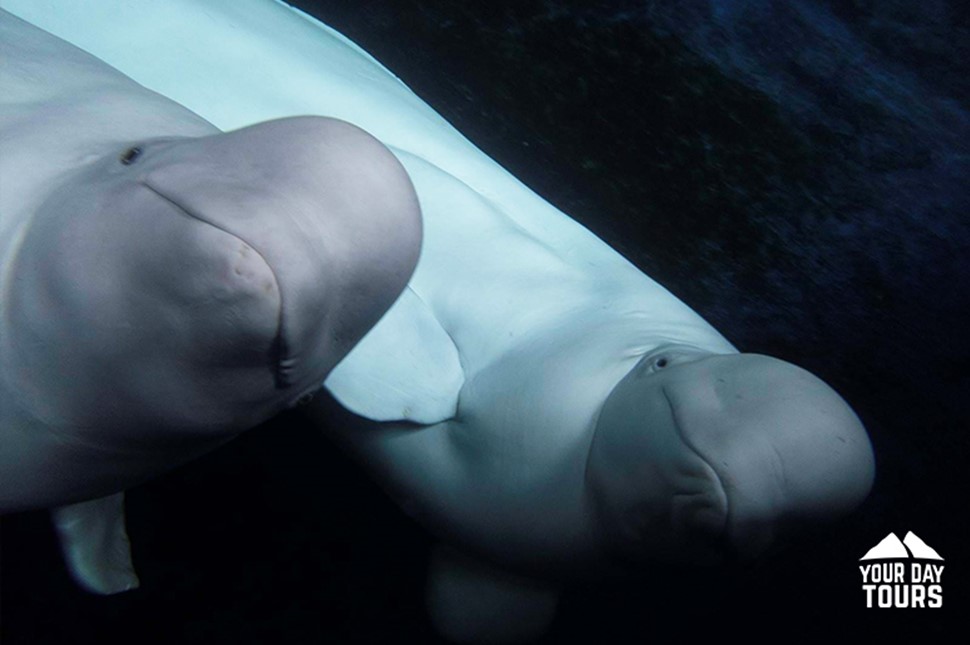 If you're interested in marine wildlife, you should take advantage of an opportunity to visit the world's first open beluga whale sanctuary. Its first inhabitants are two whales – Little White and Little Grey – captivated from early days and shown at Shanghai's Changfeng Ocean World Zoo. When the time for them to leave the zoo came, they were moved to the sanctuary. Find out more about the sanctuary and the fascinating life of beluga whales on your visit from April to October.
What to do at Vestmannaeyjar
Watch Puffins
For those who love bird-watching, Vestmannaeyjar is one of those ideal places for that. Shoot two birds with one stone (not literally, though) by going on Vestmannaeyjar Island Volcano Puffin tours where besides puffins, you'll also get to visit the well-known Elephant Rock and have an educational afternoon learning about Eldfell's volcanic eruption.
Go on a boat tour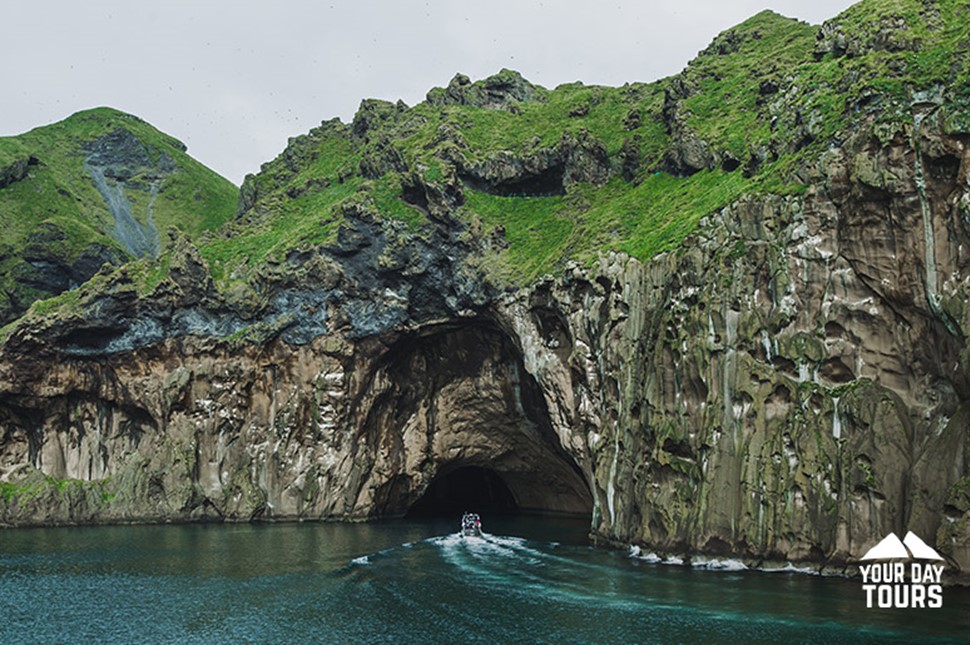 One of the best ways to learn more about Vestmannaeyjar islands and understand their size is by going on a boat tour. Sailing around Vestmannaeyjar takes one and a half hours, during which you'll learn more about the islands, their nature, and wildlife and hear exciting stories of volcano eruption. You'll leave from Heimaey island to watch the beautiful surroundings, bird nesting places, and the famous Elephant Rock.
Play golf in Vestmannaeyjar golf course
Have you ever tried golfing? Or are you already a passionate player? Then you shouldn't miss an opportunity to play in a field near an old volcano. Yes! You'll have a chance to spend time playing surrounded by an extraordinary landscape of an extinct volcano. Being the third oldest golf club in Iceland, it started with a six-hole course, of which three are used to this day. Vestmannaeyjar golf course is ranked among the 200 best golf courses in Europe.
Where to eat in Vestmannaeyjar
If you consider yourself a true foody and look for interesting and fun experiences while trying out new cuisines, then you shouldn't miss MATEY Seafood Festival. Find out the authentic taste of Vestmannaeyjar food that was perfected by fish factories, food producers, and restaurant chefs whose goal is to serve Icelandic history and culture on a plate. But what are some restaurants worth visiting while you're in Vestmannaeyjar?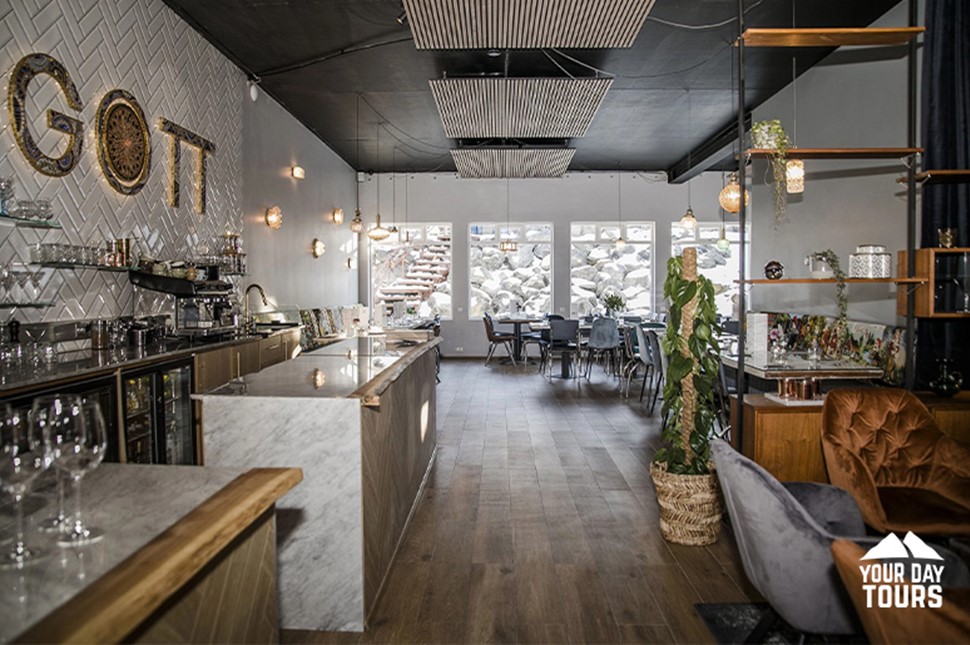 GOTT Restaurant – deliciously looking dishes made from scratch in a family-owned restaurant 
Slippurinn – a sustainable restaurant serving fresh and high-quality dishes 
Einsi Kaldi – Opened in 2011, the restaurant is known for its chef Einar Björn Árnason who makes exquisite meals from fresh produce. 
The Brothers Brewery – Learn more about beer in a fun and educational tour and test some rich-tasting beer. 
Pítsugerðin – If you're not a fan of elaborate dinners or, suddenly, you crave a delicious pizza, try out this pizza place that bakes it in a wood-fired pizza oven. 
Kráin – For those looking for fast and affordable food places, this is the one, as it serves tasty sandwiches, hamburgers, and pitas. 
Vigtin bakhús – Every meal must be finished with a little sweet treat from a local bakery.
Where to stay in Vestmannaeyjar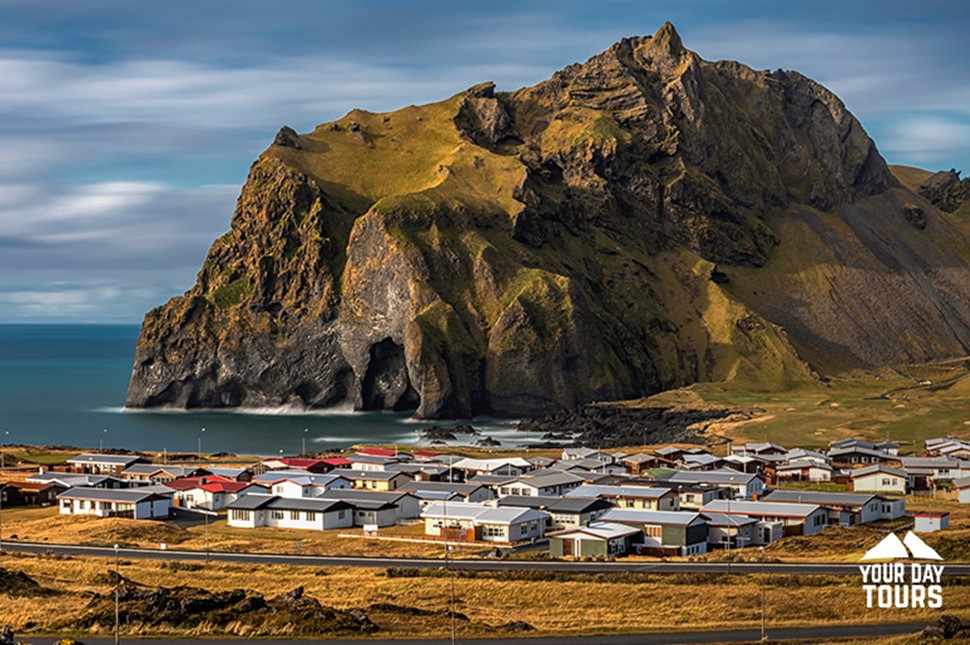 Where can you stay while traveling in Vestmannaeyjar? The archipelago provides more than a few options for those who prefer city-like comfort and those who want to be surrounded by nature.
Hotels and guest houses
A comfortable and easy choice when you only have a little time for your stay in Vestmannaeyjar. One of the preferred hotels in the area is Hotel Vestmannaeyjar. Located in the city center, the hotel provides different types of accommodation: single, double rooms, and suits. It also has a SPA with a sauna and two hot tubs – a perfect way to regain strength after a long day exploring Vestmannaeyjar.
Other hotels you can stay in: 
Hotel Eyjar

Guesthouse Hamar

Gistiheimilið Árný

Guesthouse Sunnuholl
Hostels
If you're looking for new experiences, why not do this by choosing a different kind of accommodation? Try Puffin Nest Capsule Hostel, where you can sleep in a cozy "capsule" with TV and WiFi. The hostel, run by a family, is near various attractions and activities such as horseback riding, puffin watching, or volcano exploration. 
Other hostels you can stay in: 
Aska Hostel

Vestmannaeyjar HI Hostel
Campsites
If you're a true nature lover, then one of the interesting places to stay is Glamping & Camping Vestmannaeyjar. In case you need to become more familiar with glamping, it's a form of camping that includes various amenities: beds, showers, and toilets, as well as electricity. This particular place also has an interestingly looking "barrel" house with a bedroom and a living room.
Other campsites you can stay in: 
Vestmannaeyjar Campsite 

Miðleiti Cottages

Þórsvöllur Campsite