History of Stórhöfði
Stórhöfði formed 6000 years ago and is a consequence of intense volcanic activity taking place in Heimaey. Ocean eruption caused the rise of a 121 meters cape of Stórhöfði. The meaning behind the name is "Great Cape". This title was used to name one of the streets in Reykjavik, which was later renamed to Svarthöfði, meaning "Black Cape", referring to the Icelandic phrase for a well-known character from Star Wars, Darth Vader. Storhofdi is also home to one of Iceland's oldest lighthouses, which has been working since 1906.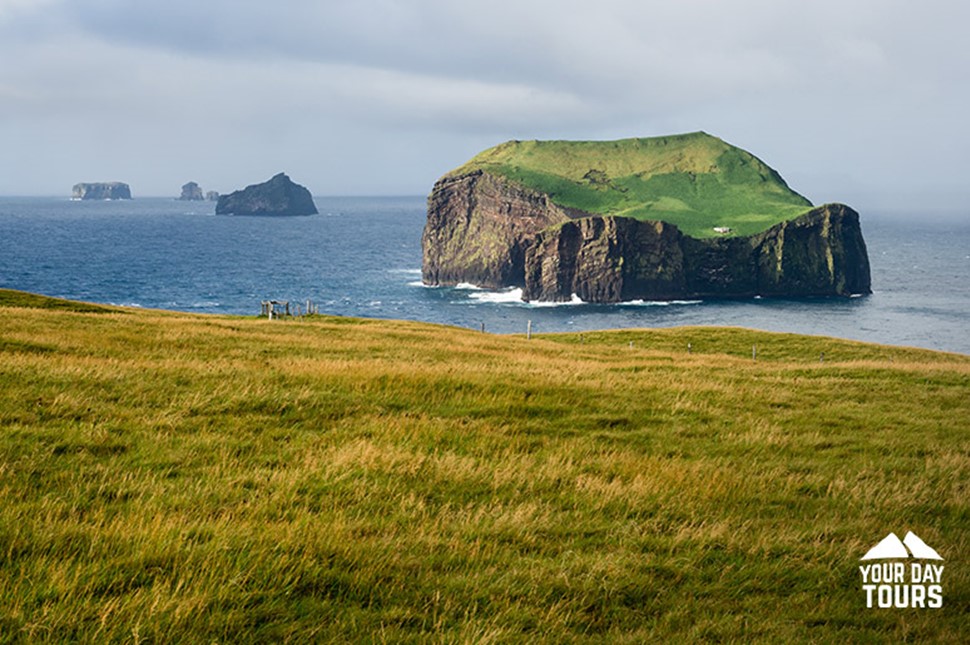 Interesting facts about Stórhöfði
The meaning behind the peninsula's name is "Great Cape".





Stórhöfði is the windiest place in Europe (there are only approximately four "calm" days a year). 





A weather station in Stórhöfði is 120 meters above sea level, exposed to the winds from all directions. 





Stórhöfði holds a record for the lowest air pressure in Europe. 





Stórhöfði is known for having special and diverse wildlife. Because of this reason, it's considered a protected area.
Where is Stórhöfði located?
Stórhöfði peninsula is located in the southern part of Heimaey, the biggest island in the Vestmannaeyjar archipelago.
How to get to Stórhöfði?
Considering that Stórhöfði is situated in an archipelago when coming from the mainland, you'll first have to get yourself to Vestmannaeyjar. No worries, as ferries here operate frequently and fast. Reykjavik is often a starting point from which travelers make their way to the peninsula. Starting from the capital means you'll have to go along the South Coast until you reach the ferry terminal of Landeyjahöfn. It only takes about an hour to get to the Herjólfur ferry terminal in Vestmannaeyjar. Storhofdi can be reached by foot from Herjólfur. It should take you approximately an hour and a half to reach the destination.
Attractions nearby Stórhöfði
Stórhöfðaviti Lighthouse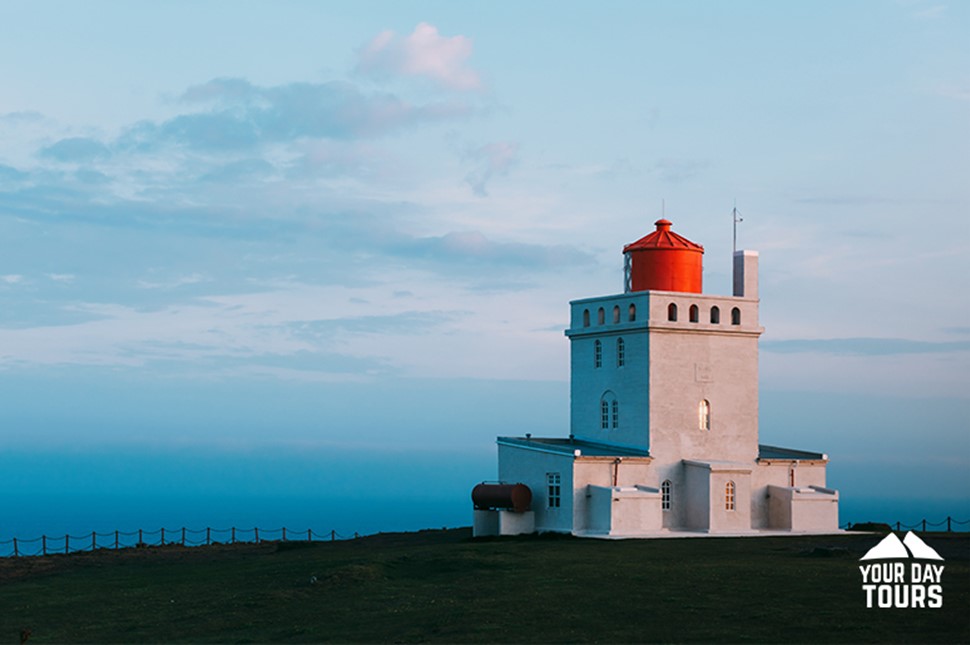 Operating since 1906, this distinctive building is easy to notice. The white lighthouse with a red roof and a lantern is 7m high and has been taken care of throughout the years by several keepers. The lighthouse, which is now 117 years old, has an interesting history. At first, it was thought that Stórhöfði wasn't a suitable place for the building because of how remote it actually was. Nevertheless, this argument didn't stop the construction of the lighthouse still standing there today, despite being faced with challenges. One of these was when the building almost caught fire after a flash of lightning struck it.
Klauf beach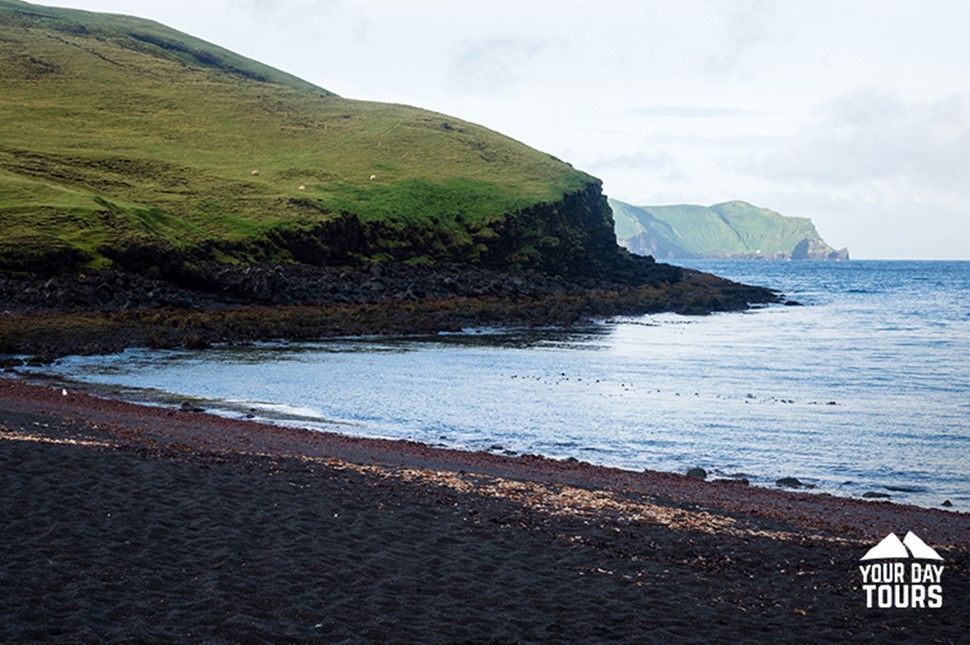 Formed by a volcanic eruption, Klauf Beach attracts people with its stunning and colorful views. The best way to admire the beach is by going on a coastal trek and sightseeing. Black sand beaches with lava flows and various plants are seen here, and there is also where residents like to go for a swim. Klauf beach is also important because this is where people bring young puffins that may have been lost and need to find their way back to the wild.
Caves around Storhöfði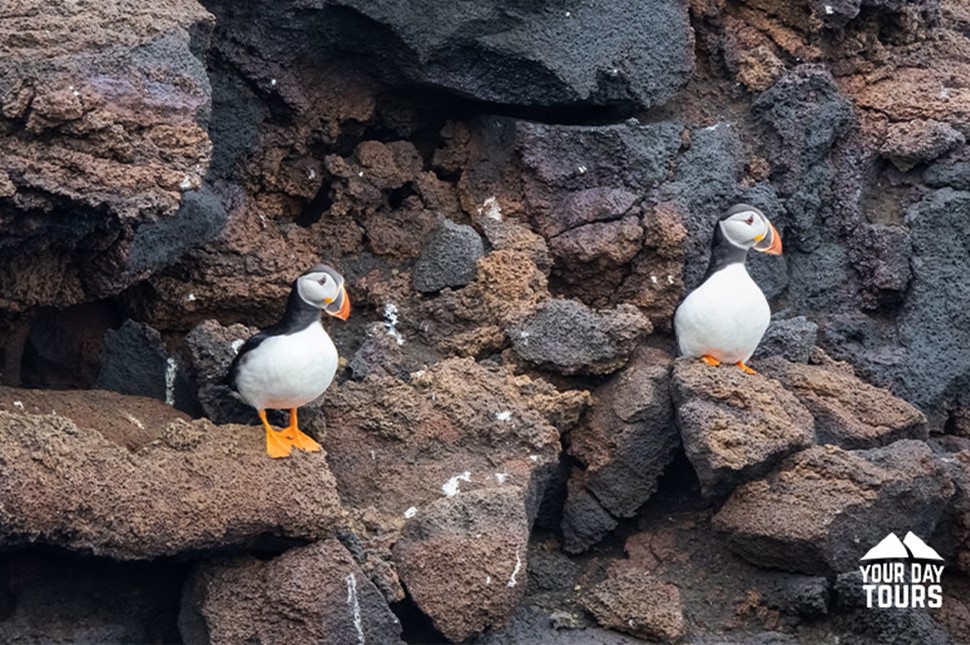 If you love spending time in a boat and admiring large geological formations, then why not indulge in adventure to get the most out of traveling around Stórhöfði? Two of the caves around Storhöfði worth visiting are Fjósin and Höfðahellir. Because of its height, Fjósin is known to be astonishing-looking, opening the view to "infinite" waters and colorful skies. This place is also where birds like to nest. On the opposite side of Fjósin is Höfðahellir cave. Situated east of the famous Storhöfði lighthouse, the cave is accessible pretty easily. It's also quite long and has a dome.
What to do at Stórhöfði
Observe puffins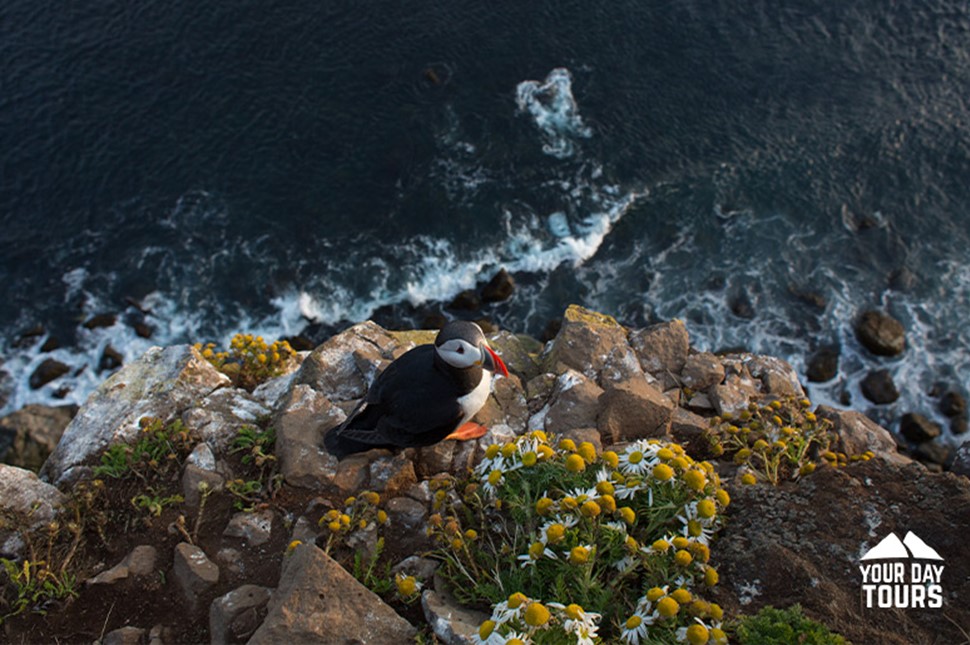 You simply cannot make all your way down to Stórhöfði and not go to see puffins, as it's one of the main things highly associated with the place. These seabirds are known for their distinctive appearance and cuteness. What should you know before going puffin-watching? Don't be surprised if you won't see so many of them during the daytime, as this is when puffins are gone fishing. So the best time to see them is late evening or early morning. Many birds fly around during August when they prepare their little ones for a departure at the end of the summer or at the beginning of September. Keep in mind that this is also the time when baby puffins tend to wander and end up in the town because they get confused by street lights. Don't worry; the good citizens bring the little ones back to the wilderness.
Hike at Stórhöfði coastal tracks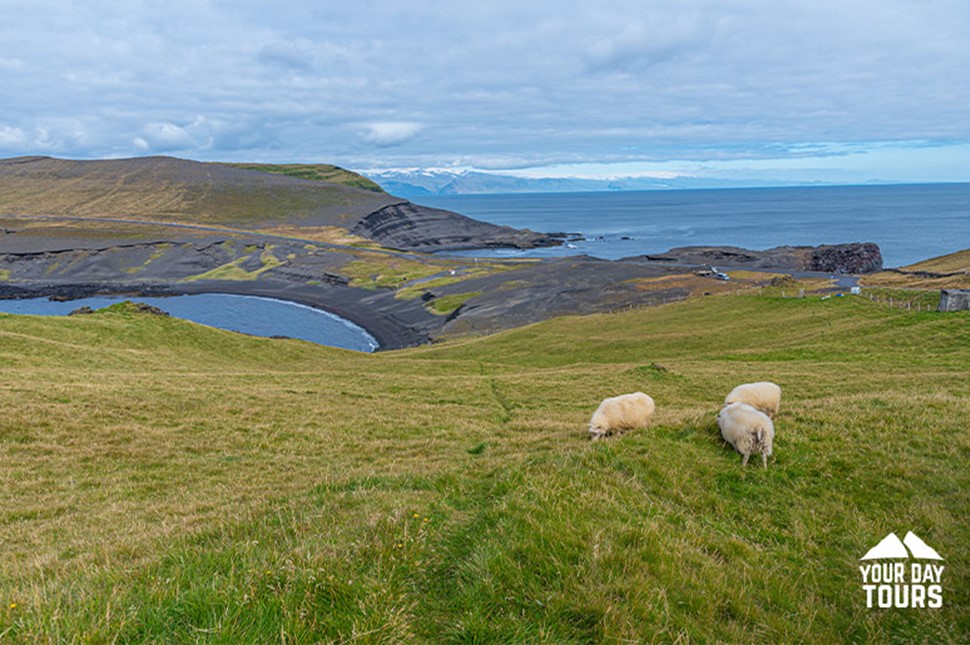 If your perfect day consists of walking in nature, on a well-beaten path, watching wildlife, then going on a nice hike along Stórhöfði coastal tracks is what you'll admire. The peninsula is linked to the main part of the island by a narrow "corridor", making it easy to reach both sides. At the Great Cape, you'll get to hike to its highs, walk along its coast, and check out the beach.
Where to stay near Stórhöfði
Want to explore Stórhöfði deeper? This means that you'll get to stay in Vestmannaeyjar longer. 
No worries, as the island is ready to offer you suitable accommodations. Heimaey is known as the only inhabited island in the Westman Islands.
Hotels and guest houses
Hostels
Campsites
Popular eating spots near Stórhöfði
Now that you know where you'll stay, it's time to think about what delicious foods you can try and what new tastes you can discover while visiting Vestmannaeyjar. It's good to know that the island offers a variety of gourmet restaurants, cafes, and fast food places. What are some of these? 
næs

Slippurinn

Gott

Einsi Kaldi

The Brothers Brewery

Kráin 

Pítsugerðin