Historical Backdrop of Snaefellsnes
Folklore shapes culture and culture shapes folklore. The same is true for Snaefellsnesl. If one traces back time and looks for the earliest records of the place, they wouldn't be disappointed. Interesting folklore awaits history fanatics for sure! 
Snaefellsnes is a part of the famous Icelandic Baroar Saga, which is about Barour who is half ogre and half man. A large sculpture of Baraor located in Arnarstapi, a scenic fishing village of Snaefellsness, supports the lore. And if one wishes to get a first-hand experience of it, visiting the place is a must. While this was all about the age-old narrative, more contemporary records are there to behold Snaefellsnes.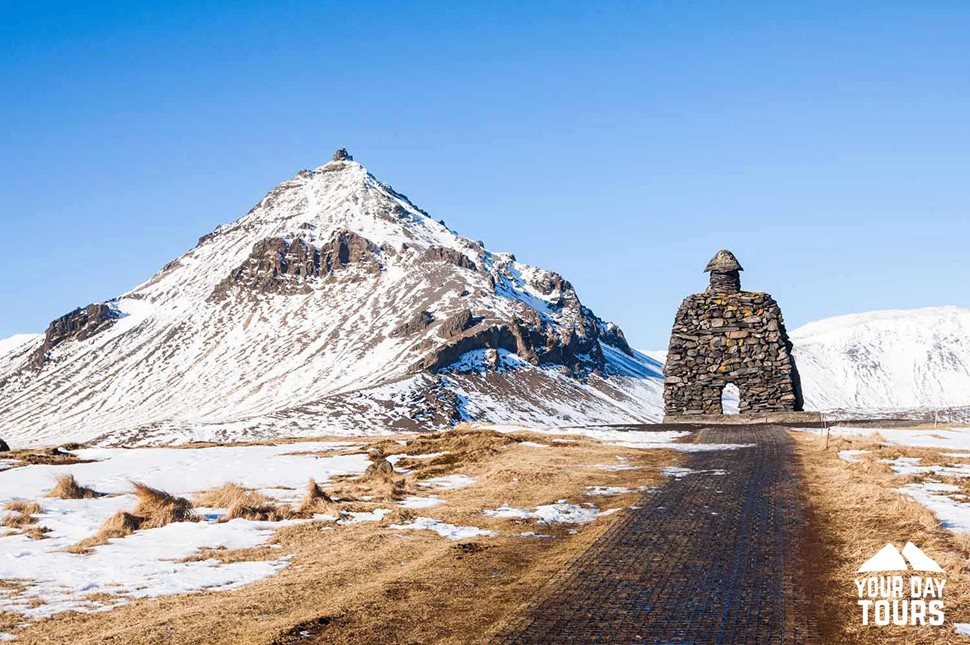 Undoubtedly, Snaefellsnes owes its popularity to the glacier volcano, Snaefellsjokull. However, the book Journey to the Center of the Earth by Jules Verne also needs to be credited for the reputation the peninsula commands today. Not to say that Snaefellsness is dependent on cinematic publicity and recognition for its swoon-worthy features. However, one cannot forget to mention that the place has been portrayed in several movies throughout decades. One as recent as 2008! Stars like Icelandic actress Anita Briem and Brendan Frases, have featured in them too.  
While movies are just one aspect of the artistic presentation of the book, there are adaptations of the same in several plays, radio shows, theme parks, video games, and television series.
How To Reach Snaefellsnes
Snaefellsness is a favorite among vacationers. However, its strategic placement makes it an ideal one. Stykkisholmur is just 165km from Reykjavik and 96km from Borgarnes. And other interesting spots like Mt. Kirkjufell and Arnarstapi are 172km and 186km away from Reykjavik, respectively. Hellnar, on the other hand, is 4.3km away from Arnarstapi and 188km away from Reykjavik.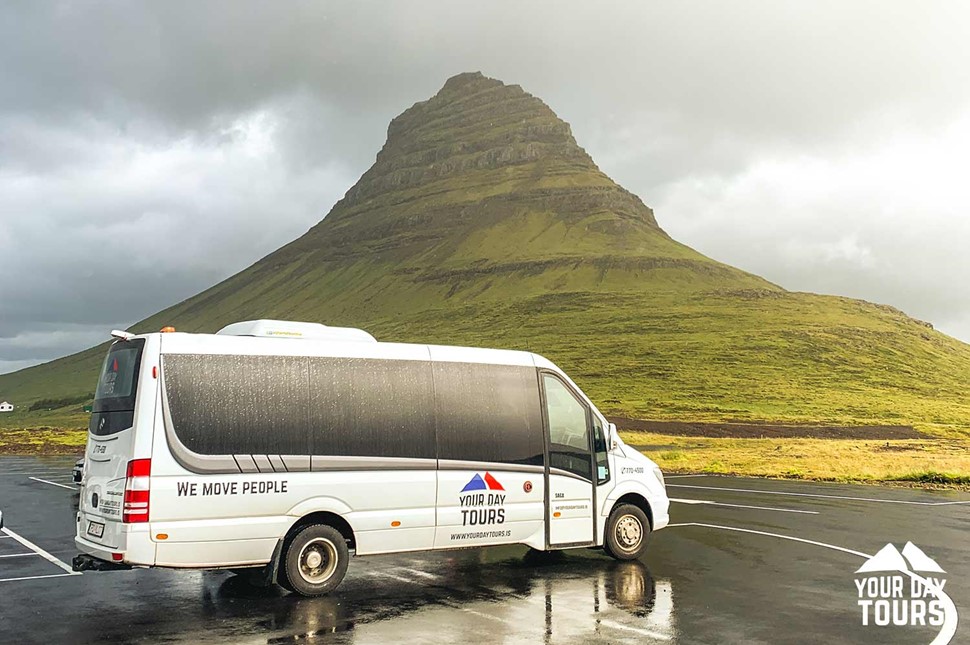 Commuting in Snaefellsnes is extremely easy. Whether you opt for public or private means of transportation, road trips in Snaefellsnes Peninsula are going to be fun.
There are two major driving routes to travel to Snaefellsness Peninsula, one through Reykjavik and the other one through Akureyri. The former is just a 1.5 to a 2-hour ride that goes through Ring Road 1 via Mosfellsbaer, Borgarfjorour Valley and the town of Borgarner. Once you reach the border of Borgarnes, turn toward road 54 and continue your ride to Snaefellsnes Peninsula.
The latter, that is, Akureyri, involves a 4.5 to a 5-hour drive via the horse mecca of Iceland, Skagafjorour and Reykholt.
Things To Do In Snaefellsnes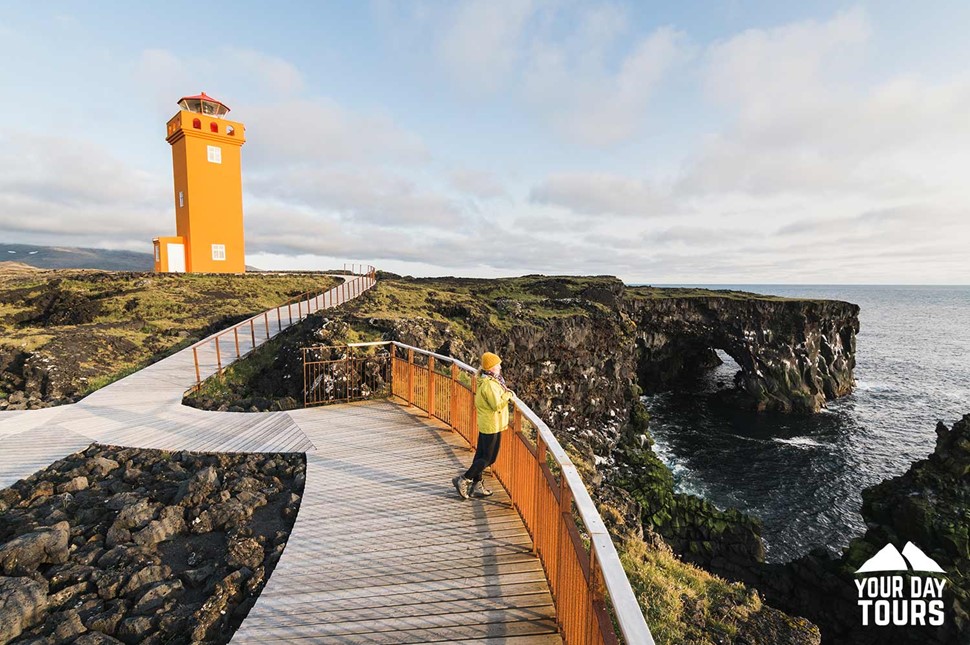 The serenity and calmness of Snaefellsnes Peninsula is what attracts most people, but what most people tend to overlook is the fact that it's actually a playground for explorers. Small towns and fishing communities, including Arnarstapi, Hellnar, Rif Grundafjorour, Stykkisholmur, Olafsvik and Buoardalur, are major crowd pullers for the destination.
With that being said, below is a list of must-try activities in Snaefellsnes that make it ideal for tourists of all age ranges.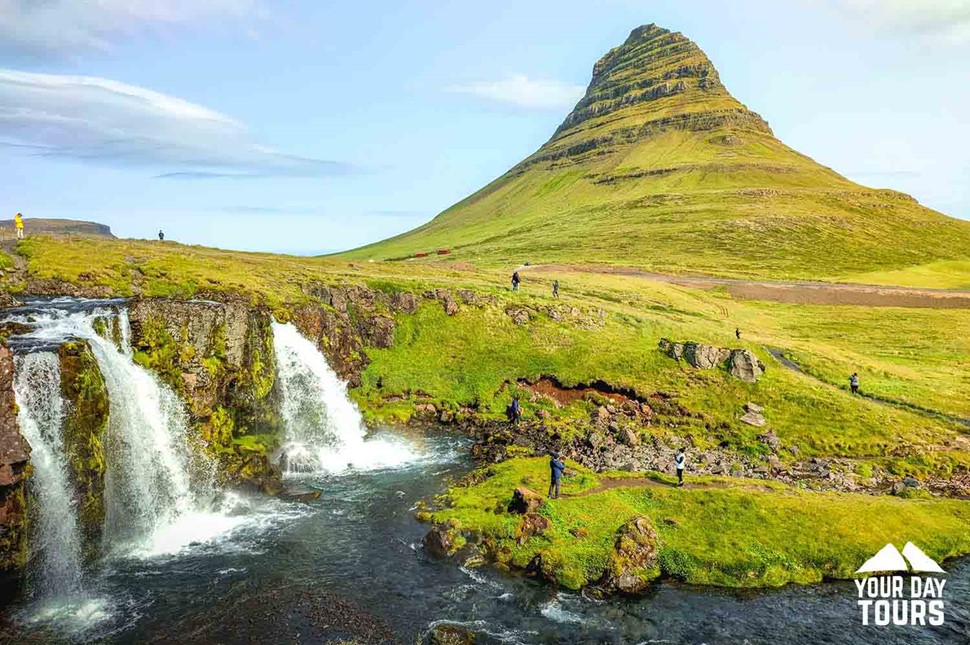 Undertake an off-beat fishing village tour in places like Stykkisholmur, Grundarfjorour, Arnarstapi, Olafsvik or Rif.


Snaefellsnes is home to one of the top 10 most beautiful mountains: Kirkjufell Mountain. Any trip without a visit to this charm is incomplete. 



The remarkable terrain which is a blend of soft moss and lava creates the perfect backdrop of interesting Instagram clicks, so make sure you spend some time in Berserkjahraun parking lots.

 



Snæfellsjökull Glacier is simply the most exquisite of attractions of the Snaefellsnes Peninsula. To add a cherry on top, add a hiking escapade to the day.

 



Cover Lava Cave on a day tour and pay a visit to Lofthellir or Vatnshellir.

 



Go for a walk on the pebble beach Djupalonssandur and learn about some fishing tactics like the trick of using four lifting stones for placement of men in fishing boats.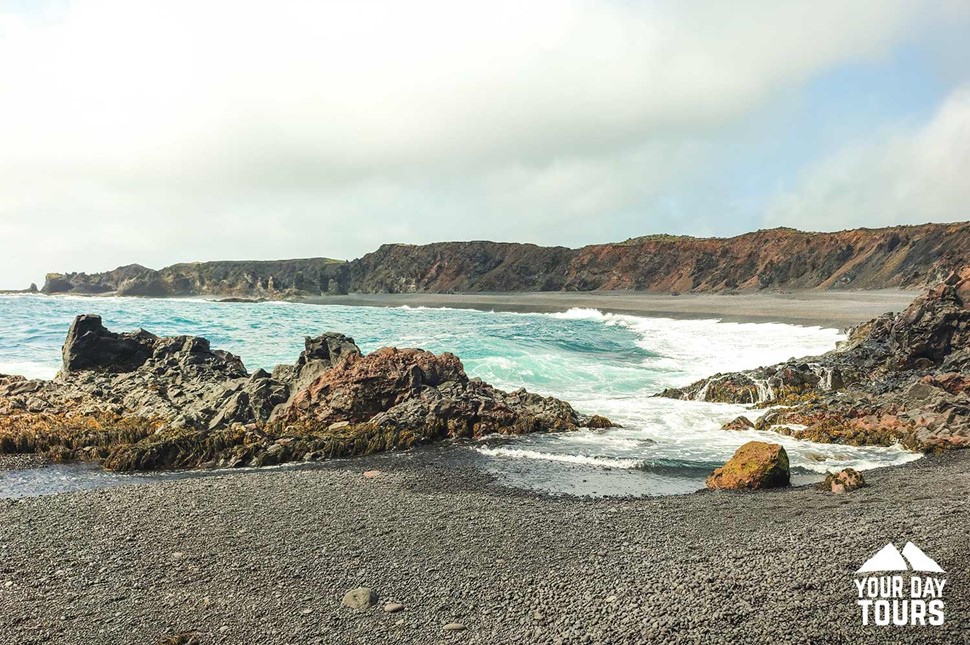 Catch a sneak peek of the artistic feats of Snaefellsnes at the Londranger rock formations.

Get a dose of cuteness at the Ytri-Tunga seal colonyTaste the fresh waters of Rauomelsolkelda mineral spring and take some back home too.

Bathe in the Lysuholslaug mineral water pool and rejuvenate in the hot spring Icelandic waters.

Game of Thrones fanatics, Rauofelsgja Gully is an ultimate stop for you. If this doesn't find a place in your social media feed, you don't qualify as a real GOT fan!

The Gerouberg Basalt Cliffs is blessed with an intriguing topography and naturally formed sculptures, so you can't afford to miss out on this too!  
Dining Options In Snaefellsnes
Icelandic cuisine can be best explored with a simple mantra – First South, then West, followed by North and East.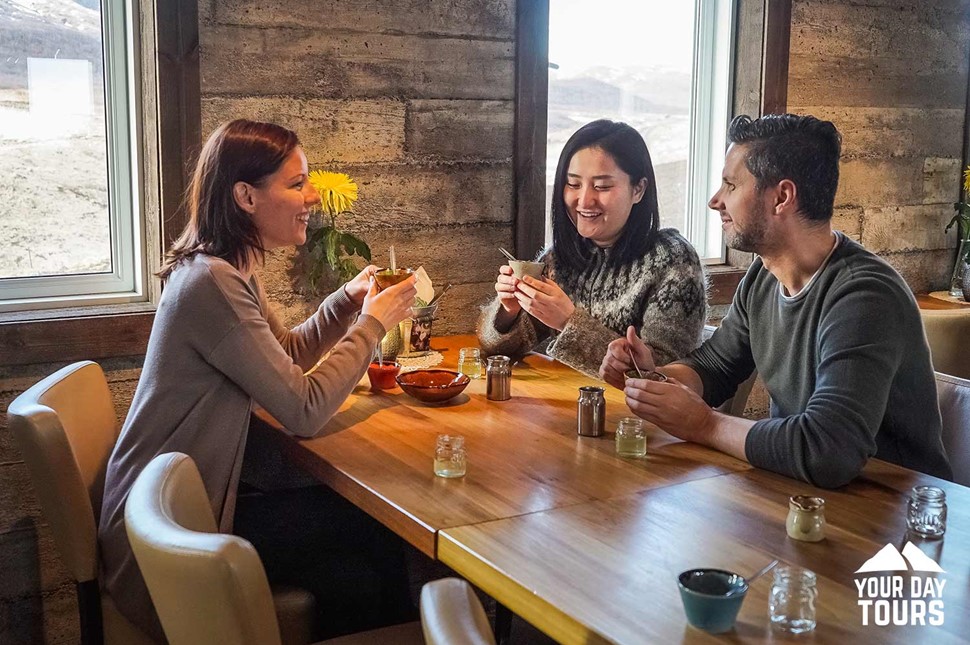 FROM BORGARNES TO THE FIRST VILLAGE VIA ROUTE 54 


Grillhúsið at Borgarnes, a great BBQ.


Rjúkandi Café & Restaurant, enjoy a sweet treat with cake and coffee, and a piping hot soup!


 

Langaholt, gorge on a luscious fish-based menu.

 


Hótel Búðir, the best place to treat your taste buds to a flavorful meal!

ARNARSTAPI AND HELLNAR RESTAURANTS


Mönsvagninn, fish and chips, a combination of an appetizing and savory meal.

 



Fosshótel Hellnar Restaurant, exquisite dining options to treat the tongue and oceanviews to treat the soul. 

 


Fjöruhúsið, a homey place to enjoy spectacular vistas.

HELLISSANDUR & RIF RESTAURANTS

Viðvík Restaurant, go for a romantic date or a family dinner. This place is versatile enough to serve all.



Gilbakki Kaffihús Gamla Rif, spend some time appreciating Icelandic culture and antique vibes while enjoying some baked goodies.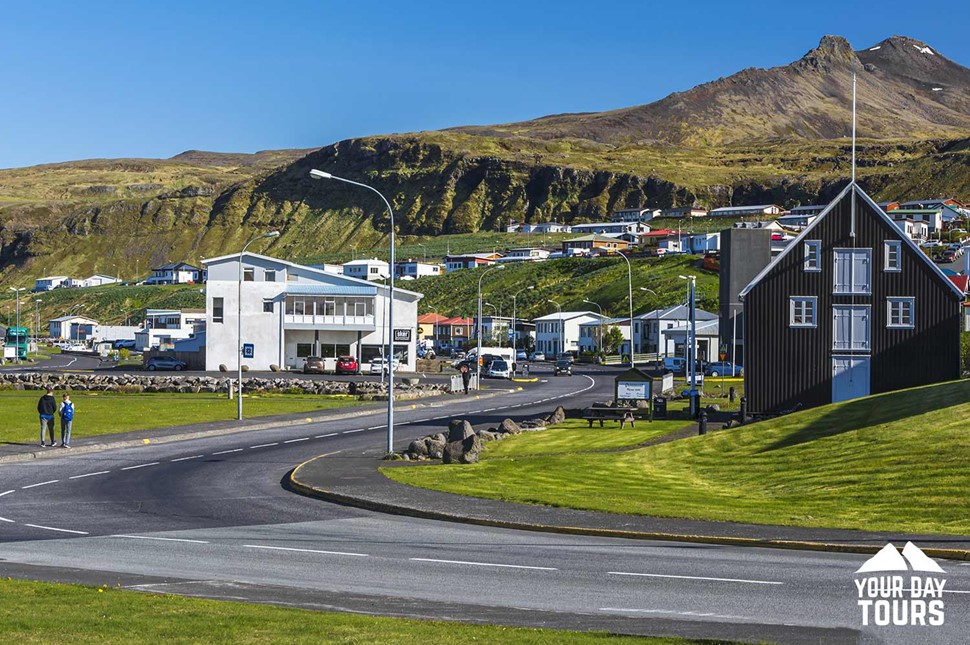 ÓLAFSVÍK RESTAURANTS

Kaldilækur Café, what's better than a cup of coffee and cake in the evening?

 



Restaurant, heaven for seafood lovers.

 



Hraun Restaurant, best for food experimenters on a budget!
GRUNDARFJÖRÐUR RESTAURANTS

Bjargarsteinn Mathús, mesmerizing views of Kirkjufell combined with sumptuous meals.

 



Café Emil, an ultimate homey vibe combined with an authentic taste of flavors.
STYKKISHÓLMUR RESTAURANTS

Sjavarpakkhusid, vegans you are kept in mind.

 



Narfeyrarstofa, renowned for local delicacies and seafood at Stykkishólmur.

 



Skurinn offers the best vegetarian menu on the table.

 



Finsens Fish and Chips, enjoy the classic of Iceland: fish and chips. 

 



Stykkið Pizzagerð, go for a cheesy delight that is light on the pocket.

 



Café Nu, all about morning coffee, delectable morning meals and misty morning views.

 



Stykkisholmur Slowly Cafe, a tiny cafe with wonderful coffee, tea and biscotti.

 



Nesbrauð Bakery, for those with a sweet tooth, we found a spot for you. Don't forget the pastries.

 



Meistarinn, savor a large Icelandic hot dog here!
Staying In Snaefellsnes
Hotels 

Hotel Rjúkandi

 



Hotel Búðir

 



Arnarstapi Hotel

 



Fosshotel Hellnar

 



Hotel Hellissandur

 



Hotel Framnes

 



Hotel Olafsvik

 



Hotel Stundarfriður

 



Helgafell

 



Hotel Stykkishólmur

 



Hotel Egilsen

 



Fransiskus Hotel
Hostels


Bodvarsholt HI Hostel

 



The Freezer Hostel and Culture Center

 


Grundarfjordur HI Hostel


Guesthouses, B&B and Farmstays

Snorrastaðir Farm Holidays

 



Hömluholt Holiday Homes

 



Lava Water Apartments

 



Tradir Guesthouse

 



Guesthouse Hof

 



Langaholt

 



Kast Guesthouse

 



Lýsuhóll

 



Öxl Guesthouse

 



Westpark Guesthouse

 



North Star Apartments Rif

 



Welcome Apartments Ólafsvík

 



Við Hafið Guesthouse

 



Bikers Paradise

 



Hellnafell

 



Grund I Grundarfirði Guesthouse

 



Snæfellsnes Farmhouse

 



Helgafell 2

 



Bænir og Brauð

 



Guest House Langley

 



Drangar Country Guesthouse
Cabins and Cottages

Langafjaran Cottages

 



Sodulsholt Cottages

 



Arnarstapi Center

 



The Holiday Home Lodge

 



Dis Cottages
Camping In Snaefellsnes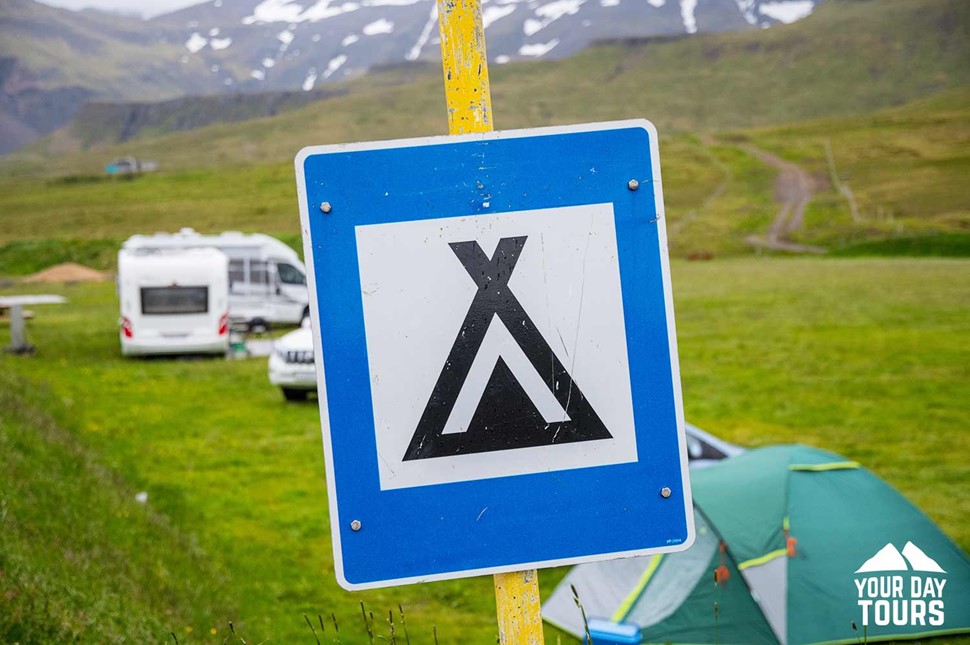 Apart from the soul-reviving views of the mountains and terrestrial sceneries, camping at Hellnar, the Snjofell at Arnastapi offers a glimpse of the colorful world below the ground. 
A camping day at Hellissandur is surely packed with breathtaking vistas. However, you can be assured you'll have all of the amenities like running water, toilets, showers, and electricity too. It is also in close proximity to a gas station, a museum, a supermarket and a swimming pool.


Timeline: 1st of June - 1st of October  
 


Grundafjorour campsite is an excellent way to appreciate the beauty of Kurkjufell during both the daytime and nighttime. It is equipped with a swimming pool and electricity, making it convenient and fun for campers to enjoy at an additional cost of 950 ISK. For more information, inquire at the swimming pool's reception.


 


 

 

Timeline: 1st of June - 7th of October  
 


Campers head to the scenic Olafsvik municipal boundary for a hassle-free camping experience. Be assured of showers, toilets, electricity, running water, playground, walking paths, swimming pool, a golf course and restaurants, while being the closest to nature in the most convenient camp ever. 

 
 


 

 

Timeline: 1st of June - 1st of October  
 


Camping in Stykkisholmur comes power-packed with stunning sceneries and leisure facilities like a dining tent, a playground, waste disposal, sports area, golf course and a swimming pool. Other amenities include hot and cold water, toilets, showers, electricity, washing machines, and tumble dryers. 
Winters In Snaefellsnes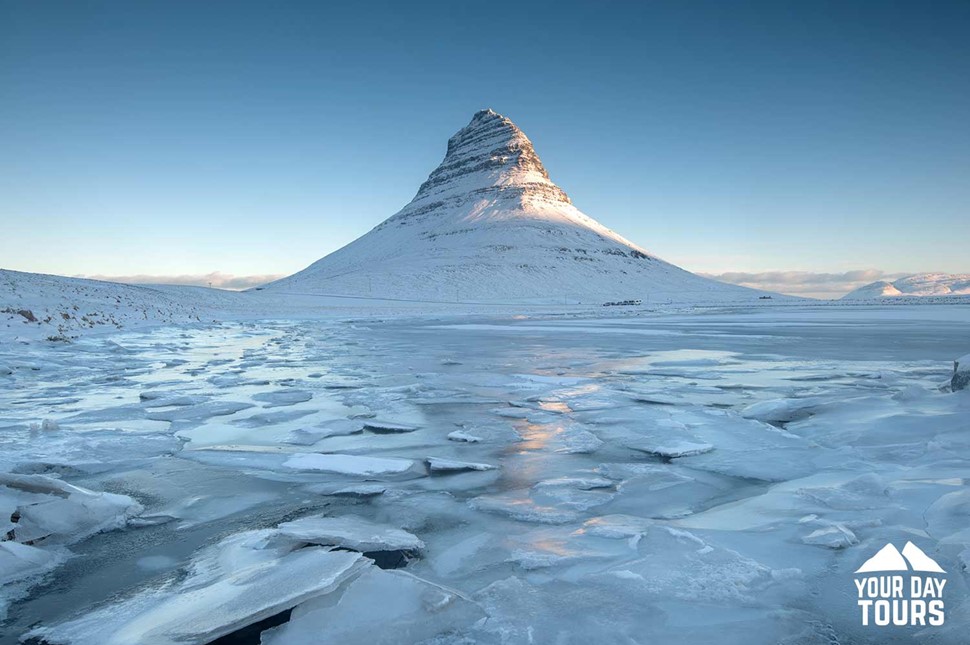 Once winters drape Snaefellsnes Peninsula in ivory-hued snow, the pristine terrain of the peninsula is surreal and serene. Admiring the snow-capped mountains and the immaculate layout is one thing but to witness the frozen avatar of Kirkjufell and Bjarnarfoss is another. Nothing compares to the captivating backdrop of this frozen landscape, so keeping your cameras handy would be a good idea. Don't forget, layering with cozy clothing equals a Snaefellsnes Peninsulavacation well enjoyed.
Guess what, this isn't all! Northern Lights are a blessing to the world, and admiring them during the winters of Snaefellsness is just pure bliss. But that doesn't mean you don't have to deal with the tricky business here... driving. Driving in the snow isn't everybody's cup of tea, so Arctic Adventures is here to help. Whether you chose day or multi-day tours, our representatives are here to assist you in planning and experiencing memorable trips throughout the year.
Cinematic Presence Of Snaefellsnes
Films


The Secret Life of Walter Mitty

(2013) features Olafur Darri and Gunnar Helgason and has a storyline that revolves around

Stykkisholmur

. Many scenes of the movie are shot at the

p

eninsula.

 



   2. Journey to the Center of The Earth (2008) stars Brendan Fraser, Josh Hutcherson, and Anita Briem. It is centered around Snaefellsjokull Glacier and portrays it as the center of the earth. 


TV Shows


Game of Thrones

is a classic and what not many aren't aware of

is the fact that most of the spectacular sites are

actually real

and in Iceland!

The e

pisode

where John Snow and his army go to fight the army of the dead and

the

scenes with the Arrowhead Mountain featuring

Kirkjufell

Mountain are

actually shot

in

Snaefellsnes

.



Music Videos


Elliphant

- Down on Life

 (2012) is a music video of 

a 

Swedish band that has the most surreal of shots. Now you know where the opening scene was shot

:

 

Longufjorur

 

B

each!



Must Visit Places In Snaefellsnes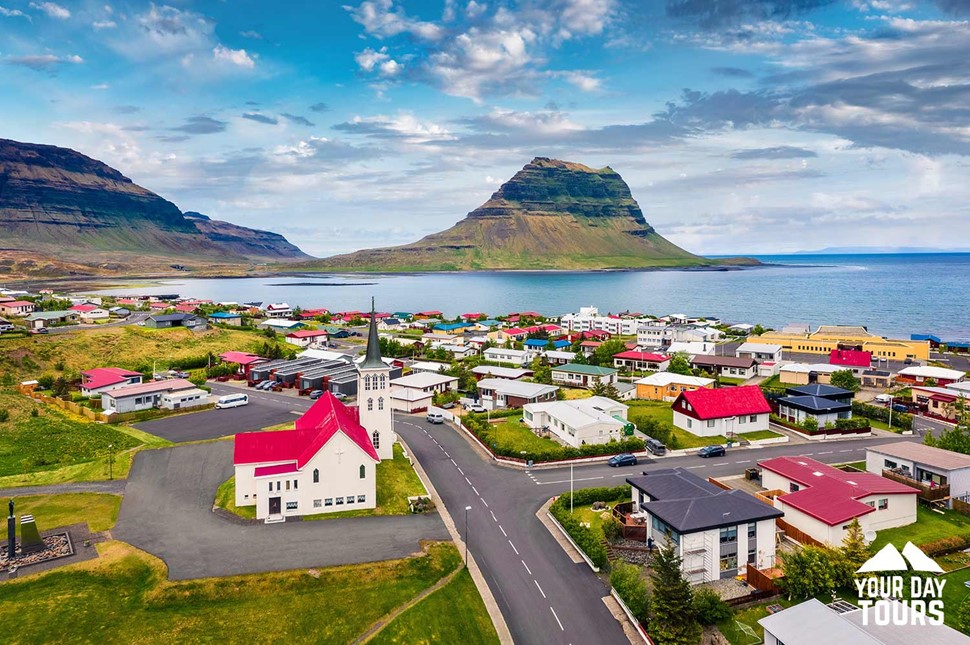 Bjarnarhöfn Shark Museum

 



Ólafsvík village

 



Krauma Geothermal Baths

 



Húsafell – Meet-on-location site for 

Into the Glacier Langjökull Ice Cave Experience

 



Surtshellir Cave

 



Háafell Goat Farm

 



Reykholt and Snorrastofa

 



Steðji Brewery

 



Hvanneyri

 



Hvítárvellir

 



Varmaland

 



Harmarsvöllur Golf Course